Lawyers acting for relatives of British soldiers killed in Iraq have given Sir John Chilcot a 5pm deadline to announce when he will publish his report.
Matthew Jury, of McCue and Partners, which is representing 29 families, said they would proceed with legal action if the deadline is missed, but in a statement Sir John simply said that the "Maxwellisation process", which allows those criticised to respond anonymously to issues raised, should be over "shortly".
The delay in publication has been a growing source of frustration for the families as well as David Cameron, who has demanded a timetable for publication be set out "pretty soon".
Sir John has insisted his inquiry, launched under Gordon Brown in 2009, was making "significant progress", but has not set a date for the publication of his findings.
Roger Bacon, whose son Major Matthew Bacon was killed in Iraq in 2005, said he was "disappointed" Sir John Chilcot has not revealed when he will publish the Iraq report, adding: "I'm not sure he is able to understand our anguish."
"If he was in our shoes, he might well take a different view on what is going on. This process of Maxwellisation is just too much. It seems to go on and on and on. The fact he is still waiting for responses means there will be further delays."
It emerged this morning that the long-awaited report looks set to share the blame for Britain's role in the Iraq war among a wider circle of senior figures than expected, according to sources close to the investigation.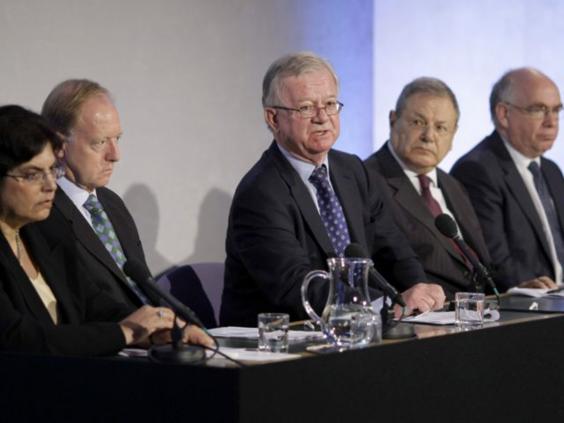 Among those who could be facing criticism are Jack Straw, the Foreign Secretary at the time of the invasion; Sir John Scarlett, then Chairman of Cabinet Office Joint Intelligence Committee; Sir Richard Dearlove, then head of MI6; Clare Short, then International Development Secretary and Geoff Hoon, who was Defence Secretary at the time.

Sir John, the chairman of the Iraq Inquiry, today said he understood "the anguish of the families of those who lost their lives in the conflict", but added "it is critically important that the report should be fair".
He spoke out in the wake of sustained criticism in recent weeks over delays to his report with families of soldiers killed in Iraq threatening legal action and Prime Minister David Cameron expressing his frustration.
In his statement, Sir John said: "I should like firstly to reiterate that my colleagues and I understand the anguish of the families of those who lost their lives in the conflict.
"We take the responsibility we were given as an independent inquiry extremely seriously, and understand the need for Government, Parliament and the public to see our report as soon as possible."
But he added: "It is critically important that the report should be fair to all who participated in the conflict and to those who bore the responsibility of taking decisions."
But Sir Stanley Burton, Lord Justice of Appeal between 2008 and 2012, said the risk of a judicial challenge was "exaggerated", as there was no appeal process by which the courts could rule on specific findings.
Sir John confirmed he had received a letter from lawyers acting for a group of families, stating that "after careful thought, we have responded to the points they raised."
"I don't intend to comment on the substance of that response and such letters are not normally published."
The Independent has approached McCue & Partners, acting on behalf of the families, for a comment.
Reuse content