In 1891 at the first Crufts dog show, Queen Victoria entered her beloved pet, Gina the Pomeranian. Possibly because Victorian show judges knew when polite deference was needed, Gina was placed equal first in group. No one cared that the British queen's dog was originally from Italy.
Nor was there any consternation two years later when Tsar Alexander III of Russia sent 18 of his Borzoi wolfhounds to compete.
But that was then and they were royalty. Now the mutterings about foreign competitors at Crufts seem altogether darker. According to recent reports there has been talk of growing numbers of foreign competitors coming over here and winning our rosettes.
They arrive, it was claimed, from countries where hairspray is allowed at dog shows, and sneakily use it at Crufts, where it's banned.
From the Chippenham dog world came the claim that Crufts judges favoured foreign contestants so the show organisers, the Kennel Club, could lure more foreign visitors and make more money.
"By and large," one newspaper was told, "the foreign dogs are no better than the UK dogs but proportionately, they seem to do better."
From about 140 foreign dogs in 2001, the number of overseas entrants at Crufts had grown to 2,655 last year. Overseas competitors made up just 12 per cent of the total 21,614 entrants, but about 29 per cent of the best in group winners were from abroad.
Who were these hairspray-toting foreigners, and were they really using the dark arts of beauty products?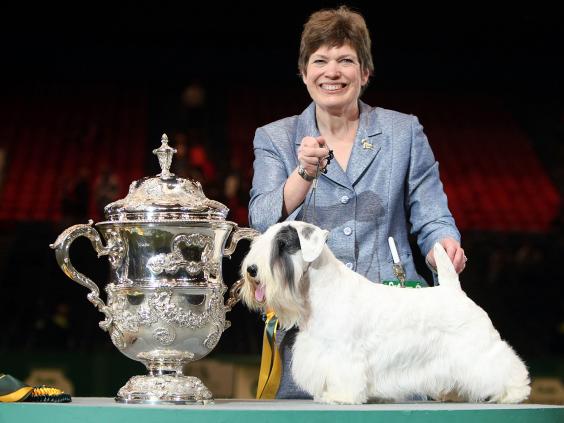 It didn't take long to track down the man who arguably inspired the foreign invasion. Michael Nilson, 41, was in Iceland, hoping to secure another victory at a dog show away from his native Sweden.
In 2002, at the first Crufts after the introduction of the Pets Passports scheme eased quarantine restrictions, making it easier for foreign dogs to compete in Britain, Mr Nilson won best in show with Topscore Contradiction, a poodle that passed into legend.
 "He had a magnetic aura," recalled Mr Nilson, "like a movie star. Everyone turned to look at him. He had the fitness of a superstar athlete – he was always out walking in the fields and forests."
And like any star, the poodle was treated to a seven-hour pampering routine before facing the judges and the cameras: one hour in the bath, up to four hours snoozing under a hairdresser-style standing dryer while Mr Nilson toiled with a brush to ensure his every single hair was straight, then two hours of the human wielding the scissors, sculpting pom-poms to perfection.
"You love what you do," said Mr Nilson, "And you love the dog. I have devoted my life to poodles."
 What about the hairspray? Mr Nilson seemed nonplussed. "We don't use hairspray at all in Scandinavia," he said.
The UK Kennel Club told The Independent that Sweden is even stricter about hairspray than Britain; dog shows there have routine testing for it.
The Kennel Club seemed rather peeved by all this talk of Brits resenting foreigners.
Dogs Hanging Out of Windows
Dogs Hanging Out of Windows
1/10 Dogs Hanging Out of Windows

Cockerspaniel

William Hartley

2/10 Dogs Hanging Out of Windows

Old English Sheepdogs

William Hartley

3/10 Dogs Hanging Out of Windows

Shih Tzu 'Charlee'

Ian Wedlock

4/10 Dogs Hanging Out of Windows

Black Lab

William Hartley

5/10 Dogs Hanging Out of Windows

West Highland Terrier

William Hartley

6/10 Dogs Hanging Out of Windows

Gordan Setter

William Hartley

7/10 Dogs Hanging Out of Windows

Lurcher & Jack Russel

William Hartley

8/10 Dogs Hanging Out of Windows

Collie Springer Cross

William Hartley

9/10 Dogs Hanging Out of Windows

Jack Russel Border Terrier Cross

William Hartley

10/10 Dogs Hanging Out of Windows

Bernese Mountain Dog

William Hartley
"These are a few disgruntled Facebook gossips who have wound this up over nothing," declared Caroline Kisko, the Kennel Club secretary. "The vast majority of British competitors are happy with overseas owners. To suggest otherwise is daft."
Of course overseas dogs won a disproportionate share of victories, she said.
"You will ensure you have a damned good dog before you go to the expense of bringing it from overseas. There are also fewer opportunities for overseas competitors to qualify for Crufts. There is just one nominated show in their country, at which they have to win their class. The British have more than 20 qualifying shows, and only have to make the top three."
Further intriguing information came from Regine Vandamme, of Turnhout, Belgium – co-owner of James, the Irish wolfhound that won the hound group at Crufts last year.
When it comes to hairspray, she insisted, the Brits are no ingenus.
"One year at Crufts I saw an owner spending maybe three hours getting his dog ready. He must have used three bottles of hairspray. Guess what? That owner was British."
Mrs Vandamme, 53, a vet, would never dream of using hairspray. "Never!" she said. "A dog must be a dog!"
 "The Irish wolfhound people in England are very, very nice to us," she added "But then, I think people look and act like their dogs – and Irish wolfhounds are very soft, easy-going and nice. With the more aggressive dogs, like terriers, maybe you would find people are not so nice."
Next stop, the terrier people. From her home in Cochranville, Pennsylvania, Margery Good insisted she had only ever received kind words from the British terrier fraternity – even when her Sealyham terrier Charmin won best in show at Crufts in 2009.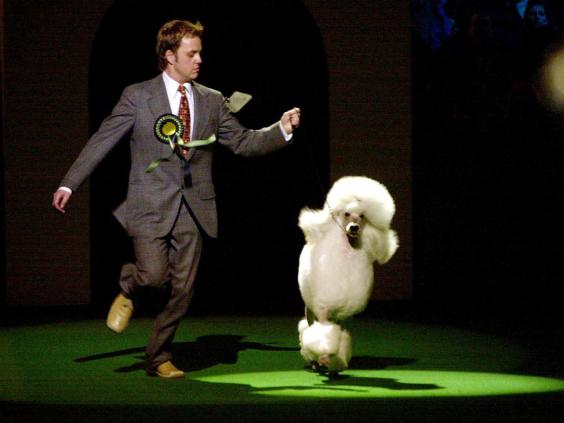 As for UK judges: "If there was any prejudice, it might favour the British, because for many judges the British way is what they are used to, and therefore the right way."
But still, the Crufts judges could rise above subconscious bias and appreciate Charmin's "good porch": "The buttocks extending out – yes, like J-Lo's bottom – showing the dog has powerful hind quarters." The prudish Brits traditionally covered this area with long hair. She did it the American way, cutting Charmin's hair to show off his good porch. The judges liked it.
"At Crufts," she added, "I got down on my knees and whispered in Charmin's ear, 'This is your time, your place. Show the world who you are.' I asked him to give the performance of his life, and he did.
"This was Crufts, the dog show in the world. The crowd was fabulous, the noise was amazing. The feeling of winning was humbling."
Fond words. But would they be enough to charm disgruntled British onlookers?
Reuse content