A West Highland Terrier has claimed the top prize at Crufts for the first time in 26 years at the annual dog show.
Devon was named Best In Show at the competition, an achievement described as "absolutely amazing" by her owner.
More than 22,000 dogs took part in the four-day event at the NEC in Birmingham as the competition celebrated its 125th year.
White Westie Devon beat off stiff competition from six other dogs in the final, screened live on Channel Four, to be crowned the overall winner on Sunday evening.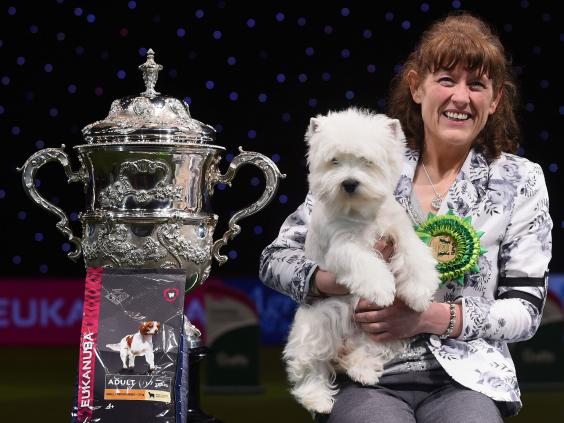 The champion dog's owner Marie Burns said she knew Devon was special from an early age as she told presenter Clare Balding she had said to a friend when the puppy was just eight or nine weeks old: "I think I've got the nicest Westie I've ever bred here."
On the victory itself, Ms Burns, from County Durham, added: "To win Best In Show at Crufts is absolutely amazing."
Ant and Dec tweeted their congratulations to the winner, who is also known as Geordie Girl and is almost two years old.
Crufts Dog Show 2016
Crufts Dog Show 2016
1/20

Bichon Frises prepare for the show

2/20

A Yorkshire Terrier peers out from her blanket as she prepares for the Crufts

PA

3/20

Terriers sit curled together on their grooming table

Getty Images

4/20

Sonia Merate trims her poodle Layla

PA

5/20

Eurasian dogs looks out of their stalls

Getty Images

6/20

Lhasa Apso named Casper wears a wooly hat

PA

7/20

A handler shows a Maltese during the first day of the Crufts Dog Show in Birmingham

Reuters

8/20

Mable the Manchester Terrier arrives with her owner for the Crufts Dog in Birmingham)

Getty Images

9/20

Hungarian Vizsla named Fenix arrives for the Crufts in Birmingham

PA

10/20

A Standard Poodle jumps up to its handler

Reuters

11/20

A dog owner arrives with Dalmatians on the first day of the Crufts

Getty Images

12/20

A poodle jumps as it arrives at the Crufts

Rex

13/20

A pug named Pickle arrives for the Crufts

PA

14/20

A Bulldog looks from its cage

Reuters

15/20

Yorkshire Terriers on show at the annual Crufts Dog Show in Birmingham

EPA

16/20

A Chinese crested terrier waits for its competition class

Rex

17/20

A dog performs in the agility section of the annual Crufts Dog Show in Birmingham

EPA

18/20

A woman walks around with her dog o her shoulder

EPA

19/20

A Bichon Frise looks out of its pet stroller

Getty Images

20/20

An owner sits alongside her Eurasian dog in its stall on the first day of the Crufts

Getty Images
The presenting duo from Newcastle wrote: "Told you!!! Yess, Geordie Girl wins Best in Show! Yay #GeordieGirl! What a belter!"
Hazel the Whippet was the runner-up, alongside her owner Charlie Donaldson from Middlebie, Dumfriesshire.
The 19-year-old, the youngest handler in Best In Show, said: "Words can't describe how much this means. I'm so proud."
Kennel Club secretary Caroline Kisko said: "This has been a fantastic year and a wonderful final, and it's clear to see why, for 125 years, Crufts has been one of the major British events."
PA
Reuse content