A British journalist who worked for the Daily Express was considered by the Soviet Union to be one of its most valuable agents during the Second World War, according to secret documents.
Cedric Belfrage, who was the highly-paid film and theatre critic of the Express titles during the 1930s, passed intelligence on British spying methods to Moscow, along with highly-sensitive documents about Vichy France as well as  British policy in the Middle East and Russia.
The previously unseen MI5 records show that Soviet intelligence considered Belfrage, who became a committed Communist after a visit to Moscow in 1936, to be one of its star performers, at one point rating him above Kim Philby.
During the war, Belfrage joined British Security Co-Operation (BSC), a body jointly set up by MI6 and Winston Churchill's Special Operations Executive whose role included mobilising pro-UK support in the United States prior to the Pearl Harbour attacks.
Belfrage went on to take up a psychological warfare role within the Allied headquarters in France following D-Day but was eventually exposed during an American investigation into a Soviet agent, Jacob Golos.
The MI5 files, released at the National Archives in Kew, west London, show for the first time the type of intelligence the former journalist was passing to Golos via his Communist contacts, including a report from Scotland Yard on training methods for spies.
The document also contained notes from "prominent burglars in England" on techniques including opening safes, doors and "other protective devices".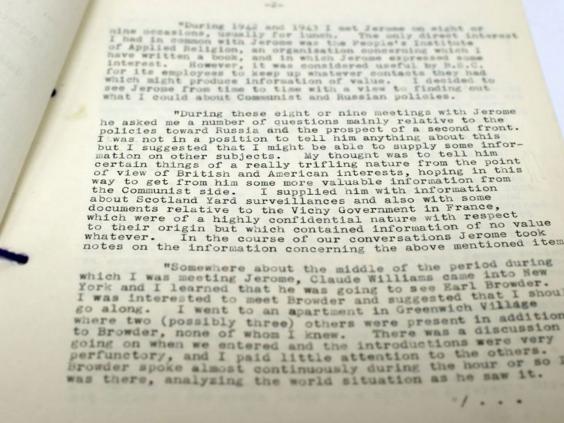 Christopher Andrew, the former official historian of MI5, said the material was considered to be "extremely valuable" by Moscow. Professor Andrew said: "For a year or so in the middle of the Second World War, Soviet Intelligence even rated [Belfrage] ahead of Philby."
When he was eventually questioned by the FBI in 1947, Belfrage acknowledged he had leaked information to contacts including a prominent Communist called VJ Jerome. But the Briton insisted it had been of little real intelligence value and was part of his own efforts to infiltrate Soviet networks.
He told his interrogators: "My thought was to tell him certain things of a really trifling nature from the point of view of British and American interests, hoping in this way to get from him some more valuable information from the Communist side."
Belfrage, who went on to try to make his career in America, was eventually brought before Senator Joseph McCarthy's Un-American Activities Committee in 1953 but he never faced trial in the US.
In Britain, MI6 said it would have an "account to settle" with Belfrage if he ever returned to the UK but it later admitted it had insufficient evidence to bring a case.
Reuse content