Cash can no longer be used on the Dartford Crossing as toll booths are scrapped in favour of an electronic payment system.
Motorists now need to pay for each crossing in advance or by midnight the following day using the "Dart Charge" scheme.
The Highways Agency claims it will ease congestion on the Queen Elizabeth II Bridge and tunnels, which are used by more than 140,000 vehicles a day.
It has warned of delays and diversions while work continues to remove toll booths and barriers, which are being taken out gradually until work is finished in spring 2015.
Nigel Gray, the Highways Agency's project director for the Dartford Crossing, said starting a prepaid Dart Charge account will be the "cheapest and move convenient" option for drivers.
"Although our scheme will make significant improvements, in terms of congestion, it's not the long term answer," he told the BBC.
"We still need to manage demand while we can use the money that we collect here to help build another crossing in the lower Thames region which is what we're planning at the moment."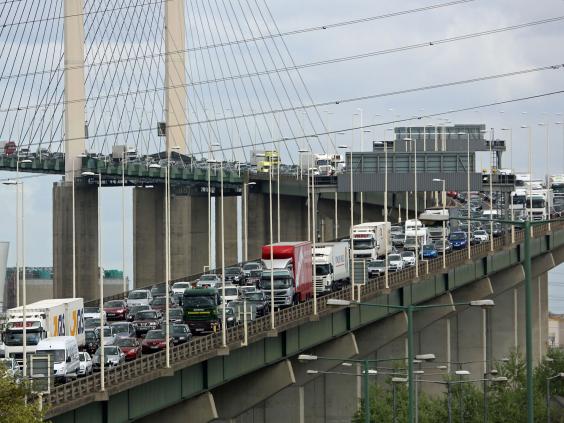 More than 100,000 vehicles have been registered for a Dart Charge account so far, including haulage firms and foreign drivers from 52 countries.
The standard charge for cars using the Dartford Crossing has increased by 50 pence to £2.50, while two axle goods cost £3 and multi-axle goods £6.
Those with prepaid Dart Charge accounts will have the toll reduced to £1.67 and it is still free to use the crossing between 10pm and 6am. But a new fine system means drivers can incur a maximum charge of £105 for failing to pay the toll.
It is the easternmost road crossing of the River Thames, with southbound traffic usually crossing the four lane bridge and northbound traffic passing through the two tunnels.
But the bridge's height, standing at 450 feet (137 metres), has posed problems in the past.
Last year, a man had to call police after he had a panic attack starting to cross and was unable to turn around. The driver, believed to be suffering from gephyrophobia, or an anxiety of bridges, was eventually escorted through a tunnel.
Special patrols that helped nervous drivers across the Dartford Crossing were scrapped several years ago, prompting complaints from motorists with vertigo and claustrophobia.
It was first opened in 1963 between Dartford, in Kent, and Thurrock, in Essex, and has been expanded several times to cope with increased traffic.
Reuse content