Protesters have vowed Donald Trump will "not succeed" in spreading anger and hate while joining a 40,000-strong march through London against the President's travel ban.
His controversial executive order, which has been suspended by a judge's ruling in the US, has been dubbed a "Muslim ban" by critics.
Protesters gathered outside the US Embassy in the capital before marching to 10 Downing Street. Members of the crowd bore placards and shouted slogans in support of refugees and criticising Islamophobia, amid growing concerns extreme-right politics are becoming normalised in the US.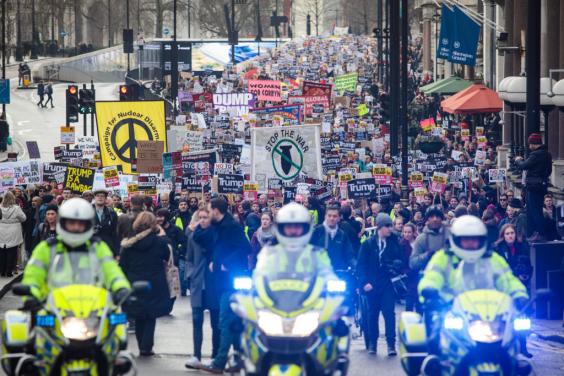 The march mirrored scores of others both in the US and around the world, reflecting international outcry at Mr Trump's executive order. The order, issued last week, stopped refugees from entering the US and also prohibits legal immigration from seven countries, all of which have Muslim-majority populations.
The policy has been criticised as unfairly targeting Muslims. However, President Trump has insisted it is a necessary step to protest US citizens from terrorism.
Arej, a 31-year-old refugee from Libya who was granted asylum in the UK, told The Independent she was attending the rally in solidarity with other refugees who face being affected by the ban. She said: "I have been in the UK for six years now. I'm here to tell Trump that no matter what you've decided to do in banning us from the US but you will not succeed in building anger. You can stop us entering the country, but you will not silence us."
Another protester, Eman, an 18-year-old attending with a group of friends, told The Independent: "I myself am a Sudanese migrant so I know what it's like when you're in the country and people aren't accepting of you. I grew up in a predominantly white area and at school I did get bullied because I wore a hijab from a young age and was a different colour."  
The controversial orders Donald Trump has already issued
The controversial orders Donald Trump has already issued
1/8 Trump and the media

White House Press Secretary Sean Spicer takes questions during the daily press briefing

Getty Images

2/8 Trump and the Trans-Pacific Partnership

Union leaders applaud US President Donald Trump for signing an executive order withdrawing the US from the Trans-Pacific Partnership negotiations during a meeting in the Roosevelt Room of the White House in Washington DC

Getty

3/8 Trump and the Mexico wall

People protest against US President Donald Trump's inauguration next to a fake wall with a Mexican national flag and a dummy representing him in Mexico City

Getty Images

4/8 Trump and the Mexico wall

A US Border Patrol vehicle sits waiting for illegal immigrants at a fence opening near the US-Mexico border near McAllen, Texas. The number of incoming immigrants has surged ahead of the upcoming Presidential inauguration of Donald Trump, who has pledged to build a wall along the US-Mexico border

Getty Images

5/8 Trump and abortion

US President Donald Trump signs an executive order as Chief of Staff Reince Priebus looks on in the Oval Office of the White House

Getty Images

6/8 Trump and the Dakota Access pipeline

Opponents of the Keystone XL and Dakota Access pipelines hold a rally as they protest US President Donald Trump's executive orders advancing their construction, at Columbus Circle in New York. US President Donald Trump signed executive orders reviving the construction of two controversial oil pipelines, but said the projects would be subject to renegotiation

Getty Images

7/8 Trump and the Dakota Access pipeline

US actress and political activist Jane Fonda attends a rally with opponents of the Keystone XL and Dakota Access pipelines as they protest US President Donald Trump's executive orders advancing their construction, at Columbus Circle in New York

Getty Images

8/8 Trump and 'Obamacare'

Nancy Pelosi who is the minority leader of the House of Representatives speaks beside House Democrats at an event to protect the Affordable Care Act in Los Angeles, California. The Republican-led US Senate has launched their much-anticipated effort to repeal the Affordable Care Act by passing a budget blueprint which would allow them to begin rolling back the health care reforms

Getty Images
Arriving outside the Prime Minister's official residence in Downing Street, protesters congregated to hear speeches from leading figures in the Muslim community, as well as politicians and activists who roundly condemned the ban and called on Theresa May to oppose it.
Shouts of "No hate, no fear, Donald Trump not welcome here" and "Theresa May, don't appease a fascist" rippled through the crowd.
Organisers estimate that more than 40,000 people attended the rally. It follows a number of previous rallies against the recently inaugurated President. On Monday, thousands gathered outside Downing Street to protest the Prime Minister's invite to Mr Trump to make a journey to the UK as an official state visit. A petition calling for MPs to block the state visit has amassed more than a million signatures.
Ms May has insisted the visit will go ahead and has stated that the US is entitled to set its own immigration policy, without UK approval or interference. 
The evening before the protest, a judge ordered a temporary halt on the US denying visas to people who are seeking to enter the country legally from affected countries. Mr Trump has hit back at the judge, arguing he will fight the ruling and intends to implement the travel ban regardless.