As Roger Newman and his lifelong friend Nigel come off the Wild Mouse retro-roller coaster, the two old men are skipping and giggling along like teenagers. Doug, 35, emerges beaming from the Wall of Death – a stunt show involving terrifyingly irresponsible motorbike riding. "You must go in," he says, "it's excellent." And he's right.
They are among the first punters to return to Margate's Dreamland amusement park, first opened in the 1880s (although the name Dreamland wasn't used until the 1920s) but closed early in the 21st century after years of decline. It has now been restored to its former vintage glory following an £18m redevelopment and opened for business. 
As the train pulled in to Margate station early yesterday morning, visitors were greeted by a big yellow sign, painted on a wall opposite a greying tower block: "Welcome to the land of dreams." It's a far cry from the glamorous Victorian seaside resort Margate once was, but there was a new spark of excitement in the air as locals, visitors and fans of all things retro made their way towards the 17 rides – new additions will be rotated each season.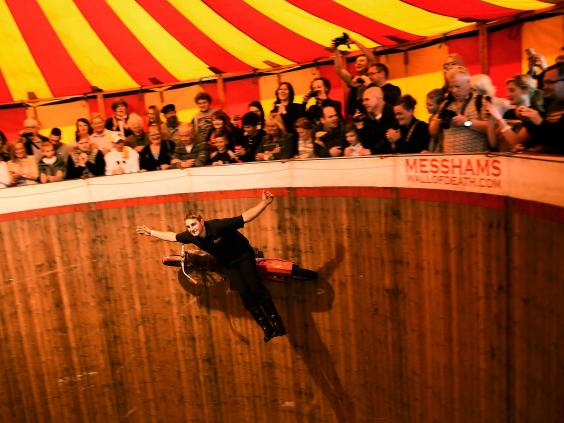 Sitting right at home behind Margate's "Funshine" arcades, this retro-themed renovation came laden with high expectations – from its extensive design team but also from residents, teenagers ready for a new hangout and octogenarians who remember coming with their own grandparents back when Margate was in its prime.
By 10.30am, the car park was full and visitors queued for the length of it, excited if wary to see how their old childhood haunt has been transformed for the better or worse.
"Today is really a test," said Margate resident Roger Newman, who came to scope out the park with friend Nigel. "It looks like they could have done with a few more weeks to get ready, but the park is looking fine so far. We all really want it to work, to keep Margate on the up."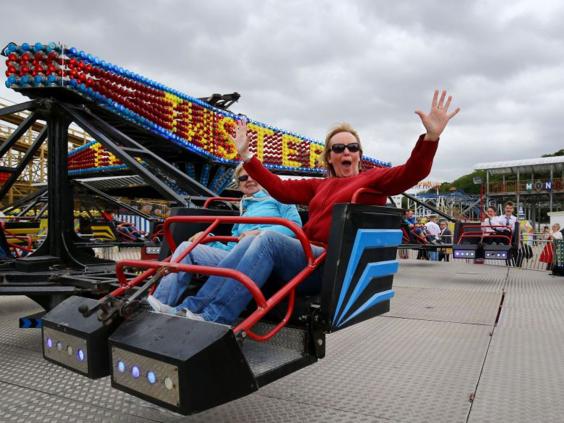 Once through the gates, a plethora of perky staff were on hand to greet visitors and point them in the direction of fun. They wore T-shirts with decidedly hipster slogans such as "we cater for pleasure" and "Dreamland storyteller", if not dressed up to the nines in rockabilly petticoat dresses and circus-style get-up with hats, canes and braces.
Undoubtedly the most frequently asked question of the day was "why are the rides not ready?" Despite almost five years of planned reconstruction, Dreamland's most loved and remembered landmark, the Grade II-listed wooden Scenic Railway rollercoaster, the UK's oldest, is still not finished. Carefully rebuilt to look just the same as it did in 1920, this was the ride most visitors came for, and the disappointment was clear.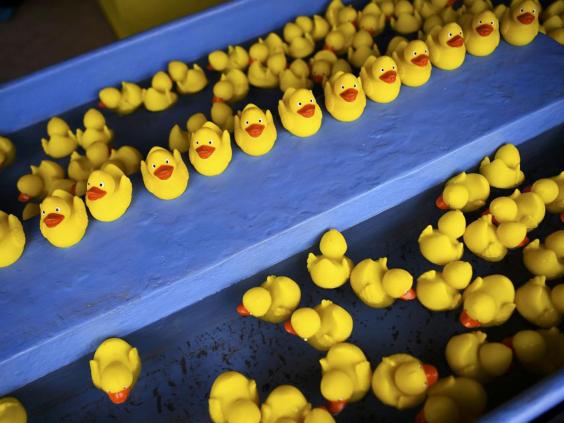 There were certainly teething problems. By midday, the Big Wheel was turning but visitors could not yet board. The shiny electric security lockers were not yet in service and there were more than a few grumbles from people queuing up for a fish and chip stall with no price boards. But locals especially seemed very forgiving.
The park has remained loyal to the old favourites too – the Big Wheel, Helter Skelter, Hook-a-Duck and food stalls with names like "Sweet Dreams are Made of Cheese" and "Meat me at Dreamland".
Fresh off the Wall of Death, Doug added: "There are things that need to be finished off, but I'm impressed with it so far. I'd like to see some of the old rides back though – the old fashioned Sphinx, the log-flume, the ghost train."
The retro seaside-themed design was a definite hit and will make the park appeal to teenagers as well their nostalgic parents. As 18-year-old Ayla put it: "Dreamland is definitely alright."
Of course Dreamland is still a bit naff, but only by the way in which all seaside amusement parks are – clunky, unserious and a little outdated – it's what makes them charming. Despite the launch's setbacks, everybody here was having a good time.
"The punters will come, and they'll keep on coming," said 71-year-old Jo, who was there with her husband Jerry. "I used to bring my grandchildren here and I came here with my family when I was three years old – my first memories are of the pony rides. It's wonderfully nostalgic."
Reuse content