For a man with a bloody stump where his left leg was and a gory pulp of a right foot barely attached to his body by a few tendons as a team of crack British Army medics fought to save his life, Ashley Samms was surprisingly talkative. He said: "I love doing this. It's a brilliant way to earn a living."
His horrific wounds - akin to those suffered by British soldiers injured by hidden Taliban bombs - were on closer inspection a highly convincing make-up job produced as part of a showcase of the way battlefield medicine has been transformed by the conflicts in Afghanistan and Iraq.
A few yards away in the vast galleries of Defence & Security Equipment International (DSEI) exhibition in London's Docklands a bewildering array of weaponry, much of it designed to inflict similar injuries to those being demonstrated by Mr Samms, was on display as manufacturers jostled to sell their wares to the 32,000 people - from Azerbaijani generals to Lithuanian pilots - attending the world's biggest arms fair this week.
The juxtaposition of military hardware and the medical prowess used to mitigate the effects of war on British servicemen displayed in perhaps unintentionally sobering terms all sides of the industry which descends on the ExCel exhibition centre every two years to display its latest innovations with the aim of boosting the UK's £8.5bn annual arms sales and shoring up the nation's position as the world's second largest defence exporter.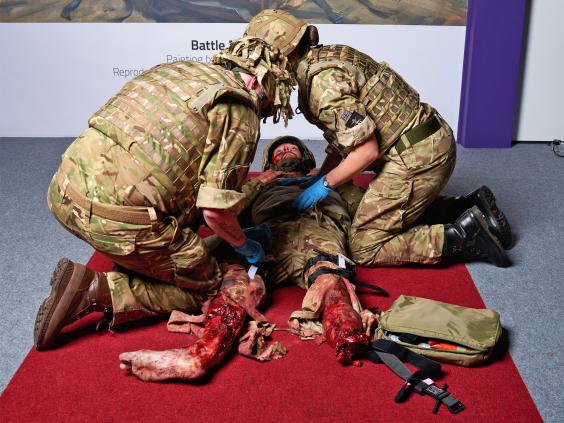 Mr Samms, who had his legs amputated due to disability as a child and now works as a specialist re-enactor in training soldiers in battlefield first aid, had been made up with disconcerting quantities of fake blood and silicone rubber to resemble the injuries inflicted by road bombs and other devices on dozens of British soldiers in the last decade. Several times a month he attends training events for the military, playing a badly-injured soldier minutes from death much as he did here for gathered, and in some cases slightly aghast dignitaries as Army medics re-created the life-saving procedures fine-tuned in Helmand.
Mr Samms said: "It can be hard for people with my sort of disability to find work so I'm very happy to be doing this. If what the guys learn when they're training on me can help save a life out in a real life situation then I'm delighted. I'm not sure I could operate on myself if these injuries were real. What these guys are trained to do in the heat of war is pretty amazing."
Medical specialists attending DSEI, which for the first time features a "zone" dedicated to battlefield trauma care, pointed out that one of the more perverse by-products of war is the quantum leap it provides in medical technology and techniques forged by the necessity of dealing with the types of injury caused by bullets and explosives.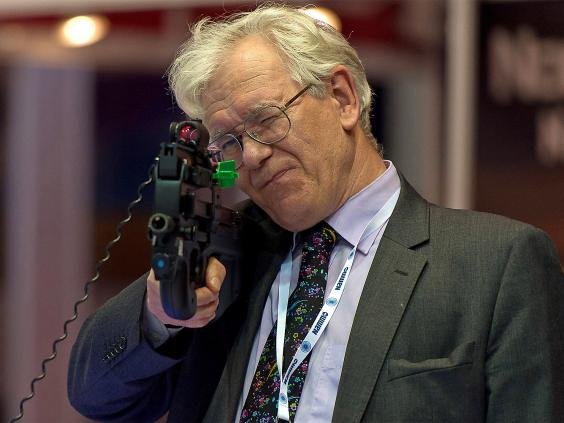 Research by the Defence Medical Services, which oversees British military healthcare, shows that thanks to advances treating troops with catastrophic injuries - from improved first aid training to new techniques which vastly lengthen the amount of time a severely-wounded infantryman can undergo initial surgery - the average British soldier is now likely to survive injuries twice as severe as were survivable in 2003.
Such gains do not remain on the battlefield. Brigadier Tim Hodgetts, medical director of the DMS, said the way these techniques of Afghanistan are transferred to the NHS was underlined when an Army registrar was travelling with the air ambulance that treated those injured in the roller coaster crash at Alton Towers this summer.
Brig Hodgetts told The Independent: "These guys were first on the scene and some of that military medical practice was put into action to help those who had suffered such severe leg injuries. What is learnt in conflict situations can be transferred into civilian practice, just as we learn from the NHS. The challenge now is to continue that innovation now that we are no longer deployed in places like Afghanistan."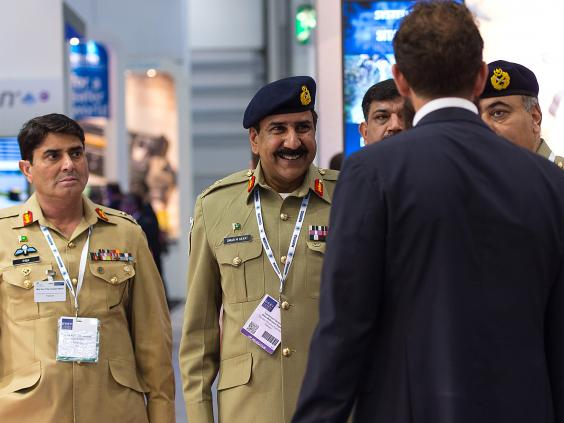 For those whose livelihood depends on innovation in hardware whose prime purpose is generally not the preservation of the lives of those who might be on the receiving end of it, there was abundant evidence in ExCel that business remains in robust health.
Some 150 foreign delegations, including teams from countries with poor human rights records such as Azerbaijan, Kazakhstan and Egypt officially invited by the Government, will tour the 1,500 exhibitors offering myriad khaki-hued machines of war and assorted security sundries.
They range from the gargantuan Czech-made Vega 6x6 armoured vehicle (barely smaller than a London bus) to rubber bullets made by a company calling itself Less Lethal Africa, whose brochure helpfully includes images of the injuries its products inflict on the human body with the promise that the ammunition "disperses crowds quickly and efficiently" by causing "severe pain and bruising". In the adjoining Victoria Dock, no fewer than eight naval vessels, including the first visit to the UK by the Indian navy, were available for perusal by those in need of a destroyer or two.
In a move which underlined the 007 tendencies of some of the material on display at DSEI, Admiral Sir George Zambellas, the First Sea Lord, announced at the show that the Royal Navy hopes to have developed a "death ray" by 2020.
Sir George told an audience of industry figures that the development arm of the Ministry of Defence was working on ship-based laser-type weapon which would have the capacity of destroying targets such as aircraft. He noted, however, that any new weapon would have to be proven to be more effective than existing conventional weapons before it would be widely deployed.
Quite what was on the shopping lists of those attending DSEI remained unclear. An attempt by The Independent to approach an officer wearing the insignia of the Saudi armed forces swiftly drew the attention of a plain-clothed protection officer who politely advised against further progress.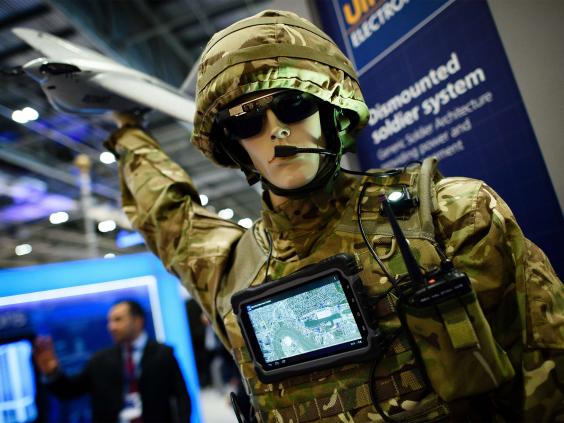 Campaigners insisted that while the four-day event draws the fervent interest of the world's military, the British public remain unpersuaded of its merits. A poll for the Campaign Against Arms Trade (CAAT) found that 70 per cent of people believe the Government should not promote arms sales to countries with poor human rights records. A further 60 per cent believe sales should not be made to countries that are not democracies.
The Government and the organisers of DSEI insist that Britain operates among the strictest arms export controls in the world.
In the meantime amid the blur of gold braid patrolling the stands, one British brand was offering a product designed to minimise injury rather than inflict it. Jaguar Land Rover is using DSEI to unveil the Range Rover Sentinel - an armour-plated flagship 4x4 designed to protect its drivers and VIP passengers from pretty much any assault short of a tank round.
For those who do not inhabit Downing Street or Buckingham Palace the price tag for such security is  £275,000.
A spokesman, who may just as well have been speaking for the whole of DSEI, said: "It is a very, very serious piece of kit."
'Best buys' at DSEI
• BvS10 "Beowulf"
For those who thought Beowulf was a Swedish warrior immortalised in early English poetry, think again. BAE Systems has unveiled its own Beowulf (below) - a "dual-body amphibious vehicle" which will provide "total operational support where other vehicles cannot". Its brochure dubs it "the unstoppable Nordic hero".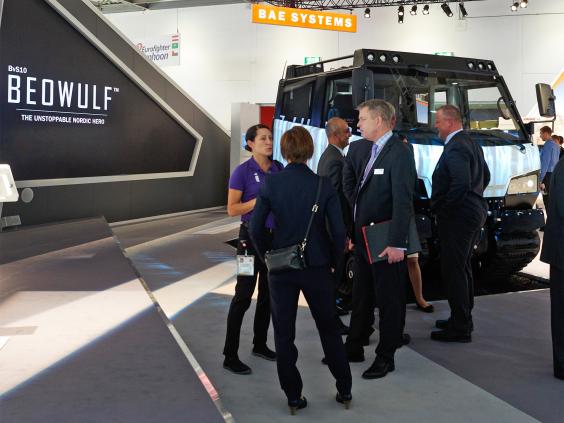 • Inflatable Wall Company
Imagine soft play for squaddies. This Devon company has perfected a system of inflatable panels, not unlike the material used in bouncy castles, which can be set up to resemble the outer walls of low buildings or prison wings for firearms or anti-riot training. The walls can withstand blank ammunition, though not live bullets.
• Ryozo Uniforms
Gold braid by the metre? Ceremonial swords? Camouflage American football strips? Special services ethnic scarves? Pakistan-based Ryozo are your guys. They also have a nice line in military tents.
• Range Rover Sentinel
Boasting glazing that can stop the most powerful bullets and armour that will deflect a rocket propelled grenade, the Sentinel is no ordinary 4x4. Aimed at "dignitaries and high net worth individuals" Jaguar Land Rover acknowledge their new car will be aimed at the export market, with South America and Central Africa key areas. Prices start at £275,000.
Reuse content