An earthquake measuring 4.3 on the Richter scale has hit Kent  - causing widespread mild peril and spawning a wealth of Twitter jokes.
The British Geological Survey reported receiving over 300 notifications from members of the public just before 3am.
The graph shows how its seismic monitoring station in Eltham, south-east England, displayed a massive surge in seismic activity at 2.52am.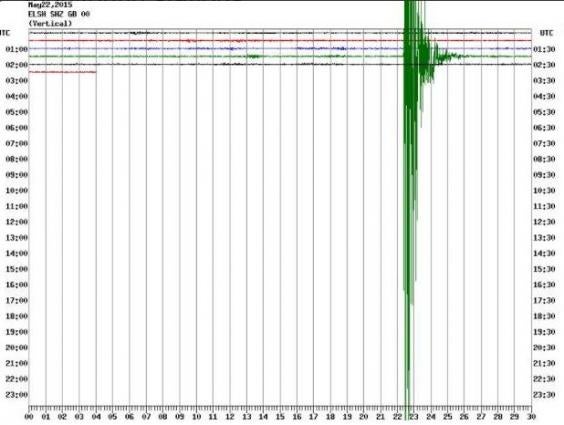 And while some immediately took to Twitter to complain about the inconvenience.
Thanks for letting us know who is in charge, earth. A more convenient time next time if you could though mate xxx #KentEarthquake

— Tor Charlesworth (@Torchels) May 22, 2015
My god that earthquake has freaked me out! My house really shook, I thought I was imagining it!! #Kentearthquake

— Jessica Sutherland (@JessSutherland) May 22, 2015
That was so weird. I could feel my body moving but nothing fell off the shelves?!? #kentearthquake

— Sammy (@Luckysammystarr) May 22, 2015
...others didn't take long for them to come up with explanations for the quake.
Breaking News: Voting UKIP makes God Angry. UKIP Run Thanet hit by earthquake. #KentEarthquake.

— Ben of Kent (@BenHartDS) May 22, 2015
But the plucky British spirit remained, with members of the public demonstrating solidarity in the wake of such adversity.
#KentEarthquake We will rebuild❤️ pic.twitter.com/aAgULOYpoU

— Nick Butcher (@nickbutcher88) May 22, 2015
No matter how much inconvenience the #KentEarthquake has caused....us kentonians will troop on x pic.twitter.com/WUfdA45C9k

— IAMEatonsMess x (@Britishchickx) May 22, 2015
Carnage in Kent as earthquake strikes. Thoughts and prayers with you all. #KentEarthquake pic.twitter.com/shrGD2vY5l

— Otto English (@Otto_English) May 22, 2015
Devastating scenes in Kent this morning. We will rebuild! #KentEarthquake - http://t.co/tBnIzU9CjF pic.twitter.com/Q5LalHnSLN

— The Hits (@thehitsofficial) May 22, 2015
Hearing about the #KentEarthquake now, thoughts are with those who lost a perfectly good cuppa, we will rebuild pic.twitter.com/S9dOkQmsmH

— Veni. Vidi. Amavi. (@Skrr187) May 22, 2015
And for anyone needing a sense of perspective as to the scale of the tremor, the recent earthquake that hit Nepal, in which more than 8,000 died and 19,000 were injured, was approximately 260,000 times bigger than the Ramsgate rumbler.
Today's 4.2 magnitude Ramsgate earthquake is approx 260,000 times smaller than the 7.8 #NepalQuake event

— BGS (@BritGeoSurvey) May 22, 2015
Police and Kent Fire and Rescue Services said that they had not yet received any reports of structural damage or injuries during the quake.
Reuse content