When the uniformed security men arrived – posted at the main entrance, along the corridors and outside apartment doors – some of the residents thought something terrible had happened. A siege, a kidnap, or a terrorist attack.
"We knew it was coming, but never thought it would be so over the top. This has been my home for 20 years. I've been happy here. But the security operation told me how much things are going to change. I've already said goodbye in my heart."
There was no siege or attack. The description is from a 24-hour period late last summer when a 1930s block of flats in Holland Park, west London, was in the process of being bought by the luxury developers behind One Hyde Park, the Knightsbridge towers that have come to symbolise "lights out London".
The capital's most expensive apartment block is the most visible example of how the high-end property has become a global reserve currency rather than a place to live. Similarly, what has happened to Duke's Lodge at 80 Holland Park encapsulates the residential hyper-inflation that is already turning boroughs into no-go areas for even the wealthy middle-class.
To achieve the "vacant" status required for the sale last August, 12 long-term residents were each paid an average of £1 million by then owners of the building, Liverpool Victoria (LV). The money bought out their old protected tenancy rights, turning all the residents into short-term renters who could be told to vacate their homes at relatively short notice.
To ensure the letter of the law was followed, a dozen tenants left their homes and came back 24 hours later after signing new contracts. Guards mounted outside their doors and in the lobby prevented any accidental return.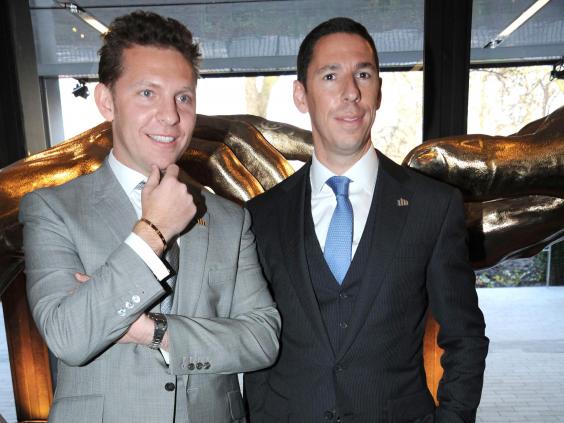 When the guards left and the residents of 80 Holland Park later met up to talk, there was a slow realisation that they were the next falling domino in a process that has seen the capital's house prices soar while Kensington and Chelsea's population has fallen.
Close to 40 per cent of residential sales in the most expensive upmarket neighbourhoods in central and west London are now going to people who won't use them as their primary home. In Mayfair, Kensington and Chelsea, Belgravia, in the élite ultra-prime spots of London, close to 60 per cent of sales are to foreign buyers.
Only a dozen or so personal names are registered as owners in One Hyde Park. Most of the remaining 64 apartments, which sold for close to $3 billion, are assigned to offshore tax-haven companies in the British Virgin Islands, the Caymans, Liechtenstein, the Isle of Man. The peripatetic owners rarely drop in to their Knightsbridge property, earning it the nickname of the capital's "Marie Celeste".
When the residents of Duke's Lodge learnt last year that developers including Nick and Christian Candy, the two brothers behind One Hyde Park, now had 80 Holland Park in their sights, most accepted that their time in Holland Park was coming to an end.
"We had a real community here. A handful of people renting in the block had been here for years, 20, 30 years," one said. "There was a time when once a month or so, we'd put a table in the front hallway, lay out a few glasses, have some wine, chat, get to know each other. That's all gone now."
When LV put the property on the market the bidding war was aggressive. The six-storey block and its two penthouses stand on 0.6 acre site in one the most sought-after locations in London. But in the latest accounts, the annual rental income from the 27 flats of the LV property was just £689,264. By Holland Park rent standards, Duke's Lodge was almost cheap.
The property had another asset that increased its attractiveness to deep-pocketed developers. It is not a listed building, meaning there are few barriers to redevelopment and even demolition, clearing the way for a new block of ultra-luxury apartments to be marketed to a global elite.
Most Londoners can no longer compete at this level of the property market, even if their City bonuses rocket. It is estimated that the world's super-rich have a possible $32 trillion hidden in tax havens.
The "ghost blocks" similar to One Hyde Park, according to one hedge-fund manager, should be viewed as one of the fortresses of a new "offshore class".
The Tax Justice Network pressure group estimates that hundreds of billions of dollars which the exchequers of China, Russia, South Korea, India and elsewhere believe should be under their control could have instead made their way into London property.
But for Duke's Lodge or its, to become the latest fortress, one problem had to be addressed before any plan was green-lighted – the dozen protected or regulated tenancies that enjoyed strong rights. The £12 million pay-offs and allied security operation cleared the way for the sale, with Christian Candy's Guernsey-based CPC Group thought to have paid £50 million – around £10 million above the initial price.
While no planning application have yet been received by the borough, it is understood that any bid for redevelopment would be approved as long as it was "sympathetic" to the Holland Park conservation area.
A statement from CPC said: "CPC Group reviews its portfolio from time to time to see if value can be added. There are no firm development plans for the Duke's Lodge building at the current time."
The firm also made clear it had no involvement in any arrangements between the previous owner [LV] and the long-term tenants of Duke's Lodge, and said "any such action would have taken place before CPC Group's ownership of the building".
The Independent contacted LV with questions about last year's security operation at 80 Holland Park, but the firm did not offer any statement.
One of the Duke's Lodge residents, currently looking for another place to live, said he had already given up on Holland Park and that it was almost inevitable that a developer would end the life of the block that had been his home for "many happy years".
Pointing along Holland Park Avenue he said, "Up there, at the top of that villa, is where Lucian Freud painted some of his best work. Sure, it was a wealthy neighbourhood, but it was still a neighbourhood. Now, we see rows of Bentleys parked outside empty houses and it's so quiet at night because no one actually lives here any more. "
Pointing to the statue of Saint Volodymyr, the ruler of Ukraine in 980, which sits a few steps from the lodge, he added : "We've heard noise over the past few weeks from Ukrainian demonstrations gathering around the statue. It was almost comforting to hear the street alive again."