The Ministry of Defence is being sued for negligence in a landmark case by the family of a military policeman who was killed in one of the most notorious episodes of the Iraq war.
Corporal Russell Aston, 30, was one of five military policemen who were murdered by a crowd, some of them armed, in the town of Majar al-Kabir in the UK-controlled south of the country a few months after the invasion.
His family has launched court proceedings following a Supreme Court ruling in June that soldiers have the right to life even in war zones – a ruling which paved the ground for such claims. Relations of some of the other victims will join in the legal action at a future stage.
Corporal Aston's family is claiming that the MoD failed to take reasonable measures to keep him and his comrades safe during the attack in June 2003. Specifically it is alleged that they were not supplied with sufficient ammunition to defend themselves, or roadworthy vehicles or effective communications.
The others who died were Sergeant Simon Hamilton-Jewell, 41, from Chessington, Surrey; Corporal Paul Long, 24, of South Shields, Tyne and Wear; Lance Corporal Benjamin McGowan Hyde, 23, from Northallerton, North Yorkshire; Lance Corporal Tom Keys, 20, from Llanuwchllyn, north Wales; and Corporal Simon Miller, 21, from Washington, Tyne and Wear.
John Miller, the father of Corporal Miller, stated that he would join the proceedings. "Simon's patrol should have had a satellite phone and 150 rounds of ammunition; they were denied both, they couldn't call for help, they couldn't initiate a fire fight because they didn't have enough ammunition against a mob of 500 firing rocket propelled grenades and AK-47s."
Mr Miller, 62, continued: "All we want is an admission of guilt from the MoD. I'm so angry and very, very hurt. I do not think me and my wife have even grieved – it has been a constant battle.  All I've wanted is to get these people into court and for the MoD to accept the failings that were clearly identified by the board of inquiry.
"Nothing else would give me greater satisfaction, and I know nothing will ever bring my amazing son back, but if we could get that justice and admission of guilt, my wife and I could turn the chapter."
The killings undermined the narrative of Tony Blair's government that Iraq's Shia community in particular welcomed "liberation" from Saddam Hussein. In the next six years British forces came under sustained attack from Shia militas, the Mehdi Army and Badr Brigade, until their final departure from Basra.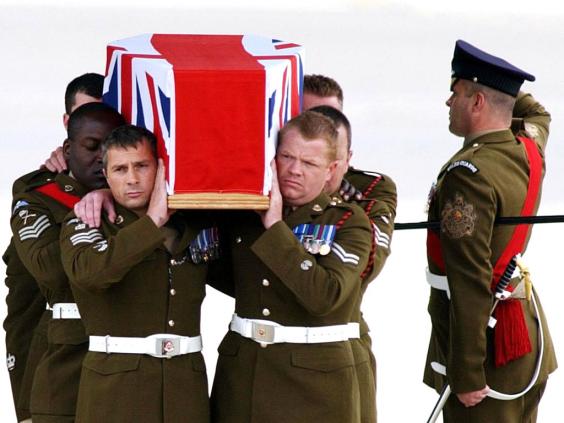 A 2006 inquest recorded a verdict of unlawful killing and found the soldiers had old radios, no satellite phone and too little ammunition. The MoD declared that those responsible would face justice, but no one was ever convicted over the deaths.
Simon McKay, the solicitor advocate who is acting for the families of Corporals Aston and Miller, said: "The claims follow a recent Supreme Court ruling extending the reach of the European convention on human rights [ECHR] to some theatres of war and the scope of combat immunity as a defence available to the Ministry of Defence."
The claim alleges that the Government breached article 2 of the ECHR by failing to take measures that it was expected to in light of the "real and immediate risk to life" of the soldiers. Mr McKay added the claim included allegations of a failure to provide sufficient ammunition on 24 June 2003; a failure to provide roadworthy vehicles; and a failure to ensure effective communications were provided to the soldiers.
Senior officers have privately expressed concern that introducing the ECHR into battlefield conditions would jeopardise military missions which carry inherent risks and also that one cannot have perfect planning in war.
An MoD spokesman said: "Our thoughts remain with the families of those who lost their lives in this incident. However, it would be inappropriate to comment."
He knew he would probably die but stayed
As the 400-strong mob approached the police station wielding AK47s in the southern Iraqi town of Majar al-Kabir, Corporal Russell Aston and his five colleagues had the chance to escape through a back window. They knew they would probably be overrun and killed but stayed out of a sense of duty to defend the station.
One Iraqi policeman who did flee said the Red Caps were "murdered in cold blood" by the gang. Witnesses said they were all shot in the head more than once.
The soldiers were in the town to discuss buying uniforms for local police officers. They had come despite the fact many locals had been upset by what they claimed were heavy-handed sweeps by British troops trying to reduce the threat of rebel attacks.
Corporal Aston, a physical training instructor with the 156 Provost Company of the Royal Military Police, from Swadlincote in Derbyshire, was buried in 2003 in the same church he married his wife, Anna. He had a 17-month-old daughter, Paygan.
At the funeral, where he received full military honours, his father, Mike, said: "I shall always miss him and I shall never, ever get over his death. But I stand here feeling 10ft tall with pride because few will ever equal what he achieved."
Paul Bignell
Reuse content