The death of Gerry Conlon of the Guildford Four has revealed a near total absence of specialist psychological support available on the NHS to victims of miscarriage of justice.
It is estimated that there are several hundred former prisoners currently not receiving the specialist psychological care they need in the aftermath of being jailed for a crime they did not commit.
Campaigners say that recent changes in compensation rules have also meant that many victims now find themselves ineligible for payouts that can fund private treatment packages – whilst also feeling the enormity of the injustice against them has not been properly acknowledged.
Mr Conlon, who served 15 years in prison after being wrongly convicted of carrying out the 1974 IRA pub bombing, died aged 60 at his home in Belfast on Saturday.
Following his release in 1989, he became a high-profile campaigner for the rights of wrongly convicted people as he struggled to overcome the symptoms of post-traumatic stress disorder left by his ordeal. Paul McLaughlin, co-project manager of the Scots government backed Miscarriages of Justice Organisation, of which Mr Conlon was a director, said help was urgently needed.
"There is no specialist treatment provided. That is one of the things that Gerry campaigned for – that people should be referred to specialists with the skills to help them," he said.
Ministers have accepted responsibility for assisting the wrongly imprisoned but at present they are left to seek help though their GP, he said. Symptoms experienced by miscarriage victims are often compared to those endured by soldiers returning from war zones. "We have letters from the Government saying they accept a duty of care but they think you can go through your local mental health services where it can take 18 months to get an appointment," said Mr McLaughlin.
The searing impact of wrongful conviction is highly complex and little understood by mainstream medical practitioners, explained Dr Adrian Grounds, of Cambridge University, a forensic psychiatrist and one of the country's leading experts on the subject.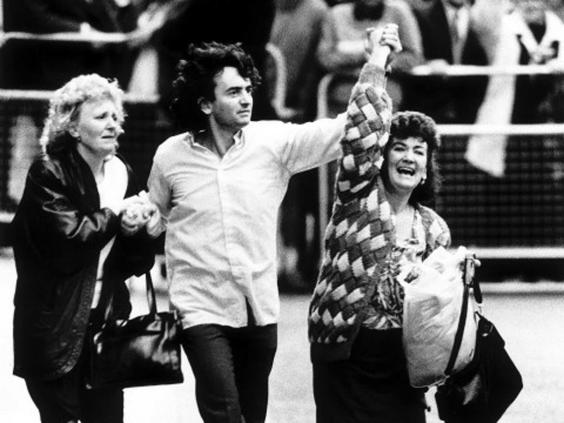 Based on the experience of 50 patients, he said victims spent years in jail focusing on their campaign for release – but found that freedom revealed their former lives had been lost forever.
Often their families have grown up or become estranged whilst relationships cannot be rekindled. Some struggle to cope with everyday tasks such as crossing the road and continue to feel stigmatised. Many feel life was easier in jail, he said.
"Longstanding depression is common and some use alcohol or drugs to try and reduce feelings of distress. Often the enormity of the personal losses is impossible to bear.
"In addition, some are consumed with anger and bitterness because it is impossible to accept the legitimacy of what happened; there has usually been no apology, and those at fault have not been brought to justice," he said.
At present the only taxpayer-funded assistance available in England is the Royal Courts of Justice Advice Bureau's Miscarriages of Justice Support Service.
Released prisoners need specialist psychiatric care and longer term psychological support, Dr Grounds said.
"Most professionals working in mental health services will have little or no experience of work with wrongly convicted people, and may therefore have difficulty in recognising and properly appreciating their complex problems," he added.
Psychologist Ian Stephen, who has worked with prisoners for 40 years, said that with the right treatment they could get better.
"You can help them and they do make progress. One of the very sad things is the number of people who have been through that system who have died subsequently.  The strain and the stress have physical results," he said.
Mr McLaughlin said Mr Conlon, who died from cancer, had been receiving expert help for the past seven years and was starting to recover.
However, after his release he had suffered two breakdowns, attempted suicide and battled addiction to drink and drugs. Mr Conlon's father Giuseppe died in jail after also being among a group wrongly convicted in connection with the 1974 bombings.
Mr McLaughlin described one man who had been asked on his first visit to a psychologist whether he had empathy to his victim, despite being innocent. On the second visit the miscarriage victim, a gay man, was offered help through a religious group which opposed same-sex marriage. "It took him two-and-a-half years before he could find someone with whom he could even begin the process," he said.
Reuse content