For rent: one Second World War bomb shelter, prime south London location, very secure, tenants must embrace "troglodyte existence" and not be daunted by 178-step spiral staircase.
It sounds like something from a John le Carré novel, but 100ft beneath Clapham South, just down from the Tube station and hidden under a smart block of luxury flats, one of the deepest tunnels in the capital is available to rent.
Completed in March 1942 to house 8,000 bomb-weary Londoners, the Clapham South deep-level tunnel is one of eight shelters now owned by Transport for London. And while the other seven tunnels are rented out to document storage firms, a film archive and even an underground farm, this final remnant of the Blitz is sitting empty.
In the sunshine at ground level, Nigel Holness, one of TFL operations directors, explains that the bomb shelter is actually two vast train tunnels, each of which is 17ft in diameter and 1,600ft in length.
"It was to be the Crossrail of its day," says Nigel, explaining that the shelter was first designed as a great north-south train line. "The idea goes as far back as the 1930s, but the war intervened."
With the Luftwaffe battering London night after night, the Government decided to dust off the deep-levels plans to create 10 shelters across the capital. Only eight were ever completed though at Clapham South, Clapham Common, Clapham North, Stockwell, Goodge Street, Camden Town, Belsize Park and Chancery Lane.
At Clapham South, work was completed in 1942 and the bunker could house nearly 8,000 bunks in 15 sections, each named after a famous naval officer. Many of the bunks are still in place, though the medical posts, kitchens and lavatory blocks have all seen better days.
As we descend, our guide is Tfl's in-house tunnel expert Philip Aish. He's quick to apologise for the lack of lighting on the staircase, as two dim torches and a smartphone screen illuminate the way down. This is far from the health and safety conscious world of the modern Underground.
"Ironically the worst of the Blitz was over by the time this tunnel was completed," says Aish. "And by then the Government feared a troglodyte existence would set in among the population, so other than some troops, the deep levels shelters languished pretty much empty until the doodlebug rocket raids of 1944."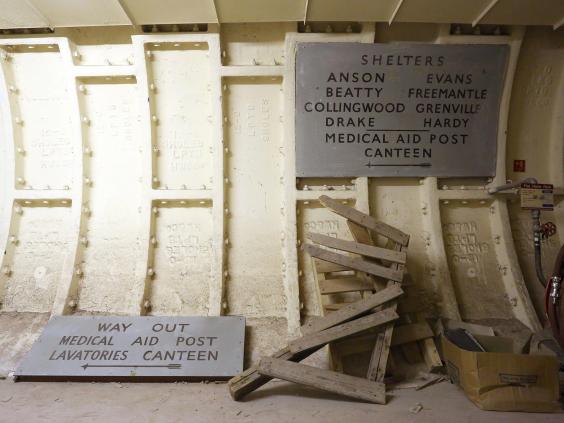 At the bottom, before the overhead lighting finally engages, it's hard to imagine what it would have felt like descending during wartime, it's a constant cool temperature and aside from our voices, the only noise is the disembodied rumbles of a Northern Line train overhead.
During the war many of these tunnels were used by troops preparing for Operation Overlord, while the shelter at Goodge Street was used as General Eisenhower's D-Day headquarters. Now though only the bunk beds and scattered remnants of cardboard boxes remain.
The end of the war saw most of the shelters fall into disuse, but Clapham South found a role as a hostel for unfortunate tourists during the Festival of Britain in 1953. They also offered a less-than-glowing welcome to 492 immigrant workers from Jamaica who arrived on the MV Empire Windrush in 1948.
"It wasn't the warmest welcome to give," says Aish. " Interestingly though, the nearest labour exchange was in Brixton... explaining why Brixton became such a centre of the West Indian community."
Today most "guests" are Tfl workers keeping the electrics in order and occasional prospective tenant. The biggest problem Tfl faces is unauthorised "intrusions" from bunker obsessives who try to gain access to sites across the capital (often to upload videos on YouTube). This is more of a problem at other sites across the body's network but one subterranean blagger did convince Aish to give him a tour (members of the public are not welcome). However once underground he promptly disappeared and was found, sometime later, in the darkness, complete with head torch and camera, examining a particularly fascinating concrete fixture.
Rattling around the vast tunnels it strikes me that this place would make a fantastic nightclub or perhaps an unorthodox boutique hotel. "Afraid not," says Nigel. "It just doesn't meet today's fire and safety regulations. For example, how would you get people out quickly in an emergency? You'd need a massive investment to get it up to standard." The lift, which was out of order when I visited, only has space for four people.
The rent alone is £100,000 a year and more realistic tenants include document-storage firms, though at the Clapham North shelter, a pioneering underground farm, which has the backing of Michel Roux Jr, the celebrity chef, has been established. Apparently its miniature vegetables are very tasty.
It's hard to imagine much growing at the bottom of the Clapham South deep level tunnel though. Down yet more steps is the shelter's sump room, which pumps out rising ground water and houses an electricity switching station and a mercury arc rectifier. If this unusual-looking object looks like a monster from Doctor Who, that's because it was and featured in the show during the 1960s.
It's pretty surreal stuff and Nigel, who has never ventured quite this deep into the tunnel, is fascinated by the historic electricity switching gear that powers the bunker. "It's odd to think that up above us, people are just walking by, unaware that there's all this transport and Second World War history beneath their feet," he says.
To see more of the Clapham South deep-level shelter, watch ' Wake Up London' at 6.00am on Tuesday on London Live. Or catch it at 12.30pm on the lunchtime 'Headline London' show. Visit Londonlive.co.uk for more details