A 12-year-old girl was killed in her school changing rooms when a wall fell on top of her, months after another pupil had allegedly told staff that it was unstable.
Keane Wallis-Bennett, who was in the first year at the secondary school, was fatally injured when a free-standing wall collapsed on top of her. The incident occurred at Liberton High School just before 10am.
Emergency services rushed to the school and the girl received treatment from ambulance staff, but was pronounced dead at the scene.
One pupil at the school, Devon Blyth, claimed she had warned a teacher some months ago that there was an unstable wall in the girls' changing room.
She said: "I told staff months ago that the wall had moved, but nothing was done. I think they should have done something about it. I reported it, about two months ago, that the wall had moved when I leaned on it."
Andy Gray, head of schools and community services at the City of Edinburgh Council said: "This is obviously a very distressing time for all the pupils, the staff, the community of Liberton High School.
"We're offering welfare support to anyone who needs it and we're co-operating fully with Police Scotland and the Health and Safety Executive at this very difficult time."
A Police Scotland spokesperson said: "Police in Edinburgh responded to Liberton High School after a wall within the building collapsed, injuring a female pupil at 10am.
"Inquiries into the full circumstances surrounding this incident are ongoing and we are working alongside our relevant partner agencies."
The school was closed following the incident, and parents were asked to come and pick up their children. They showed reporters a text sent from the school which read: "Important. Accident at school. A pupil has sadly died. Her parents are aware. No-one else is injured."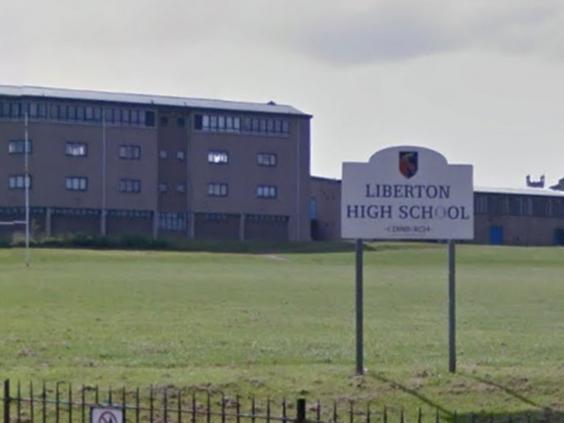 One pupil at the school, Devon Blyth, told the BBC she had warned a teacher some months ago that there was an "unstable" wall in the girls' changing room.
Asked about whether the school had known about any such reports before today's incident, Edinburgh Council's head of schools Andy Gray said they were "not aware at this stage that pupils had expressed concerns about that wall in the past".
Police Scotland said they would be holding a meeting tomorrow morning with the Health and Safety Executive to establish which agency will take the lead investigating the incident.
Scotland's First Minister Alex Salmond responded to the incident on Twitter, saying: "Shocked and deeply saddened at news from Liberton High. Visited school in December - thoughts today with family, pupils and staff."
Councillor Nick Cook, who represents the Liberton/Gilmerton ward, said: "It's tragic and troubling news out of Liberton High School.
"Our thoughts are first and foremost with the family.
"But serious questions need to be asked as to how this incident managed to come about."
Edinburgh Southern MSP Jim Eadie, whose constituency covers the school, said: "I am deeply shocked and saddened by this tragic incident, and the thoughts of the entire community are with the family and friends of this young girl.
"Inquiries into the full circumstances of what happened will be under way, and Police Scotland and City of Edinburgh Council will determine exactly what took place."
The news came after the council was fined £8,000 in February when a girl at the same school fell more than 16ft (5m) as teachers tried to free her from a broken-down lift.
The schoolgirl, then aged 15, suffered three fractured vertebrae, bruising over her lower back and a sprained wrist as a result.
The HSE confirmed in February that it had investigated the incident and a prosecution was brought against the local authority for "serious safety failings".
The council was fined at Edinburgh Sheriff Court after pleading guilty to breaching Section 3 of the Health and Safety at Work Act 1974, the HSE said.
Reuse content