The Catholic Archbishop of Glasgow has spoken of how he wept with the woman whose parents and daughter were killed in Monday's tragic lorry clash.
During a memorial mass held today at the city's St Andrew's Cathedral, Archbishop Philip Tartaglia admitted that he had "shared the grief" of the bereaved family.
He had tried to comfort Jacqueline McQuade and her family, who he said were facing up to the "abyss of their loss" after her 18-year-old daughter, student Erin, and her grandparents, Jack and Lorraine Sweeney, all from Dumbarton, were fatally injured in the accident.
Mrs McQuade saw her relatives hit by an out-of-control bin lorry while, it is thought, she withdrew money from a cash machine during a Christmas shopping trip on Queen Street in the centre of Glasgow.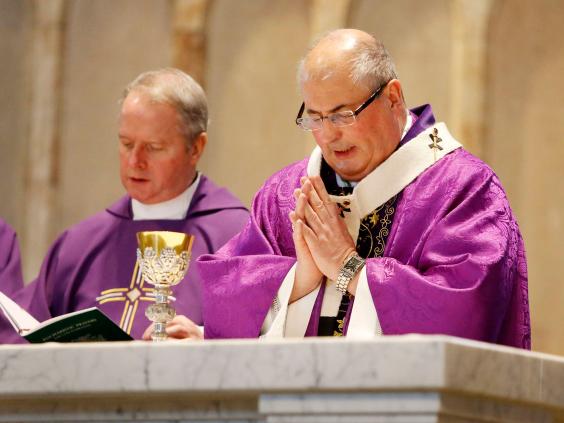 Three other women were also killed in the crash: primary teacher Stephenie Tait and tax worker Jacqueline Morton, both from Glasgow, and Gillian Ewing, from Edinburgh, after the truck mounted the pavement before crashing into the side of the Millennium Hotel in George Square.
Speaking of the "panic and chaos, shock and sorrow" that had befallen the city, Archbishop Tartaglia said the city had changed from one "eagerly and cheerfully preparing for Christmas into a city of sadness and mourning".
Glasgow lorry crash
Glasgow lorry crash
1/17 Glasgow lorry crash

First minister Nicola Sturgeon at the scene

Getty

2/17 Glasgow lorry crash

Laying flowers

Getty

3/17 Glasgow lorry crash

Another tribute to the six people who lost their lives

PA

4/17 Glasgow lorry crash

Tributes paid to the victims

Getty

5/17 Glasgow lorry crash

A police officer carries flowers

Getty

6/17 Glasgow lorry crash

Emergency services comfort an onlooker

PA

7/17 Glasgow lorry crash

Six people are believed to have died in the crash

Stephen Gibson

8/17 Glasgow lorry crash

Emergency services rush to George Sq, Glasgow, amid confusing reports

9/17 Glasgow lorry crash

The scene in George Square in Glasgow Scotland after it is understood a garbage truck, rear right, crashed into a group of pedestrians

AP Photo/Danny Lawson/PA

10/17 Glasgow lorry crash

Image taken of the scene in George Sq by an onlooker

Georgina Paton

11/17 Glasgow lorry crash

Firemen survey the damage as evening falls

EPA

12/17 Glasgow lorry crash

The driver is also believed to have died, but police are not labelling the incident as "suspicious"

PA

13/17 Glasgow lorry crash

Emergency services examine the vehicle

AP

14/17 Glasgow lorry crash

A tent is erected in George Sq

GETTY

15/17 Glasgow lorry crash

Overlooking the tragedy the Christmas lights of Gloasgow's central shopping district shine on

EPA

16/17 Glasgow lorry crash

Late last night a police officer remains on the scene

EPA

17/17 Glasgow lorry crash

Tributes for the victims have already started to pour in

getty
In his address, he said: "On the evening of the tragedy, I was privileged to be permitted to spend some time with one of the families who had been cruelly devastated by the incident.
"I was able to witness and share the grief and sadness of a mother and of a father for their daughter, and of two daughters for their mother and father.
"The distressed woman to whom I was speaking had been at the incident, she had seen her daughter and her own parents killed almost right in front of her. Can you imagine the horror? Can you imagine her sadness?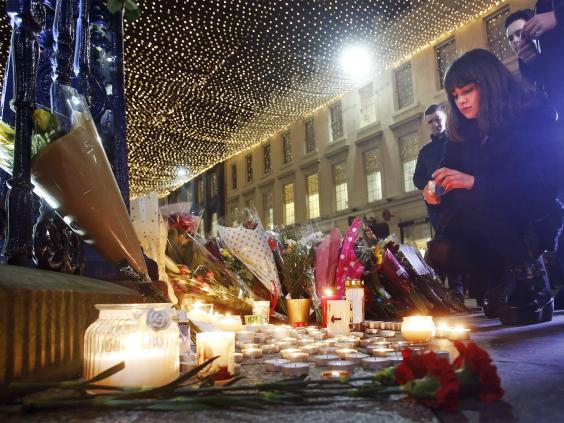 "I tried to console them and comfort them. We spoke and we cried and we were silent before the abyss of their loss and the random meaninglessness of what had happened."
Scottish Deputy First Minister John Swinney, Glasgow City Council leader Gordon Matheson and Sir Stephen House, the chief constable of Police Scotland, were among the congregation, along with Scottish Justice Secretary Michael Matheson and shadow Scottish secretary Margaret Curran.
10 more people were injured during the accident, five of whom are still being treated at Glasgow Royal Infirmary. One, a 14-year-old girl, is said to be in a "serious but stable" condition, while three more women aged 18, 49 and 64, and a 57-year-old man believed to be the driver, are all in a stable condition.
The incident happened less than 13 months after the Clutha disaster in the city claimed the lives of 10 people when a police helicopter crashed into a crowded pub.
In his sermon, the Archbishop said: "Just over a year ago, we had the Clutha disaster, and now we have this George Square tragedy when a heavy refuse lorry ran out of control, killing six people and seriously injuring 10 others. By all accounts, it was an horrific incident.
"Just as we were preparing for Christmas, our city of Glasgow is in mourning again."
Reuse content