Firefighters have managed to save the Glasgow School of Art from "total destruction" after hours battling a fire that threatened to raze the historic building to the ground.
The Scottish Fire and Rescue Service said more than 90 per cent of the building was described as "viable" and up to 70 per cent of the contents were saved.
Assistant Chief Officer Dave Boyle said: "Crews have been working absolutely flat out throughout this very challenging incident and it is clear their effort and skill has saved this treasured building and many of the items it housed.
"While the priority from the outset was to save life we have also been working closely with Glasgow School of Art staff to ensure firefighters conducted an effective salvage operation.
"We are of course very conscious the Mackintosh is a world renowned building that is a key feature of this great city, and that the artworks it stores are not only valuable but also cherished."
He added: "Work to save everything that can be saved is ongoing and we will continue to work closely with GSA staff and students throughout this operation
Mr Boyle said: "We are acutely aware this period is the culmination of years of endeavour for students and that their irreplaceable work is inside the Mackintosh."
A GSA spokeswoman expressed "very sincere thanks" to firefighters.
Fire crews will remain at the scene through the night dampening down hot spots to prevent any further flare-ups.
Everyone was evacuated from the building when the blaze started and smoke could be seen billowing from the roof as flames burst out from windows on the upper floors.
Austin Yuill, who works as a chef at the art school, told the BBC: "I've been moved two streets away from the Mackintosh building but before we left the place was completely ablaze all down the west side of the building.
"I'm told it started in the basement and it's worked its way all the way up through the five floors.
"As far as I know it started from a spark which has gone on to foam, expanding foam."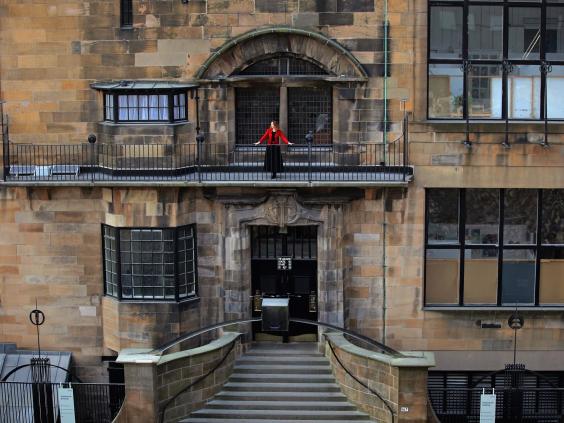 Asked how busy the art school was, he said: "It would be very busy because we're working up to the end-of-year assessments, so all the students were installing their work today all over the Mackintosh building. There are a lot of very upset students here."
He added: "Quite apart from it being voted the best building of the last 175 years, it is a major tourist draw and has an incredible reputation as an art school. This is really terrible."
Scottish Culture Secretary Fiona Hyslop said on Twitter: "Serious concern about fire at Glasgow School of Art."
Shadow Scottish secretary Margaret Curran used the social networking site to say she had "just heard about terrible fire at Glasgow School of Art", adding: "Hope people are safe."
Scottish Tory leader Ruth Davidson, who is an MSP for the Glasgow region, said the blaze was "dreadful news", describing the art school building as "one of Glasgow's finest".
Additional reporting by PA
Reuse content