The Government must "tackle the scourge of asbestos in schools" to prevent the "unnecessary deaths" of teachers and former pupils, a teaching union has warned.
The National Union of Teachers has accused the Government of failing "to address the legacy of asbestos in schools" – and said it is a "scandal" that the substance remains present in about 86 per cent of schools.
The Government has now been called upon to protect teachers and pupils from asbestos in school buildings, which the union says is believed to be the cause of an estimated 200 to 300 adult deaths each year.
A former teacher who suffers from mesothelioma, a type of cancer associated with exposure to asbestos, has told the BBC she believes she developed the condition through being exposed to the substance in a classroom.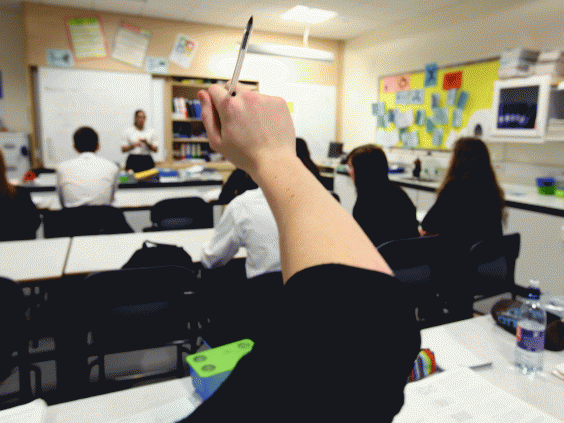 Jenny Darby, 71, who was a science teacher between 1969 and 1996, told the BBC's Victoria Derbyshire programme that she thought it was in the ceilings and the walls of the classroom.
She said: "So when the [ceiling] tiles came off, the asbestos would come down. I used to stick them back up almost every day."
A 2013 study by the independent Committee on Carcinogenicity placed the number of schools with asbestos still present at 75 per cent.
Christine Blower, general secretary of the National Union of Teachers, has said children are more at risk from being exposed to asbestos fibres, due to mesothelioma's long latency period.
She said: "It is time for Government to tackle the scourge of asbestos in schools."
Ms Blower said the number of teachers dying of the disease is on the rise – with 22 recorded in 2012.
She said: "Successive governments have failed to address the legacy of asbestos in schools, leading to unnecessary deaths of staff and former pupils. Children are more at risk than adults from exposure to asbestos fibres, due to the long latency period for mesothelioma. It is estimated that around 200 – 300 adults are dying every year as a consequence of exposure to asbestos when they were at school.
"The review of asbestos in schools policy by the previous Government was a step in the right direction, but more needs to be done.  There is still no recognition that asbestos is a serious problem for schools.  Shamefully, the Government's most recent survey of school buildings deliberately excluded asbestos.
"The new Conservative Government has yet to confirm whether the crucial Asbestos in Schools Steering Group, which brings together DfE officials, the HSE, and union and employer representatives, will continue its valuable work.
"We call upon the new Government to announce real action without further delay so that we can continue to work together to keep our schools safe. We need a concerted effort on a national scale. Children, parents and staff deserve better than to be exposed to asbestos on a daily basis."
The Department for Education has said the Asbestos in Schools Steering Group will continue, and said new guidance on managing asbestos in schools has been published.
A DfE spokesman said: "Nothing is more important than the health and safety of children and staff in our schools.
"That is why we will continue to run the Asbestos in Schools Steering group, who have provided invaluable expertise and commitment in progressing work in this important area.
"The asbestos review provided us with the information we need to ensure those responsible for managing asbestos in schools are equipped to do so.
"Since 2010, billions has been invested to improve the condition of the school estate, with further significant investment to come over this Parliament. This funding will help to ensure asbestos is managed safely and that the amount in school buildings continues to reduce over time.
"We have published new guidance on managing asbestos in schools and have just finished consulting on proposals to enhance the scrutiny of those responsible for managing it."
In April teachers were reported as saying that parents should seek to find out whether their children's school contains asbestos.
At the time it was reported that the number of UK teachers dying from mesothelioma had risen from three in 1980 to the highest rate in the world at 22 a year.
Meanwhile, expert advice given to the Commons select committee on education estimated up to 300 former pupils a year die of the disease following contact with asbestos at school.
Reuse content