Wednesday's record-breaking heatwave, which brought the hottest July day on record, will come to a slightly cooler and wet end on Thursday.
According to BBC forecasts, temperatures in London, which reached 36.7 degrees in some areas, will be much lower - peaking at a much more bearable 23 degrees in the late afternoon and evening.
The capital will even see rain - heavy, thundery showers predicted throughout the morning.
Conditions are set to be broadly similar across the country. Temperatures in Manchester and Edinburgh will hover around 20 degrees throughout Thursday, with occasional localised rain showers in parts of Northern regions at points throughout the day.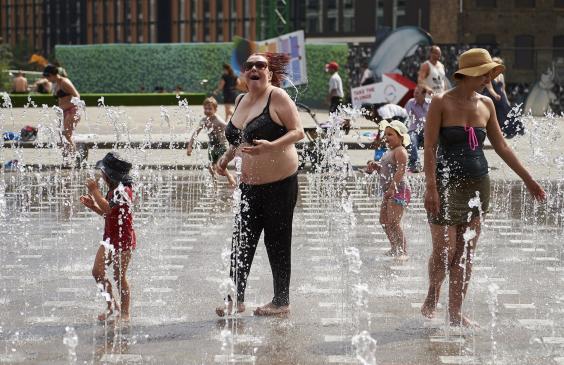 However, things are still going to be very warm. Fortunately though, it'll be a bit damper and more muggy, just to make everyone a little sweatier.
Heat levels soared on Wednesday, as southern parts of the country saw temperatures that have not been surpassed since 2006.
The Met Office predicted that the extreme heat would pass as the warm air moves away from the UK.
Heatwave hits UK
Heatwave hits UK
1/9 UK heatwave

More revellers taking in the sun on Brighton beach

Reuters

2/9 UK heatwave

People cool off in a fountain outside the Southbank Centre

Getty

3/9 UK heatwave

A couple sunbathe on the promenade on a hot Summer day in Blackpool

Reuters

4/9 UK heatwave

It all got a bit too much for a few of those attending Wimbledon

PA

5/9 UK heatwave

Sunbathers enjoy the hot weather on the beach in Brighton

PA

6/9 UK heatwave

Londoner's take an early morning dip in the Serpentine

Getty

7/9 UK heatwave

A man relaxes in St. James Park in London

Reuters

8/9 UK heatwave

The crowds at Wimbledon seek shelter from the heat under umbrellas

Getty

9/9 UK heatwave

The fan is a more necessary accessory at this year's Wimbledon than most

Getty
Commuting Londoners had a fairly rough time, as temperatures on some tube lines exceeded the legal limit for transporting cattle.
However, it was good news at Wimbledon, as crowds basked in the sun while watching the beginnings of the tournament.
However, with rain set to start at Wimbledon at 10am and finishing at 4pm, it might be a good idea to get the roof pulled over Centre Court fairly quickly.
Reuse content