The number of people sleeping rough on England's streets increased at an "unprecedented" rate last year, official figures show, as charities warned that the impact of welfare cuts and a chronic housing shortage are now taking their toll on the country's most vulnerable. 
Official counts and estimates from councils across England placed the number of rough sleepers on any given night in autumn 2015 at 3,569, according to a Government report. 
The figure represents a 30 per cent increase since the same count last year, the biggest annual rise since the current reporting methods were introduced six years ago. 
In that time, the number of rough sleepers has more than doubled. 
Those who are forced to sleep on the streets are only the tip of the iceberg of a growing homelessness crisis in the UK, charities and housing experts said. Latest figures show that 68,560 households were living in temporary accommodation including B&Bs and hostels between July and September last year – the highest since the start of the economic downturn in 2008.
Homelessness Q&A
What do we mean by 'rough sleeper'?
Rough sleepers are defined as anyone found, during the annual counts, either sleeping or about to bed down in the open air – be it on the street or in a park – or in a building not designed for habitation. While rough sleepers are (in virtually every case) homeless, the legal definition of homelessness can also apply to anyone who has no home of their own to occupy, but may be living in temporary accommodation. 
Those who end up rough sleeping are often those who are not considered by law to be 'priority need' for local council support. This tends to cover families, the elderly, the sick, and other groups such as veterans and victims of domestic violence. Single people with no dependents often struggle to get support. 
 Why has the figure increased in recent years?
The causes of homelessness are complex, and no one rough sleeper's story will be the same. However, most charities and housing experts agree that a combination of the Government's welfare reforms, reductions in the availability of affordable housing, rising rents, and cuts to councils funding are all contributing. 
How have welfare reforms had an impact on homelessness?
Cuts to most benefit payments have hit incomes, but the main factor here is the decision to hold down the rate at which housing benefits increase at just one per cent a year since 2013. During this time, rents have continued to rise at a much higher rate. Housing benefits are now set to be frozen for four years. The Crisis charity says that the loss of a private tenancy is now the biggest cause of homelessness and has just completed a survey of 800 landlords which found that more than half are no longer willing to let to people on housing benefit. 
Campbell Robb, chief executive of the charity Shelter, said the steep rise in rough sleeping was "the very worst consequence of our extraordinarily broken housing market" and blamed welfare cuts "coupled with the Government's lack of progress on getting genuinely affordable homes built". 
And Howard Sinclair, chief executive of the St Mungo's Broadway charity said he was "extremely shocked" by the "unprecedented increase" and called on David Cameron to launch a Government-wide effort to tackle the problem. 
Councils said that they were now having difficulty finding emergency support and accommodation for homeless people. Capacity problems in the temporary accommodation can force those who seek help but are not categorised as 'priority need' – usually single men – onto the street. 
The Local Government Association has said the housing crisis is likely to intensify as the stock of cheap social housing properties decreases as a result of the 'right to buy' scheme, and cuts to council's income for house-building.  
The Crisis charity said that the leading cause of homelessness in England was now the loss of a private tenancy, and published research showing that more than half of landlords are now unwilling to let to tenants in receipt of housing benefit, which is set to be frozen for the next four years, despite rising rents. 
Faye Greaves, policy and practice officer at the Chartered Institute of Housing said that there had been a national "weakening of the housing safety net for those in greatest need."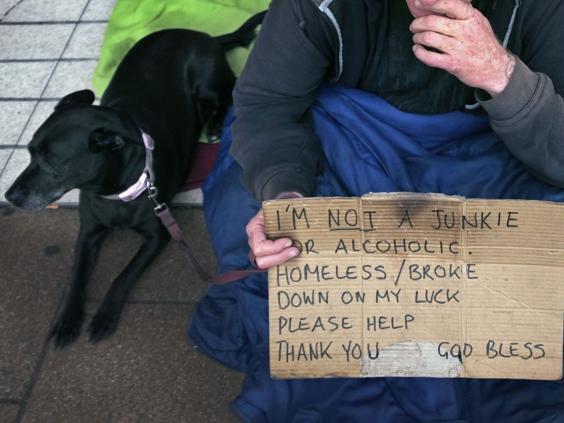 "Councils also have stretched budgets which makes it more difficult for them to provide support. The legal threshold for people to qualify for homelessness assistance on the grounds of vulnerability is really quite high and there are many people who end up rough sleeping because councils have been unable to assist everybody," she said. 
London had 925 rough sleepers in autumn 2015, one quarter of the national figure. Data collected by the Combined Homelessness and Information Network (CHAIN) shows that nearly one in five rough sleepers in London is Romanian and overall, 57 per cent of rough sleepers are non-British. Nationally, the vast majority of homeless people are British.
Marcus Jones, the homelessness minister, said that the Government had increased funding to tackle homelessness and expected local authorities to "to provide quality advice and assistance" to all those who sought help. 
"Many rough sleepers have complex needs that include mental health difficulties or addiction, and we are developing a £5 million social impact bond that  will help entrenched rough sleepers move off the streets," he added. 
Reuse content