On Thursday evening, I hit the streets of Soho on a mission to find a pair of heels – the higher the better – in a men's size nine. It took me to the neighbourhood's southwest corner around Walker's Court. Old Soho; real Soho; dingy, murky, grubby Soho. The Soho that probably won't exist in a year.
After a few false starts in shops mainly selling sex toys and bondage gear, I found a purveyor of ladies shoes in blokes' size, on a little corner in Brewer Street. Trying on a pair, I began to explain to Sam the sales assistant, "I'm a journalist, it's for a story…" "It's ok," Sam cut in with a reassuring smile. "No need to explain'."
The story that towered above all others this week was news from Cannes that women had been turned away from red carpet events for wearing flat shoes. English actress Emily Blunt led criticism of the organisers' behaviour. "I think everyone should wear flats, to be honest," she said. "I just prefer wearing Converse sneakers."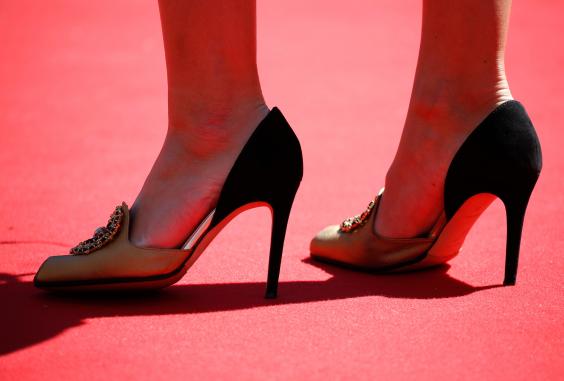 I too am more comfortable in a pair of Converse. But yesterday I donned a pair of electric blue snakeskin stilettos (from River Island, in the end) for the best part of the day. Strappy little numbers they were, with a zip up the back to hold everything in.
"If you've got heels on your feet – wear them, walk with them, own them," was Jono Kitchens' response to my plea for guidance.
He knows his stuff, having performed in drag as "Joan Oh" for four years at the legendary  East London club night, Sink the Pink. 
I've had mine on for an hour, I tell him, and can do little better than stagger around like Bambi. "I bet by the end of the day, you'll be giving it strut central," he tells me. Reluctantly, I totter out to the high street to test his theory.
There is a definite sense of empowerment. I'm 6ft 3in, instead of 5ft 11in!. People get out of my way. And give me funny looks. For a moment, I get into the swing of things -– a kick here, a wiggle there.
But before long, things start to hurt. There's tightness in the bottom of my calves. I feel the bones in my feet crunch together. Which may be psychosomatic – I'm a bit of a hypochondriac and have spent a large part of the day looking at X-rays of mangled feet. Then my big toe begins to fizz. And my little one feels horribly constricted.  I had no idea you could get claustrophobic feet. A series of medical professionals warn me of a range of physiological repercussions that await the heel-wearer, from blisters to bunions, bad back to varicose veins and plantar fasciitis to splitting headaches.
Cannes through the years
Cannes through the years
1/12 Cannes through the years

1954: British actress Simone Silva posing topless with the American star Robert Mitchum during the Cannes film festival. Having been elected 'Miss Festival', Simone Silva was asked to leave the festival after her semi-nude pose which resulted in one photographer breaking his arm and another his leg in the rush for pictures

Getty Images

2/12 Cannes through the years

Actress Brigitte Bardot running barefoot along the beach, Cannes, France, April 28th 1956

Getty Images

3/12 Cannes through the years

English director Alfred Hitchcock arrives by bicycle on the Croisette, May 15, 1972

Getty Images

4/12 Cannes through the years

Actress Diana Dors modeling a turquoise swimsuit, which she will be taking on her trip to the Cannes Film Festival, April 28th 1956

Getty Images

5/12 Cannes through the years

1956 - Diana Dors, the starlet, with the Cadillac in which she arrived at the Cannes Film Festival

Getty Images

6/12 Cannes through the years

1967: English actress Vanessa Redgrave, with Italian actor Franco Nero at the premiere of her latest film 'Blow Up', at the Cannes Film Festival

Getty Images

7/12 Cannes through the years

American film director Francis Ford Coppola (L) receives the first price for his movie 'Conversation' from American actor Tony Curtis 25 May 1974 at Cannes film festival

Getty Images

8/12 Cannes through the years

English actress Jane Birkin goes out on a pedalo during the 28th Cannes International Film Festival on May 1974

Getty Images

9/12 Cannes through the years

1977 - Arnold Schwarzenegger, the film actor who first became famous as Mr Universe for his magnificent physique, on Cannes beach during the Film Festival with the girls from the Folies Bergere

Getty Images

10/12 Cannes through the years

1977: British actress and television presenter Floella Benjamin poses on the beach at Cannes in her bikini. She was attending the film festival as one of the stars of Anthony Simmons' racial drama 'Black Joy'

Getty Images

11/12 Cannes through the years

Paul McCartney and his wife Linda arrive at the 33th Cannes Film Festival, on may 15, 1980

Getty Images

12/12 Cannes through the years

1982 - Steven Spielberg (C) poses with productor Kathleen Kennedy (L) and screenwriter Melissa Mathison (R) at the 35th Cannes Film Festival, during a photocall for his film 'E.T. the Extra-Terrestrial',

Getty Images
But Emma Supple of the College of Podiatry adds there is a right way to do it. Do foot exercises, keep everything in good nick, and stay comfortable. "Be the person dancing barefoot because you want to be, not because you have to," she says.
So what can I bring to this debate? Women have suffered in the podiatric department from foot-binding onwards thanks largely to the perverse predilections of men. I'm sure the last thing anyone wants is some bloke in fancy shoes coming along to validate those experiences. But, for what it's worth, I concur with Blunt et al – wearing heels is, excuse the pun, a right drag.
When it comes to putting my "flats" back on, the physical relief is all the more sweet for knowing I won't have to go through the toe-crunching ordeal again any time soon.
Let's hope Cannes' organisers allow female guests the same freedom next year. If not, their male counterparts could take my protest to the red carpet.
Leonardo DiCaprio, I have a pair of size nines with your name on.
Reuse content