A prehistoric fish has been seen in some English rivers for the first time since the 1800s in the wake of conservation work, the Environment Agency said.
Lamprey, snake-like creatures that were around 200 million years before the dinosaurs and are the world's oldest living vertebrates, were once a common sight in the country's waterways.
But the "living fossil", which has a circular disc of razor sharp teeth instead of jaws, was hit by pollution in the Industrial Revolution and the construction of mill weirs that blocked their migration.
River and sea lampreys - which were blamed for the death of King Henry I - are now endangered across Europe.
However, they are slowly returning to their old habitats in England, as rivers experience their lowest pollution levels for more than 100 years and work is carried out to remove the barriers to migration, the Environment Agency said.
Wildlife Photographer of the Year 2015
Wildlife Photographer of the Year 2015
1/4 'To Drink or Not' - Carlos Perez Naval, Spain, 10 Years and Under

Carlos was down on the beach at Morro Bay in California, on holiday with his family, when he witnessed a fascinating interaction between two different species. A colony of California ground squirrels lives among the rocks at one side of the bay, fed by locals, who also put out dishes of water for them. What Carlos noticed was that western gulls were monopolizing the water. Whenever a ground squirrel dared to get too close, a gull would chase it away, aiming its powerful beak at the squirrel's head. Carlos was fascinated by the way the ground squirrels would try to sneak in for a sip when the gulls weren't looking. Here, the two competitors' eyes lock over the coveted fresh water. Carlos took the shot just before the gull lunged forwards and the squirrel fled.

Carlos Perez Naval

2/4 'Snow Hare' - Rosamund Macfarlane, UK, Mammals

One of Rosamund's photographic ambitions was to photograph Scottish mountain hares in the snow, camouflaged in their winter coats. Native to Britain, mountain hares moult from brown to white or partially white in winter, depending on temperature. With a local expert, Rosamund climbed a valley in the Scottish Cairngorms, 'at times through knee-deep snow', until they came across a couple of hares that allowed them to approach within photographic range. Their mottled, snow-dusted coats echoed the colours of the snow-covered hillside. For several hours, Rosamund lay on the ground in freezing temperatures, observing the hares snuggled into their forms (shallow depressions) as fine snow blew over them and rime coated their pelts. In the late afternoon, the hares finally became active and started to feed, scraping the snow from the heather and then nibbling the shoots. Positioning herself so that she was looking up a gentle incline directly at one hare, Rosamund captured its determined scrabbling in a head-on portrait.

Rosamund Macfarlane

3/4 'Great Egret Awakening' - Zsolt Kudich, Hungary, Birds

When the River Danube flooded into Hungary's Gemenc Forest, more than a thousand great egrets flocked to the lake to feed on the stranded amphibians, fish and invertebrates. Working on a project to document the last untouched regions of the Danube, including the floodplains, Zsolt was delighted to find a sixth of Hungary's great egret population in the one place. By 1921, hunting had reduced their number to just 31 pairs. Today, habitat loss is the big threat. Using the soft dawn light, Zsolt wanted to convey the impression of a multitude of birds. So he pitched his camouflaged tent nearby, sleeping just a few hours a night for five nights. His chance came when a fishing white-tailed eagle sent some of the egrets into the air. With a slow shutter speed to blur the wings and a large depth of field to keep in focus those standing, Zsolt got his memorable image.

Zsolt Kudich

4/4 'Stork Art' - Francisco Mingorance, Spain, Urban Wildlife

White storks seem equally at home on artificial structures as they are in trees, often nesting on rooftops and telegraph poles. Francisco discovered three pairs high on this sculpture outside the Vostell-Malpartida Museum near Cáceres in Spain. The installation, by German artist Wolf Vostell, incorporates a Russian MiG-21 aircraft, two cars, pianos, computer monitors – and now, three huge nests, which the storks use each year, migrating from their overwintering grounds in southern Africa. Francisco wanted a picture of the storks sleeping under a starry sky, but there was too much light. 'I got special permission for most lights to be shut down,' he says, 'but then the storks kept moving about and flying off.' Using a long exposure, he got just one shot he liked, with the storks quietly asserting their place in the modern world that Vostell depicted.

Francisco Mingorance
This includes trialling lamprey "tiles", low-cost and low-maintenance tiles with broad cones which allow the fish to use their sucker-like mouths to anchor themselves as they squirm upwards, with encouraging initial results on the River Derwent in Yorkshire.
Environment Agency fisheries expert Simon Toms said: "For the last two hundred years, some rivers have not been capable of supporting lamprey species as a result of water quality, poor habitat and man-made barriers.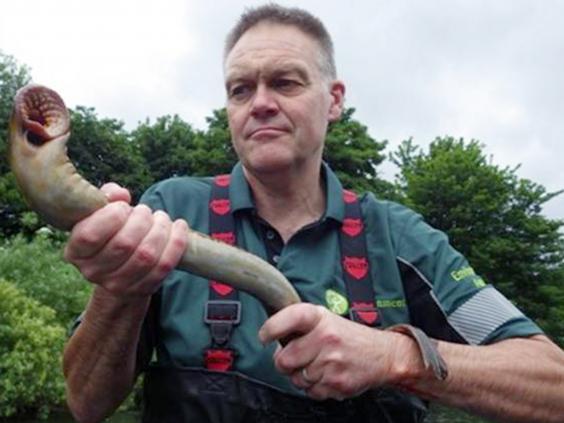 "Now that water quality has improved and some of these barriers have been removed we are seeing lampreys return to the upper reaches of rivers such as the Ouse, Trent, and Derwent, where they were absent as recently as 30 years ago.
"These are fascinating fish, living fossils, that have a special place in the history and traditions of this country, and we hope that with a helping hand from us they will be able to thrive in England's rivers once again."
Lampreys are important for processing nutrients in rivers and providing a food source for other fish and birds such as herons.
The strange-looking creature has long been regarded as a luxury food, eaten by the Romans, the Vikings and English kings and queens - with Queen Elizabeth even sent a lamprey pie from Gloucester for her diamond jubilee in 2012, though the fish was imported from the Great Lakes in North America.
King Henry I is said to have died after gorging on too many lampreys.
It has also featured in the hit TV series Game of Thrones, with Tyrion Lannister dining on lamprey pie while discussing battle plans with his sister Queen Cersei.
PA
Reuse content