The last British soldier has left Afghanistan as the UK completes its withdrawal from a war that killed 453 servicemen and women and up to 21,000 civilians.
Today was dubbed "B-Day", marking the pull-out from Camp Bastion in Helmand Province, and the handover to the Afghan National Army.
Michael Fallon, the Defence Secretary, said the army was leaving with "heads held high" and insisted the 13 years had seen "progress".
"We leave Helmand in good order, having transferred Camp Bastion to the ANA to use alongside their own Camp Shorabak which will allow them to continue to ensure security and stability in that part of their country," he added.
"Thanks to our Armed Forces and our Afghan and coalition allies, Afghanistan is no longer a safe haven for terrorists."
About 300 British soldiers and airmen as well as more than 500 US Marines left in a series of 18 flights under intense security because of fears of a Taliban attack.
The very last British serviceman to depart was Wing Commander Matt Radnall, 42.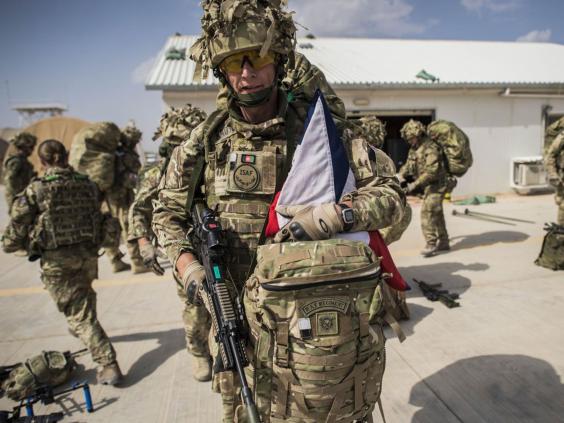 "The adrenalin is still flowing," he told Deborah Haynes of the Times. "That is the highlight of 24 years with the RAF regiment without any doubt.
"It has been an extraordinary morning. It started very early and it was full on from the word go.
"The end of each six-month tour we look forward to going home and there is a sense of finality for each individual as you finish that tour but for this one in particular, it is a real sense of occasion about it."
There would be time for reflection on "the satisfaction of having achieved what we set out to achieve" after the adrenaline dropped, he said.
On the same day, US forces handed over Camp Leatherneck, which adjoins Bastion.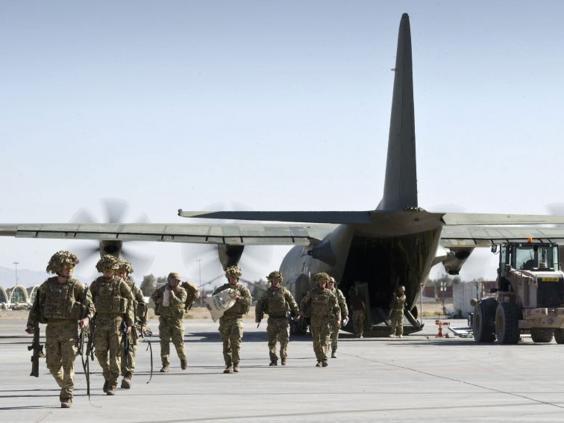 Major-General Sayed Malouk, Commander of the 215 Corps of the Afghan army said he wanted to pay his condolences to the families of all the British men and women who had been killed.
"I would love to go and see all those family members of those who sacrificed their lives for the Afghans and see them and talk to them and I pray to God those who are injured will be cured soon and be able to do all they want," he said.
"I wish them all the best, especially all those mothers who sent their sons right here to secure this nation and to provide safety and security for the Afghan people.
"I know how hard it is for them when their sons don't go back."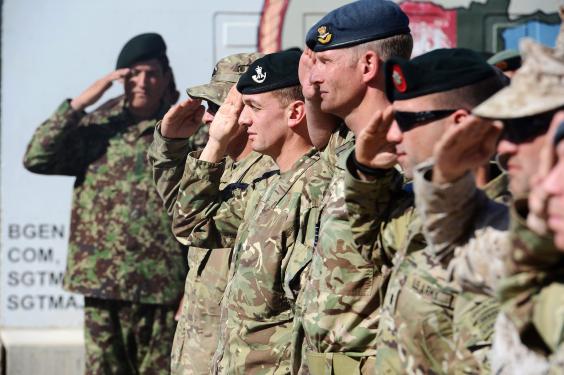 Camp Bastion, built in early 2006, was the hub of British and coalition forces operations in Helmand Province.
At the height of the UK operation it was the centre of a network of 137 bases in the region, all of which have now been handed over to the Afghan National Security Forces or taken apart.
The UK has had a military presence in Afghanistan since October 2001, when troops were deployed as part of the Nato response to the 9/11 terror attacks.
Southern Afghanistan became the focus of British operations in April 2006 aimed to tackle a growing insurgency in the region.
Camp Bastion, the largest base in Helmand, will continue to be used by the Afghan army as a training base but will be renamed.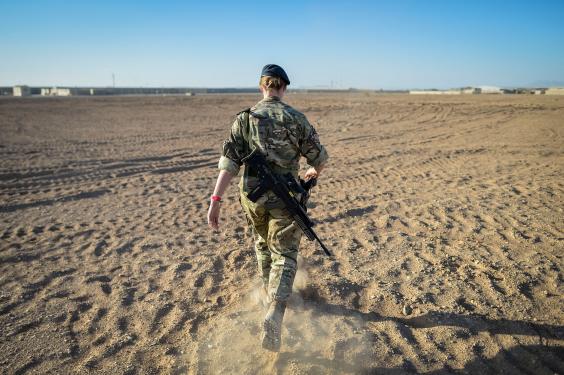 Senior Aircraftsman John Downing, 29, was on the last RAF helicopter out of the base.
"It was an honour. It was tiring. Relief to be getting out of there," he said.
"We had an overview of Bastion, what we have left behind, and hopefully the Afghans will continue our work. We'll see how that one turns out."
He did not rule out British forces returning but said the Afghans were now "strong enough" to continue the work.
Senior Aircraftman Kristian James, who did the last watchman shift in a patrol tower, said it "feels good" to be going home.
"I think it will be a very good feeling to leave," the 21-year-old said. "My father and my brother both served out here. It is a proud feeling to be a part of it."
Camp Bastion: Last soldiers leave military base
Camp Bastion: Last soldiers leave military base
1/9 Camp Bastion

The lowering of the Union (front) and US (rear, obscured) flags during a handover ceremony at Camp Bastion-Leatherneck complex at Lashkar Gah in Helmand province

SERGEANT OBI IGBO/AFP/Getty

2/9 Camp Bastion

The last Union flag of Great Britain flying above the skies of Helmand Province, Afghanistan, is lowered by Captain Matthew Clark, left, and Warrant Officer 1 John Lilley

Ben Birchall/PA Wire

3/9 Camp Bastion

Temporary tented accommodation at Camp Bastion, as troops prepare to withdraw from the camp in Helmand Province, Afghanistan

Ben Birchall/PA Wire

4/9 Camp Bastion

File photo dated 25/10/14 of deserted roads and compounds at Camp Bastion, Helmand Province, Afghanistan, as the British base becomes devoid of soldiers

Ben Birchall/PA

5/9 Camp Bastion

A U.S. Marine is pictured before withdrawal from the base, at Camp Bastion in Helmand province

Omar Sobhani/REUTERS

6/9 Camp Bastion

Soldiers attending the ceremony of the British, US and NATO flags being lowered at the Camp Bastion-Leatherneck military camp complex for the last time in Afghanistan

EPA

7/9 Camp Bastion

Deserted roads and compounds at Camp Bastion, Helmand Province, Afghanistan, as the British base becomes devoid of soldiers

Ben Birchall/PA Wire

8/9 Camp Bastion

Corporal Thomas Warner 23, from Port Talbot of 1st The Queen's Dragoon Guards, sits inside temporary tented accommodation at Camp Bastion

Ben Birchall/PA Wire

9/9 Camp Bastion

A British officer walking on deserted ground inside Camp Bastion, Helmand Province, Afghanistan, on the exact spot where the very first tents were erected in 2006 as the base was built

Ben Birchall/PA
Corporal Christopher Holmes, 35, who is returning home to Newcastle, said the end "couldn't have come quick enough".
"It was amazing leaving," he said. "It was just a huge relief. A massive relief - it's done, it's over.
"The British army has left, the Americans are leaving, there is no more Afghanistan."
Additional reporting by PA/The Times
Reuse content