A police force has defended its decision to stage a media-attended raid on Sir Cliff Richard's house, saying that it decided to work with the press "in order to protect the integrity" of the investigation.
South Yorkshire Police said they were contacted by the BBC with information on the probe prior to searching the 73-year-old singer's home in Sunningdale, Berkshire.
It led to hovering helicopters filming the search as detectives entered the house on Thursday, despite Sir Cliff being unaware of the developments as he was on holiday in Portugal.
No arrests have been made.
Police defended the decision to allow live footage of the search, saying that the increased attention had led to a number of new witnesses coming forward.
"Since the search took place a number of people have contacted the police to provide information and we must acknowledge that the media played a part in that, for which we are grateful," South Yorkshire Police said, reports Sky News.
Cliff Richard: Life in pictures
Cliff Richard: Life in pictures
1/22 Cliff Richard

Richard aged 18 at the Hulton Boys and Girls Exhibition at Olympia's Disc Theatre in August 1959 when he was lead singer of the Drifters

2/22 Cliff Richard

Pictured in 1962 with members of the Shadows, his backing group. Next to him is Bruce Welch, who played rhythm guitar

Getty Images

3/22 Cliff Richard

With his backing group, the Shadows, Richard became a massive pop star in the 1960s with a string of hit albums and singles including 'I love You' (1960), 'the Young Ones (1961), Bachelor Boy (1962) and 'Summer Holiday (1963)

4/22 Cliff Richard

With his mother, Dorothy, and one of his sisters in 1964

Michael Stroud/Daily Express/Hulton Archive

5/22 Cliff Richard

Outside the Royal Albert Hall where he represented the UK in the Eurovision Song Contest in October 1967

6/22 Cliff Richard

Cliff Richard in 1968

7/22 Cliff Richard

Cliff Richard poses in front of his disc awards in the 1970s

8/22 Cliff Richard

On stage at the 1981 Royal Variety Performance, at the Theatre Royal, Drury Lane in London

9/22 Cliff Richard

In an interview with the Daily Mail in 2008, Sir Cliff is reported as saying: "Of all the women I've known, there were only two that I've come close to marrying. One was Jackie Irving, a dancer whom I met in Blackpool. She was utterly beautiful and for a while we were inseparable. The other girl I came close to asking was Sue Barker, whom I met in 1982"

10/22 Cliff Richard

Orchestrating a round of singing as rain delays play during the 1996 Wimbledon tennis championships

11/22 Cliff Richard

Performing a duet with Flemish singer Helmut Lotti during a rehearsal of Lotti's album and TV broadcast 'Pop Classics' on 6 August 2003 in Brussels

12/22 Cliff Richard

Performing on stage during the 'Intelligent Finance Cliff Richard Tennis Classic' at Birmingham National Indoor Arena on 18 December 2004

13/22 Cliff Richard

Arriving with Brian May at the Royal Film Performance and World Premiere of 'The Chronicles Of Narnia' at the Royal Albert Hall on 7 December 2005 in London

14/22 Cliff Richard

Unveiling a plaque of his handprints in Wembley Arena's Square of Fame on 9 November 2006 in London

15/22 Cliff Richard

Sir Cliff Richard and The Shadows performs live on stage at the O2 Arena in London on 28 September 2009

16/22 Cliff Richard

Cliff Richard attends a press conference to announce details of his new album at Gilgamesh on 7 March 2011 in London

Getty Images

17/22 Cliff Richard

Queen Elizabeth II is introduced to Sir Cliff Richard backstage after the Diamond Jubilee, Buckingham Palace Concert on 4 June 2012, along with Sir Elton John, Sir Tom Jones, Paul McCartney, and Shirely Bassey

18/22 Cliff Richard

Sir Cliff Richard at the 2012 US Open. The crooner claimed One Direction still compete with him to 'look cool'

Getty Images

19/22 Cliff Richard

Performing on stage during the Diamond Jubilee concert at Buckingham Palace in 2012

Getty Images

20/22 Cliff Richard

Cliff Richard attends the 'Willkommen bei Carmen Nebel' show at Volkswagen Halle on 23 November 2013 in Braunschweig, Germany

21/22 Cliff Richard

Richard, 73, is one of the most successful British recording artists

22/22 Cliff Richard

Sir Cliff, born Harry Webb, has sold an estimated 21.5 million singles in the UK and 250 million worldwide during a career spanning over 50 years

Getty Images
In a statement on Thursday, Sir Cliff took appeared to take aim at the force's decision, saying: "The police attended my apartment in Berkshire today without notice, except it would appear to the press".
He added: "For many months I have been aware of allegations against me of historic impropriety which have been circulating online.
"The allegations are completely false. Up until now I have chosen not to dignify the false allegations with a response, as it would just give them more oxygen."
He also said that he will "fully cooperate" with the police.
The televised raid was also criticised by Conservative MP and Former Deputy Commons Speaker Nigel Evans, who told ITV: "It appears the press knew what was happening before he did and the world's media were camped outside his doorstep.
"A press helicopter was up before the police even arrived — he is quite right to be angry about that. Questions have got to be answered."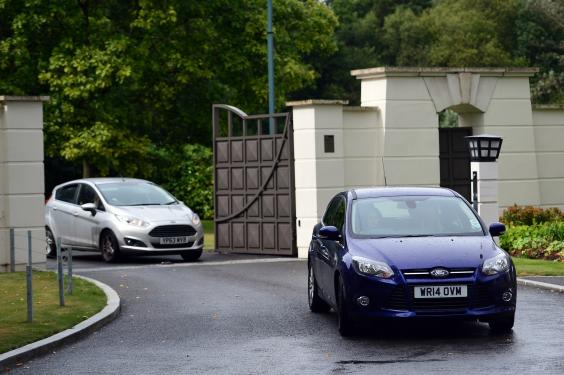 Writing in The Independent, Geoffrey Robertson QC, a human rights barrister, said that Sir Cliff's treatment had been unacceptable and that it had raised a number of questions surrounding civil liberties.
The police, "aided and abetted by the BBC and a Sheffield lay justice", he said, had denied Sir Cliff his "most basic right to refute the allegation".
He added that the behaviour of the police breached article eight of the European Convention of Human Rights – the right to privacy.
The allegations against Sir Cliff relate to a historic claim of sexual assault in Sheffield in 1985, involving a boy who was under 16 at the time.
Sir Cliff vehemently denies the allegations.
Reuse content