The "strike" by lawyers which threatens to bring chaos to the criminal justice system next week has received a substantial boost after the country's biggest legal aid firms pledged to support the action.
The decision by the Big Firms Group (BFG), the umbrella organisation representing 37 firms with an annual turnover of state aid above £1.5m, will embolden lawyers from small and medium-sized law firms to join the protest action without fear that large practices will steal new work.
Franklin Sinclair, a senior partner at Tuckers, a member of the BFG, said: "We wanted to give others the confidence that the big firms will either join any direct action or at least won't do anything to make their action any less effective." Solicitors and barristers around the country have pledged not to accept new legal aid work from 1 July in protest against new cuts to fees.
The grassroots action, which has been hastily arranged at local meetings over the past 48 hours, represents a direct challenge to the new Justice Secretary, Michael Gove.


The boycott could have a swift, significant impact on the day-to-day workings of the legal system. If no solicitor or barrister is prepared to answer requests for a lawyer to be present at interviews after an arrest, police may have no other option but to release on bail those they may have wanted to keep in custody.
Although protesting lawyers are likely to make themselves available to ensure the most sensitive cases – including sex crimes – do not face unnecessary disruption, leading lawyers believe police face releasing potentially serious criminals if post-arrest rights cannot be upheld.
The chaos could also affect courts. If no lawyer is available and individuals are not prepared to represent themselves, cases may have to adjourned or dismissed.
Up to 9,000 solicitors are expected to take part in various ballots across the country. Solicitors on Merseyside met on Thursday and voted not to undertake any new work from next week. Criminal solicitors in Cardiff and Birmingham have also voted in favour of declining all new legal aid cases, and lawyers in Hull met to discuss industrial action on Friday. Further ballots results are expected in London, Leeds, Sheffield and West Yorkshire. Other regional groups of lawyers are expected to make their objections public at the beginning of next week.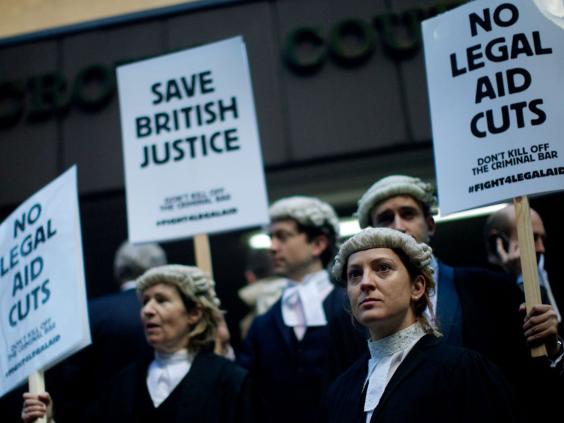 One senior barrister told The Independent: "Courts grinding to a halt may just be the start. The entire criminal law system and how it can be sensibly administered could turn to chaos. That the Ministry of Justice know this and yet plays games reminiscent of 1970s industrial relations brinkmanship is unprecedented."
After an 8.5 per cent cut in the legal aid budget last year, Mr Gove recently told lawyers that he intended to continue the legacy of his widely criticised predecessor, Chris Grayling, and introduce a further 8.5 per cent cut in state fees.
Michael Gove's memorable moments
Michael Gove's memorable moments
1/5 Gove 'claims people move to London for "loads of hot sex"'

The Tory politician allegedly made a surprising claim that no doubt led to chair of Tech City UK Joanne Shields spluttering into her coffee when he reportedly explained to her that London's young entrepreneurs have been attracted to the capital because of all of the "hot sex" on offer. Hmmmm.

Getty

2/5 Gove and the #BritishValues backlash

The Twitter sphere decided to educate the Education Secretary on some of the traits actually associated with being British, after it emerged schools would be required to encourage the promotion of "fundamental British values" in the classroom in the wake of the Birmingham "Trojan Horse" investigation. Among the many suggestions were Stuart Brown's summary of: "Being wary of foreigners while having a Belgian beer with an Indian curry in your Spanish villa wearing Indonesian clothes." LBC presenter James O'Brien meanwhile suggested "queuing; dressing inappropriately when the sun comes out; warm beer; winning World Wars; immigration & Pot Noodles" could be placed within the British Values bracket, while "socks and sandals" and "complaining about immigration" have proved relatively popular.

PA; E+; Getty Images

3/5 Gove performs Wham! rap to school children

As part of the BBC's News School Report project, school children were given the opportunity to interview Mr Gove, who claimed to be a fan of rap music. When asked by one girl if he would give them "a taster of your favourite rap", he responded with an impromptu performance of a Wham! song, complete with bobbing, fist clenching and the lines: "Hey everybody look at me, I've got street credibility. I may not have a job but I have a good time with the boys I meet down on the line."

4/5 Gove is filmed falling over in a Vine

The (very blurry) moment Gove was filmed falling over before hurriedly climbing back up and walking off in a Vine quickly went viral.

5/5 Gove poses for selfie with school children

In a trend that stubbornly refuses to disappear, Mr Gove decided to jump on the bandwagon by posing for a selfie – although he did apparently warn the children to "watch out that he didn't break the camera".

Getty
He also gave notice that the number of firms allowed to provide legal aid at short notice will be reduced from 2,000 to 540. With law firms having already gone to the wall affected by lower fees, the new regime is likely to lead to large firms using in-house solicitor-advocates, who come cheaper than barristers.
Criminal barristers, especially those newly qualified and anxious for work, and solicitors will be engaged in fighting for less work.
Both the Criminal Bar Association and the Criminal Law Solicitors' Association (CLSA) believe that standards of advocacy in courts in England and Wales could be affected.
Bill Waddington, chair of the CLSA, said that the cuts advocated by Mr Grayling had reached their target three years ahead of schedule.
The Ministry of Justice said "contingency planning" was already place, and said Mr Gove would be "pressing ahead" to create a legal system that delivered "value for money to taxpayers".