Lightning strikes, torrential rain, flash flooding and a hail storm have caused major travel problems for commuters across east and south-east England.
In addition to problems on train services across south-east England, there have also been reports of problems on the roads in Sussex, Essex and London, with London Fire Brigade saying they have been called to help people trapped in their cars.
The Met Office issued a severe weather warning today for the south-east of England as more than half a month's worth of rain fell in an hour in some places.
The heavy rain caused such chaos on the transport network that one member of train station staff described scenes as being like a 'zombie apocalypse'.
Forecasters warned that a "deeply unstable airmass" had brought the risk of heavy thundery showers across East Anglia, the South East and London throughout the day.
The first areas that fell victim to the storm were the Hove Brighton and Worthing regions of Sussex which were soaked at the start of the morning rush-hour, with trains heading along the south coast affected.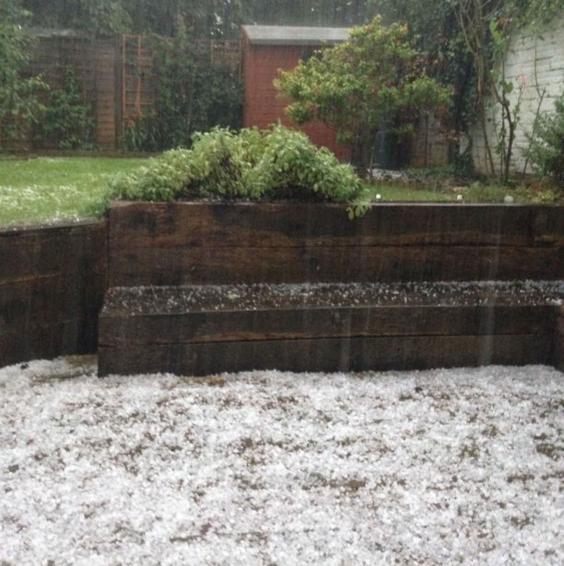 The lightning hit an electricity sub-station, causing power to the coastal rail route to be cut, although the main line to London was running normally, according to a Network Rail spokeswoman.
Elsewhere, in Essex a road in the village of Thaxted collapsed and several homes were left flooded as a result of the heavy rain.
London Fire Brigade rescued two women from a car which got stuck in flood water near South Ruislip station, north-west London.
Another two people were rescued from a stranded car in Eastcote Avenue in Harrow, the fire service said.
Twenty houses were also affected by flood water in Bedford Road, Ruislip, while up to 1ft of water flooded a ground floor flat in Northolt Road, Harrow.
Essex Fire and Rescue Service said it had dealt with 20 incidents in Thaxted, Essex, following flash flooding.
Firefighters rescued five people from three neighbouring houses which were flooded, while a road in the town collapsed from the heavy rainfall, it said.
An East Sussex Fire and Rescue Service spokesman said Brighton crews had dealt with a "large number of weather-related emergency calls", including flooding and lightning strikes.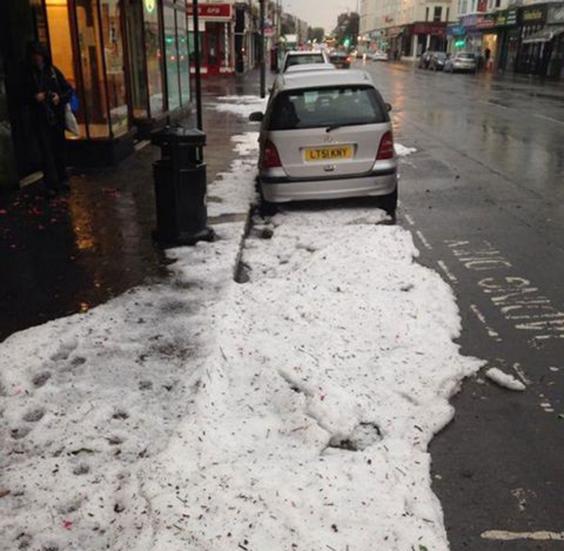 Morning commuters posted descriptions on Twitter of heavy hail and localised flooding caused by the storms.
Laurence Hill wrote: "Used to be roads. Now rivers of hail. Never seen anything like it."
Brighton and Hove Police posted: "Localised flooding in Hove and Portslade, some roads not passable. Please do not enter flood water on foot or in cars."
Brighton station tweeted: "At a stand west coastway £Worthing £Brighton Both ways due to zombie apocalypse."
South West Trains said Woking-bound trains would not be calling at Esher, Hersham or Walton-on-Thames because of flooding.
A Southern Water spokeswoman said: "Torrential rain fell across Sussex this morning which has led to parts of our sewer network becoming overwhelmed by the sheer volume of water entering it.
"We are doing all we can to help customers affected by this."
Sussex Police warned drivers to be careful as flash flooding hit Worthing, West Sussex, and Portslade and Mile Oak on the outskirts of Brighton and Hove.
Brighton and Hove City Council's headquarters also had to close after the basement flooded due to the heavy rain.
The Met Office issued a "yellow" warning of rain - meaning there is a "moderate risk" - for East Anglia, the South East and London. Up to 43mm (1.7in) of rain - more than half the average monthly total for England in July - fell in an hour in part of Suffolk this morning, a spokeswoman said.
Chief forecaster Steve Willington said: "A deeply unstable airmass will cover south eastern areas of England on Monday. The main risk of disruptive downpours is now early this morning, with only a very low risk during the afternoon period.
"These heavy showers and thunderstorms may become focused into slow-moving narrow bands, meaning that whilst some areas experience locally intense downpours giving 25mm within an hour and very locally 40mm within two to three hours, adjacent areas could stay dry."
The Met Office said 43mm (1.7in) of rain fell in an hour in Great Dunmow, Suffolk, between 4am and 5am.
Meanwhile, 37mm (1.5in) of rain was recorded in an hour in Isfield, Sussex, while 35mm (1.4in) fell in Ardingly, Sussex.
In Northolt, north-west London, 43.4mm (1.7in) of rain fell over a three-hour period this morning and in Santon Downham, Suffolk, 51.2mm (2in) of rain was recorded from 3am to 9am.
The Environment Agency issued a flood warning - meaning flooding is expected - for the Kidbrooke stream at Forest Row, East Sussex.
It said: "Heavy, thundery showers will continue to bring a chance of some localised surface water flooding issues, especially in urbanised areas, across much of south-east England today, with a risk continuing into the early hours of tomorrow morning in the far south east."
Additional reporting by the Press Association
Reuse content