Police are appealing for information after a 16ft python was found dead in a canal.
The snake may have been living in the wild for a number of days and a python of this size could have been capable of attacking a human, experts said.
The reptile, a reticulated python, was discovered by walkers floating in the canal near to Norden Bridge, Rishton, at around 4pm on Sunday.
A reptile expert attended the scene and recovered the python, which measured at over 16ft 5ins and is believed to have been around 12 to 15 years old.
Following an autopsy, the reptile showed signs of respiratory disease - which could have contributed to its death.
Lancashire Police are now investigating the circumstances surrounding how the python came to be in the canal and are appealing for anyone with any information to come forward.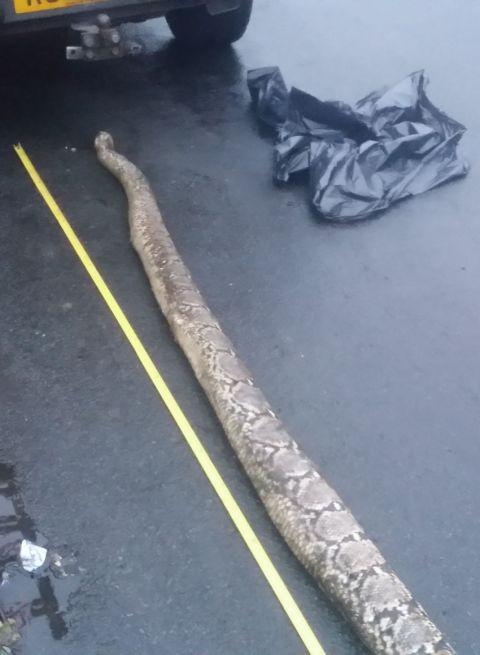 Ribble Valley wildlife crime officer Pc Carl Chew said: "Experts believe that a python of this size could have been capable of attacking a person so it is fortunate that no one came to any serious harm.
"There are specific offences under the Wildlife and Countryside Act and Animal Welfare Act in relation to releasing a python and we would urge anyone with any information as to where the python came from to contact us.
"It is a possibility that the python may have outgrown its home and owners can contact Pip Reptile Rescue if they require any help or advice about caring for or rehousing reptiles.
"Similarly, we would urge anyone thinking about getting rid of their pets, particularly those which may pose a risk to the public, to contact an animal charity for advice so that they can be rehomed safely and responsibly."
10 Deadliest Animals In The World
10 Deadliest Animals In The World
1/10 10: Poison Dart Frog

They might look cute, but the backs of the Amazonian poison dart frog ooze a slimy neurotoxin to keep predators away. Each frog produces enough of the toxin to kill 10 humans.

2/10 9: Polar Bear

The strength of a polar bear is enough to decapitate a human being with a single swipe of the paw.

3/10 8: African Elephant

The brute force of an elephant is unrivalled by any land mammal. Weighing in around 16,000lb on average, they are responsible for around 500 human deaths each year.

4/10 7: Cape Buffalo

Cape Buffalos charge head-on with their razor-sharp horns when confronted with a predator - all 1,500lb of them. And the problem is, they tend to do so as a herd.

5/10 6: Crocodile

The stealth and combined strength of a crocodile allows it to lie in the water undetected, before it strikes, drags its pray underwater, barrel rolls and dismembers it.

6/10 5: African Lion

These big cats are ruthlessly agile, armed with razor-sharp teeth and talons and near-perfect hunters.

7/10 4: Great White Shark

These kings of the sea have 3,000 teeth with which to tear their pray to shreds. On average, are 15ft long and 5,000lb, and can detect a drop of blood in 25 gallons of water.

8/10 3: Australian Box Jellyfish

Each tentacle has 5,000 stinging cells and enough toxin to kill 60 humans. Each jellyfish has 60 tentacles each at 15 ft long. That's a lot of killing power for an animal the size of a salad bowl.

9/10 2: Asian Cobra

It might not be the most poisonous snake, but thanks to its unique spit and strike attack technique, the Asian Cobra is responsible for more human deaths than any other snake on the planet.

10/10 1: Mosquito

Tiny but deadly, mosquitoes carry and transfer malaria causing parasites to humans. As a result, they cause on average 2million human deaths a year, making the insect one of the world's deadliest creatures. Aside from human beings, of course.
Python reticulatus, also known as the Asiatic reticulated python, are normally native to south east Asia and are the world's longest snakes.
They are non-venomous constrictors and normally not considered dangerous to humans - although large specimens have been known to kill humans.
Anyone with information can contact Lancashire Police on 101 quoting log number LC-20150301-0942.
Alternatively, they can contact Crimestoppers anonymously on 0800 555 111 or online at Crimestoppers-uk.org. No personal details are taken, information is not traced or recorded and you will not go to court.
PA
Reuse content