British men who convert to Islam are often targeted by the security services and asked to become informants, causing them to be treated with suspicion by other Muslims, according to new research.
Typically becoming isolated from their families and the rest of society, Muslim converts are commonly regarded as "outcasts" who have embraced an "alien, primitive and threatening" culture, the study conducted by the University of Cambridge's Centre of Islamic Studies found.
Researchers examined the experiences of 50 British men of all ages, ethnicities and faith backgrounds who converted to Islam. They discovered during the 18-month project that many of them felt demonised by media coverage which usually portrayed them as potential terrorists.
Some of the participants in the study said they had been personally approached by MI5 and asked to work as informants, with agents using either "flattery" or "veiled intimidation" to recruit them. The use of this tactic resulted in many converts being treated with suspicion by other Muslims, making integration more difficult, the report said.
Professor Yasir Suleiman, director of the Centre of Islamic Studies, said many converts were made to feel like "outsiders" by their friends and families but also by other Muslims, leaving them exceptionally isolated. "In the West, conversion to Islam has been tarnished by claims of extremism – both violent and non-violent – radicalisation, and, sadly, terrorism," he added.
"It has also fallen victim to the general apathy towards faith in largely secular societies causing those who convert to be described by some as not only eccentrics, misfits, outcasts and rebels, but also as renegades, traitors or enemies or a fifth column who have turned their back on their original culture."
The report, entitled Narratives Of Conversion To Islam In Britain: Male Perspectives, said Muslim converts were a "minority within a minority" and called for specialist groups to be created to help them cope with the feelings of rejection embracing Islam could cause.
UK news in pictures
UK news in pictures
1/20 26 June 2017

A festival-goer sleeps outside their tent at the end of the Glastonbury Festival of Music and Performing Arts on Worthy Farm near the village of Pilton in Somerset, South West England

Getty

2/20 26 June 2017

Canadian Captain Megan Couto (C) leading out troops of the Second Battalion, Princess Patricia's Canadian Light Infantry from Wellington Barracks heading for the Changing of the Guard ceremony at Buckingham Palace in central London. Media reports state that Megan Couto, will be at the head of some 40 Canadian soldiers along with the Royal Canadian Artillery Band at the Changing of the Guard at Buckingham Palace becoming the first female soldier in history to become Captain of the Guard. Canadian soldiers are serving as the Queen's Guard as sentries at Buckingham Palace, St. James's Palace, the Tower of London and Windsor Castle until 03 July 2017. Queen Elizabeth II invited Canada to send troops take part in the ceremonial duties in 2017 marking 150 years since Canadian Confederation

EPA

3/20 26 June 2017

Residents leave their home on the Taplow Block on the Chalcots Estate on June 26, 2017 in London, England. Residents of the Chalcots Estate have been urged to leave their homes due to fire safety fears in the wake of the Grenfell Tower tragedy. Four of the five Chalcots Estate towers in Camden, North London, are being evacuated after they were found to have similar cladding to that on Grenfell, attributed to contributing to the rapid spread of the blaze last week that killed at least 79 people

Getty Images

4/20 25 June 2017

Police officers on Romford Road in Forest Gate, east London, as people protest over the death of Edir Frederico Da Costa, who died on June 21 six days after he was stopped in a car by Metropolitan Police officers in Woodcocks, Beckton, in Newham, east London

PA

5/20 24 June 2017

Britain's opposition Labour Party leader Jeremy Corbyn addresses revellers from the Pyramid Stage at Worthy Farm in Somerset during the Glastonbury Festival

REUTERS

6/20 23 June 2017

British Prime Minister Theresa May addresses a news conference at the EU summit in Brussels, Belgium, June 23, 2017

Reuters

7/20 22 June 2017

Cosplay fans (L-R) George Massingham, Abbey Forbes and Karolina Goralik travel by tube dressed in Harry Potter themed costumes, after a visit to one the literary franchise's movie filming locations at Leadenhall Market in London, Britain

Reuters

8/20 22 June 2017

Racegoers cheer on their horse on Ladies Day at the Royal Ascot horse racing meet, in Ascot, west of London

Getty

9/20 21 June 2017

A reveller walks among the tipi tents at the Glastonbury Festival of Music and Performing Arts on Worthy Farm near the village of Pilton in Somerset, South West England

Getty

10/20 20 June 2017

A police officer lays some flowers passed over by a member of the public, close to Finsbury Park Mosque in north London, after one man died and eight people were taken to hospital and a person arrested after a rental van struck pedestrian

PA

11/20

The Borough Market bell is seen in Borough Market in central London following its re-opening after the June 3 terror attack

Getty Images

12/20

Two women embrace in Borough Market, which officially re-opens today following the recent attack, in central London

REUTERS/Hannah McKay

13/20

Mayor of London Sadiq Khan attends the re-opening of Borough market in central London following the June 3 terror attack

Getty Images

14/20

People walk through Borough Market in central London following its re-opening after the June 3 terror attack

Getty Images

15/20

News Corp CEO Rupert Murdoch, with one of his daughters, visit Borough Market, which officially re-opened today following the recent attack

REUTERS

16/20

A woman reacts in front of a wall of messages in Borough Market, which officially re-opened today following the recent attack, in central London

REUTERS/Hannah Mckay

17/20

Vivenne Westwood walks the runway at the Vivenne Westwood show during the London Fashion Week Men's June 2017 collections

Getty Images

18/20

Millwall fan and London Bridge hero Roy Larner on 'Good Morning Britain'

Rex

19/20

Richard Arnold, Roy Larner, Piers Morgan and Susanna Reid on 'Good Morning Britain'

Rex

20/20 11 June 2017

England players celebrate after defeating Venezuela 1-0 to win the final of the FIFA U-20 World Cup Korea 2017 at Suwon World Cup Stadium in Suwon, South Korea

AP
Abdul Maalik Taylor, who converted to Islam from Hinduism 20 years ago and now runs Islamic tours of London, was one of the men who took part. He said he had suffered "physical and emotional abuse" from his family when he decided to change religion. 
"My relatives thought I had become brainwashed. I was basically given an ultimatum: give up the religion or get out. I was 18 at the time. And I had to leave after being beaten up," he said. Converts who have contributed to society are ignored by the media, which concentrates on those who have been radicalised, he added.
The reasons that British people convert to Islam are varied, the report says, ranging from falling in love with a Muslim partner to "spiritual searching" or experiencing a personal tragedy. Some even decided to embrace it after having "revelatory dreams".
'Fears are encouraged by the media'
Mark Barrett, from Norwich, converted to Islam eight years ago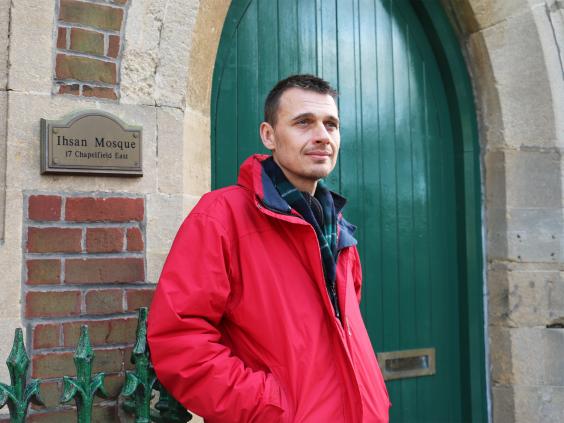 My friends and family do treat me differently. Obviously people don't quite know what to make of Islam in today's world, so they sometimes kind of shy away from engaging in a conversation about it, even if I bring it up. But then at the same time, in the West generally there's a genuine sense of sympathy and understanding in how Islam has not been properly understood historically because of the political wars that have taken place.
I think the fears that come up tend to be fears that have been encouraged by media representations more than anything else.
'It was as if I'd said I was Jimmy Savile'
Adrian Heath, from Nottingham, also converted to Islam eight years ago 
I don't think anybody changes their religion unless there's a major upheaval, forcing them to evaluate where they're at.
I wasn't having a great marriage, and the Islam business completely killed that one off. You find that your wife will support you in many things, but not becoming a Muslim.
My parents found out by accident, and it was like someone had hit them over the head with a frying pan. My in-laws thought I might as well have just put my hands up and admitted to being Jimmy Savile. You can tell people you're a Buddhist or a Wiccan, but Islam has this unjustified shock value.
Reuse content