British men who convert to Islam are often targeted by the security services and asked to become informants, causing them to be treated with suspicion by other Muslims, according to new research.
Typically becoming isolated from their families and the rest of society, Muslim converts are commonly regarded as "outcasts" who have embraced an "alien, primitive and threatening" culture, the study conducted by the University of Cambridge's Centre of Islamic Studies found.
Researchers examined the experiences of 50 British men of all ages, ethnicities and faith backgrounds who converted to Islam. They discovered during the 18-month project that many of them felt demonised by media coverage which usually portrayed them as potential terrorists.
Some of the participants in the study said they had been personally approached by MI5 and asked to work as informants, with agents using either "flattery" or "veiled intimidation" to recruit them. The use of this tactic resulted in many converts being treated with suspicion by other Muslims, making integration more difficult, the report said.
Professor Yasir Suleiman, director of the Centre of Islamic Studies, said many converts were made to feel like "outsiders" by their friends and families but also by other Muslims, leaving them exceptionally isolated. "In the West, conversion to Islam has been tarnished by claims of extremism – both violent and non-violent – radicalisation, and, sadly, terrorism," he added.
"It has also fallen victim to the general apathy towards faith in largely secular societies causing those who convert to be described by some as not only eccentrics, misfits, outcasts and rebels, but also as renegades, traitors or enemies or a fifth column who have turned their back on their original culture."
The report, entitled Narratives Of Conversion To Islam In Britain: Male Perspectives, said Muslim converts were a "minority within a minority" and called for specialist groups to be created to help them cope with the feelings of rejection embracing Islam could cause.
UK news in pictures
UK news in pictures
1/35

Newly appointed as manager of the England football team, Sam Allardyce poses for a photograph with an England scarf

Martin Rickett/PA Wire

2/35

British Chancellor of the Exchequer Philip Hammond (R), and British Parliamentary Under Secretary of State for Transport and Minister for Aviation, Lord Tariq Ahmad (L), listen to London City Airport CEO Declan Collier, as they pass a British Airways aircraft during a tour of the airport in east London on July 27, 2016. The British government hailed a £344 million investment to expand London City Airport on Wednesday as evidence Britain was "open for business" despite its Brexit vote.

STEFAN ROUSSEAU/AFP/Getty Images

3/35

Labour leadership candidate Owen Smith speaks at a rally in London

REUTERS/Neil Hall

4/35

Police close a road close to RAF Marham in Norfolk, after a serviceman was threatened with a knife near to the base

Chris Radburn/PA Wire

5/35

Tour de France winner Chris Froome celebrates on the podium after the twenty-first and last stage of the Tour de France cycling race in Paris, France

AP Photo/Christophe Ena

6/35 19 July 2016

Merlin Entertainment's Talking Donkeys are put through their paces in preparation for three days of children's donkey rides, celebrating the start of the summer holidays in London

Mikael Buck

7/35 18 July 2016

David Barber, The Queen's Swan Marker, holds a cygnet, or young swan, during Swan Upping, the annual census of the swan population on the River Thames, in a week long exercise where unmarked mute swans are now counted - rather than eaten - in a tradition exercised by the British Crown for nearly 900 years, at Sunbury

REUTERS

8/35 18 July 2016

A 'Vote LEAVE' battle bus is re-branded outside the Houses of Parliament in Westminster by the environmental campaign group Greenpeace. The bus which was used during the European Union referendum campaign and had the statement "We send the EU £350 million a week let's fund our NHS instead" along the side was covered with thousands of questions for the new Prime Minister Theresa May and her government about what a 'Brexit' might mean for the environment

Getty Images

9/35 17 July 2016

US director Steven Spielberg poses as he arrives to attend the UK premiere of the film "The BFG" in Leicester Square

AFP/Getty Images

10/35 16 July 2016

A Raticate, a character from Pokemon Go, a mobile game that has become a global phenomenon, in front of the gates of Downing Street in London

Getty Images

11/35 16 July 2016

London landmark, The London Eye is illuminated in blue, white and red lights, resembling the colours of the French flag, as Britons express their solidarity following the deadly attack in the southern French city of Nice A gunman smashed a truck into a crowd of revellers celebrating Bastille Day in the French Riviera city of Nice, killing at least 84 people in what President Francois Hollande on Friday called a "terrorist" attack. / AFP / CHRIS J RATCLIFFE (Photo credit should read CHRIS J RATCLIFFE/AFP/Getty Images)

AFP/Getty Images

12/35 15 July 2016

Armed police outside the French Embassy in London, following the death of at least 84 people, including several children, after a terrorist drove a truck through crowds celebrating Bastille Day in Nice

PA

13/35 14 July 2016

Foreign Secretary Boris Johnson addresses staff inside the Foreign Office in London

PA

14/35 13 July 2016

New British Prime Minister Theresa May speaks to the media outside her official residence 10 Downing Street in London

AP

15/35 13 July 2016

David Cameron makes a speech outside 10 Downing Street in London, before leaving for Buckingham Palace for an audience with Queen Elizabeth II to formally resign as Prime Minister

PA

16/35 12 July 2016

Former Queen guitarist and campaigner Brian May poses with people dressed as Badgers during a photocall in London. The event was organised to 'urge' the government to abandon their planned Badger Cull which is to be rolled out in the Autumn

Getty Images

17/35 11 July 2016

Britain's new Conservative Party leader Theresa May speaks to members of the media at The St Stephen's entrance to the Palace of Westminster in London. Theresa May will become the prime minister who leads Britain's into Brexit talks after her only rival in the race to succeed David Cameron pulled out unexpectedly. May was left as the only contender standing after the withdrawal from the leadership race of Andrea Leadsom, who faced criticism for suggesting she was more qualified to be premier because she had children

AFP/Getty

18/35 11 July 2016

Stay Puft Marshmallow Man is seen on the concourse at Waterloo Station in London. Ghostbusters take over Waterloo Station as Stay Puft Marshmallow Man smashes through the concourse during the morning rush-hour

Getty Images for Sony Pictures

19/35 10 July 2016

Demonstrators from the Black Lives Matter movement march through central London, during a demonstration against the killing of black men by police in the US

AFP/Getty Images

20/35 10 July 2016

Members of the British Royal Air Force Aerobatic Team, the Red Arrows, perform ahead of the British Formula One Grand Prix at Silverstone motor racing circuit in Silverstone

AFP/Getty Images

21/35 9 July 2016

Jeremy Corbyn is escorted by police through enthusiastic crowds following his appearance at the 132nd Durham Miners Gala

Getty Images

22/35 8 July 2016

To mark exactly one month until Olympic Games and celebrate Usain Bolt's 9.58 second 100m world record, Virgin Media has created an ambitious installation which transformed the River Thames into a 100m-long video screen, while the Eye itself became a giant stopwatch counting down Bolt's time. Viewers within the London Eye were able to witness Bolt's record-breaking speed, thanks to a 100m-long, floating screen stationed on the river beneath

23/35 7 July 2016

Home Secretary Theresa May makes a statement outside the Palace of Westminste, after she won 199 votes for the Conservative leadership

PA

24/35 6 July 2016

Relatives of military personnel killed during the Iraq War talk at a news conference after listening to Sir John Chilcot present The Iraq Inquiry Report at the Queen Elizabeth II Centre in Westminster

Getty

25/35 6 July 2016

Protesters dressed as former British prime minister Tony Blair hold a demonstration outside the Queen Elizabeth II Conference Centre as they wait for the release of the Chilcot Inquiry in London

EPA

26/35 6 July 2016

Former Prime Minister Tony Blair responds to the Chilcot report

Getty Images

27/35 5 July 2016

Participants march in London as teachers across England stage a 24-hour strike in a long-running dispute with the Government over the "underfunding" of schools

28/35 4 July 2016

A remarkable twelve metre sand sculpture has been unveiled on the coast of Cornwall's Porthminster Beach to celebrate the 10th annual Barefoot Wine Beach Rescue Project globally. In a bid to inspire the nation to keep Britain's beaches 'barefoot friendly', the spectacular artwork has been created as part of the first ever World Beach Rescue Day (WBRD), a global initiative launching on 9 July pioneered by champions of cleaner beaches, Barefoot Wine

29/35 3 July 2016

British Conservative party leadership candidate Andrea Leadsom arrives at the BBC television centre in London to appear on "The Andrew Marr Show" in London

AFP/Getty Images

30/35 2 July 2016

Tens of thousands of people march through central London in a 'March For Europe Event'. The march is in protest at the result of the EU referendum

Getty Images

31/35 1 July 2016

Demonstrators chant as they wave underwear and placards with the words "Liar Liar Pants On Fire" written on them outside the home of former London Mayor Boris Johnson

Getty Images

32/35 30 June 2016

Justice Secretary and leading Brexit campaigner Michael Gove leaves his home in Kensington before announcing his intention to run to be the next Conservative Party leader and UK prime minister

Getty Images

33/35 29 June 2016

Spectators with umbrellas struggle against strong wind as stormy weather delays play at Wimbledon

REUTERS

34/35 28 June 2016

A couple kiss outside the Houses of Parliament during a protest aimed at showing London's solidarity with the European Union following the recent EU referendum

REUTERS

35/35 28 June 2016

Queen Elizabeth II & Prince Philip, Duke Of Edinburgh attend the unveiling of the Robert Quigg VC memorial statue in Bushmills village, Northern Ireland

Getty Images
Abdul Maalik Taylor, who converted to Islam from Hinduism 20 years ago and now runs Islamic tours of London, was one of the men who took part. He said he had suffered "physical and emotional abuse" from his family when he decided to change religion. 
"My relatives thought I had become brainwashed. I was basically given an ultimatum: give up the religion or get out. I was 18 at the time. And I had to leave after being beaten up," he said. Converts who have contributed to society are ignored by the media, which concentrates on those who have been radicalised, he added.
The reasons that British people convert to Islam are varied, the report says, ranging from falling in love with a Muslim partner to "spiritual searching" or experiencing a personal tragedy. Some even decided to embrace it after having "revelatory dreams".
'Fears are encouraged by the media'
Mark Barrett, from Norwich, converted to Islam eight years ago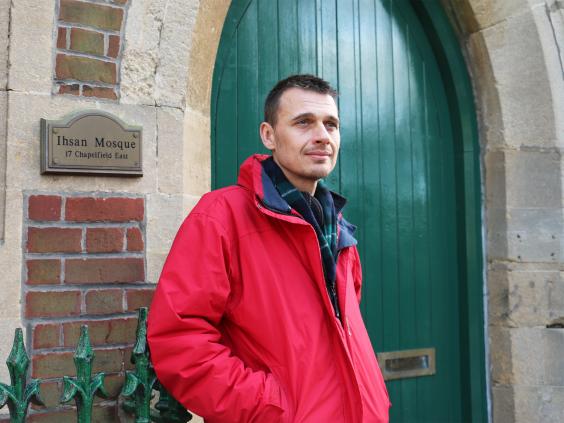 My friends and family do treat me differently. Obviously people don't quite know what to make of Islam in today's world, so they sometimes kind of shy away from engaging in a conversation about it, even if I bring it up. But then at the same time, in the West generally there's a genuine sense of sympathy and understanding in how Islam has not been properly understood historically because of the political wars that have taken place.
I think the fears that come up tend to be fears that have been encouraged by media representations more than anything else.
'It was as if I'd said I was Jimmy Savile'
Adrian Heath, from Nottingham, also converted to Islam eight years ago 
I don't think anybody changes their religion unless there's a major upheaval, forcing them to evaluate where they're at.
I wasn't having a great marriage, and the Islam business completely killed that one off. You find that your wife will support you in many things, but not becoming a Muslim.
My parents found out by accident, and it was like someone had hit them over the head with a frying pan. My in-laws thought I might as well have just put my hands up and admitted to being Jimmy Savile. You can tell people you're a Buddhist or a Wiccan, but Islam has this unjustified shock value.
Reuse content