Firefighters continue to tackle a huge blaze at the Baitul Futuh mosque in Morden, south London but say the fire has been contained to the administration building, leaving the mosque unaffected.
By late afternoon, 10 fire crews remained at the site.
Breaking news: Fire on mosque site in #Morden contained to admin buildings. Mosque itself is thankfully unaffected. pic.twitter.com/4tpGvKHEuy

— London Fire Brigade (@LondonFire) September 26, 2015
The fire began around midday and has continued for several hours.
Only a handful of worshipers were in the mosque when the blaze started.
One person was injured, according to an official with the London Ambulance Service. The man was taken to hospital suffering from smoke inhalation.
The fire is said to have damaged at least half of the building's ground floor.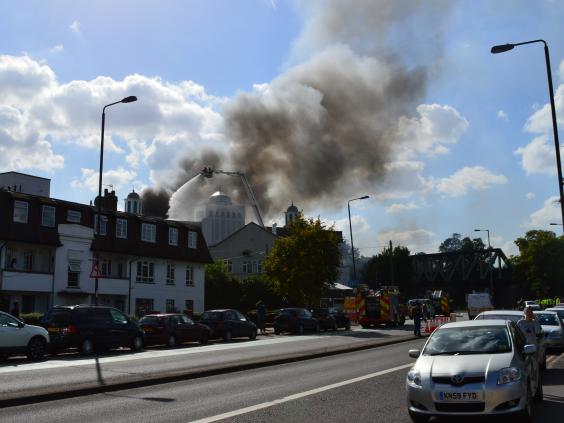 The mosque was built for the Ahmadiyya Muslim community to provide people with a meeting place and somewhere to hold social religious events. It was built on the site of the old Express Dairies in 1999 and the building bears the Ahmadiyya Muslim motto "Love for all, hatred for none".
Fareed Ahmed, national secretary for external affairs for the Ahmadi Muslim Community UK, said: "It's a very difficult time and obviously we're praying that it comes to a safe conclusion.
"This is a devastating accident to happen to any mosque.
"What we understand at the moment is that the mosque itself where the prayers take place at the back of the site is safe and untouched by fire."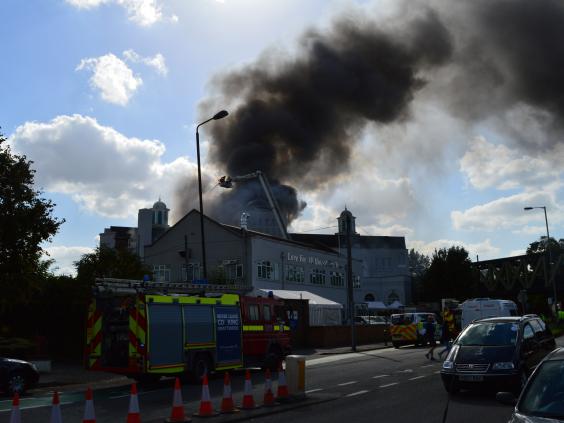 Roads have been closed in the suburban neighbourhood surrounding the mosque, said to be the largest in Western Europe.
Transport for London said the A24, which feeds the busy Morden town centre, is shut both ways, northbound and southbound.
British Transport Police were at Morden South overground station, adjacent to the mosque, where trains were running at reduced speed and passing through the station without stopping.
A firebrigade spokesman said it was too early to say what had caused the fire.
Additional reporting by PA
Reuse content