"I'm gay, I'm Muslim, I'm a drag queen, I'm British and Pakistani," said Asif Quraishi, Britain's first out and proud Muslim drag queen who performs under the glamorous alter ego, Asifa Lahore. "People say these things shouldn't fit together but hey, here I am."
Now Quaraishi and his fellow artistes have been promised police protection amid fears that a Channel 4 documentary shining a spotlight on the "hidden" community of gay British Asians could provoke a violent response.
Quraishi, 33, from Southall, West London, performs a provocative act in which he strips off a Burka and has received death threats from fellow Muslims.
The winner of the LGBT award at Attitude magazine's Pride ceremony, Quraishi estimates that there are 150 drag queens across Britain who, are devout Muslims, like himself.
The documentary, Muslim Drag Queens, broadcast on 24 August, follows three members of a largely clandestine gay Asian community who are challenging taboos within Islam through their embrace of cross-dressing exhibitionism.
"There is a whole community that is living in Britain which is hidden. Now is the time to come out," said Quraishi, who admitted he had concerns about the response which the film might provoke.
He said: "I do worry post the broadcast. There are certain things that have been put in place for my safety. The death threats were last year. As and when those things happen the police are always informed and they have been ridiculously supportive."
Quraishi, who has become an activist within the "Gaysian" community, said he did not intend to offend by incorporating the Burka into his act. "When I went to mainstream LGBT drag shows I saw white drag acts in nuns' outfits and it was absolutely fine."
LGBT rights across the globe
LGBT rights across the globe
1/7 Russia

Russia's antipathy towards homosexuality has been well established following the efforts of human rights campaigners. However, while it is legal to be homosexual, LGBT couples are offered no protections from discrimination. They are also actively discriminated against by a 2013 law criminalising LGBT "propaganda" allowing the arrest of numerous Russian LGBT activists. (Picture: Riot police hold an LGBT activist during a Moscow rall.)

AFP/Getty

2/7 Mauritania

Men who are found having sex with other men face stoning, while lesbians can be imprisoned, under Sharia law. However, the state has not reportedly executed anyone for this 'crime' since 1987. (Picture: Chinguetti Mosque, Mauritania.)

ALAMY

3/7 Saudi Arabia

Homosexuality and transgender is illegal and punishable by the death penalty, imprisonment, corporal punishment, whipping and chemical castration. (Picture: The emblem of Saudi Arabia above the embassy in London.)

Bruno Vincent/Getty Images

4/7 Yemen

The official position within the country is that there are no gays. LGBT inviduals, if discovered by the government, are likely to face intense pressure. Punishments range from flogging to the death penalty. (Picture: Yemen's southern port of Aden.)

Getty

5/7 Nigeria

Both male and female same-sex sexual activity is illegal and in some northern states punishable with death by stoning. This is not a policy enacted across the entire country, although there is a prevalent anti-LGBT agenda pushed by the government. In 2007 a Pew survey established that 97 per cent of the population felt that homosexuality should not be accepted. It is publishable by 14 years in prison. (Picture: The northern Nigerian town of Damasak.)

Reuters

6/7 Somalia

Homosexuality was established as a crime in 1888 and under new Somali Penal Code established in 1973 homosexual sex can be punishable by three years in prison. (Picture: Families use a boat to cross a flooded Shebelle River, in Jowhar.)

Reuters

7/7 Iraq

Although same-sex relationships have been decriminalised, much of the population still suffer from intense discrimination. Additionally, in some of the country over-run by the extremist organisation Isis, LGBT individuals can face death by stoning. (Picture: Purported Isis fighters in Iraq.)

Getty Images
The performer, who has sewn rainbow colours into his Burka, said he found it "empowering" to take "something seen as a symbol of self-oppression in the West and use it for self-expression."
Quraishi, whose father refused to accept his lifestyle, said he was using drag to challenge homophobia within traditional Muslim communities. Another drag artist in the film, Imran, is regularly sought out for secret dates by married Muslim men who find it acceptable to sleep with him because he dresses as a woman.
Sir Ian McKellen, the actor who narrated the documentary, said he was in "awe" of the drag artists featured and their battle for acceptance.
He said: "It makes me begin to understand what it was like 25-30 years ago when people didn't understand simply being gay. You (Asif) are a pioneer, riding on a wagon of support. We are all with you. You are going to have to lead us and help us help you."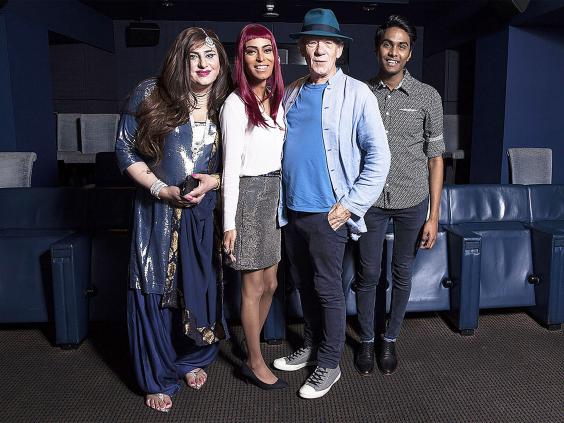 Quraishi called on David Cameron to give extra support for gay Asians living in Britain who are often ostracised by their communities.
He said: "The reality is that south Asian communities and African communities do have inherent homophobia. I want to see the certain charities that deal head on with supporting gay Muslims given more funding. And I would like the debate to be pushed forward in faith communities themselves, where there is round-table discussions and getting our voices into mosques."
However Channel 4 was accused of excluding minority voices from the film's production. Filmmaker Kieran Yates, who produced a short titled, Muslim Drag Queens for the Guardian's online video strand, which first featured Lahore, said she had been "pushed out" of the Channel 4 documentary, which gives her a "with thanks" credit.
Ms Yates told The Independent: "I'm a South Asian, I live in Southall, I first negotiated access to the contributors and the clubs. It's a story about the LGBT community and Muslims in Britain but everyone who worked on this Channel 4 film about minority communities is white."
A Channel 4 spokesman said: "The truth is that when we commissioned the film the Guardian made no mention of her. We only found out about her existence some months into production. So she did not contribute to our film at all.
The "with thanks" credit was a "gesture of goodwill and a commitment we felt we should honour - but to be clear it is not a production credit because she did not contribute to our film."
Reuse content