The government is set to implement a 'two strike' system in an effort to cut knife crime, which will see repeat offenders being given mandatory six month prison sentences for carrying a knife.
The new policy was blocked by the Liberal Democrats during the last government, and the government claims that it will jail an extra thousand offenders a year.
Under the new measure, adults convicted for carrying a knife, who have been convicted of the same crime before, will face a prison sentence of at least six months, with a four year sentence as the maximum.
Young offenders under the age of 18 will face a four month sentence and training order. Judges will still be able to use their discretion if they think the sentence would be unjust, however.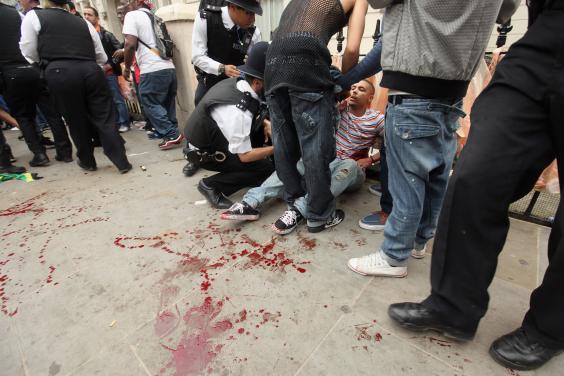 It is illegal to carry a knife in public without good reason, although this is not a blanket ban on all kinds of knife - people are totally free to carry a knife with a folding blade that is less than three inches long, similar to what might be found on a Swiss Army knife.
London mayor Boris Johnson and the Metropolitan Police Commissioner Bernard Hogan-Howe have been pressing for the new law since the election, due to a rise in stabbings in London.
Best General Election 2015 quotes
Best General Election 2015 quotes
1/10 1. "Am I tough enough? Hell, yes, I'm tough enough."

Ed Miliband bats away suggestions he would be too weak on the international stage. It likely to go down as one of the quotes we remember this election by.

Matthew Lewis/Getty Images

2/10 2. "If I'm getting lively about it, it's because I feel bloody lively about it."

David Cameron attempts to prove how passionate he is about wanting a second term as Prime Minister after Tory donors criticised his lack of enthusiasm.

AFP

3/10 3. "Oh it's crats? I thought it was Liberal Demo-cats"

Reality TV star Joey Essex is taught a thing or two during his meeting with Nick Clegg.

PA

4/10 4. "Brain fade"

Green party leader Natalie Bennett gave what was described as the "worst political leader's interview ever" on LBC Radio as she fails to answer how the Greens would pay for its ambitious housing policies.

LBC/YouTube

5/10 5. "We're a shining example of a country where multiple identities work. Where you can be Welsh and Hindu and British, Northern Irish and Jewish and British, where you can wear a kilt and a turban, where you can wear a hijab covered in poppies. Where you can support Man Utd, the Windies and Team GB all at the same time. Of course, I'd rather you supported West Ham"

David Cameron experienced his own brain fade when he forgot which football team he supported.

Getty Images

6/10 6. "This is a real career-defining … country-defining election that we face in less than a week's time"

The Prime Minister made another gaffe when he made it sound like the election was all about himself.

BBC

7/10 7. "Ed Miliband stabbed his own brother in the back to become Labour leader. Now he is willing to stab the United Kingdom in the back to become prime minister."

Defence Secretary Michael Fallon launched a vicious personal attack on Ed Miliband.

PA

8/10 8. "Ajockalypse Now."

The colourful term used by Boris Johnson to describe a Labour government propped up by the SNP.

JUSTIN TALLIS/AFP/Getty Images

9/10 9. "The SNP are openly racist. The anti-English hostility, and the kind of language that is used about and towards English people, is totally extraordinary."

Nigel Farage launches an attack on Nicola Sturgeon and her SNP party.

AFP/Getty Images

10/10 10. "Terms are like Shredded Wheat. Two are wonderful, three might be too many."

David Cameron rules out a third term as Prime Minister.

Getty Images
Currently, around a third of those convicted of illegally carrying a knife were given an immediate jail sentence. Government assessments suggest that each year, around 1,300 people who have previous knife possession convictions, are caught in possession of a knife without getting further jail sentences.
Although the numbers of offenders who will be jailed by the new law seem low when spread across the country, they will have a big impact on the prison system. Ministers estimate that an additional 1,000 people a year will be jailed as a result of the new sentences, which will put extra strain on the already overcrowded prison system.
The measure was proposed during the last government but was blocked by the Liberal Democrats, with Nick Clegg claiming it was nothing more than a "headline-grabbing solution" that would prove impractical and would not address the root causes of knife crime.
The measure will come into force from 17 July. Justice Minister Mike Penning said: "With this new measure we are sending out the strongest message to offenders: repeatedly take a knife on to our streets and expect to go to prison."
Reuse content