Extra armed police will be patrolling London tonight as security forces implement "precautionary" measures to protect millions of people seeing in the New Year.
The capital is one of several on alert in Europe after Austrian authorities said a "friendly" intelligence service warned numerous cities of a possible shooting or bomb attack by terrorists over the festive period.
Police in Vienna did not name any specific cities and Scotland Yard insisted its strategy was not a response to "specific intelligence.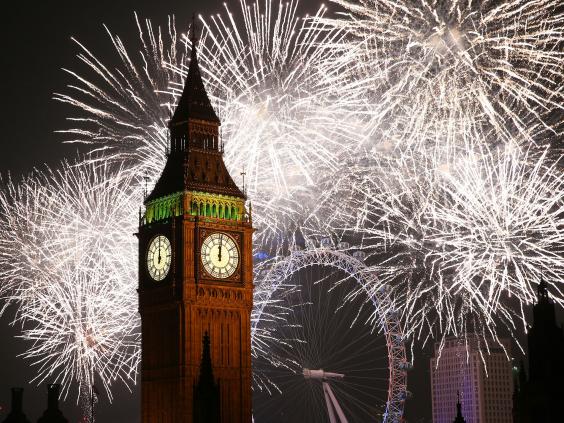 At least seven terror plots have been thwarted by British security services in the past year and David Cameron said agencies had been "preparing for" attacks like those orchestrated by Isis in France.
The Metropolitan Police would not confirm a report by the Telegraph that every firearms officer in London would be on duty tonight after New Year leave for more than 2,000 personnel were cancelled.
A spokesperson told The Independent she would not discuss officer numbers but the force had earlier said around 3,000 officers would be stationed across central London.
The Home Office has put an extra £34 million into a "national uplift in armed policing capability and capacity" to respond to a Paris-style attack but said it was up to the leaders of individual forces to determine the number of firearms officers to deploy. 
"New Year's Eve is a major celebration in the diary and the Met has been working with colleagues to ensure celebrations run smoothly and the event is safe and enjoyable for everyone who attends," Superintendent Jo Edwards said.
New Year 2015: Celebrations around the world
New Year 2015: Celebrations around the world
1/42 UK

Fireworks explode above the Houses of Parliament and the London Eye

Getty Images

2/42 UK

The Hogmanay New Year celebrations in Edinburgh, Scotland

PA

3/42 Netherlands

The 'National Fireworks' light up the night sky above the Scheepvaart Museum, in Amsterdam

EPA

4/42 Turkey

People attend the 2015 New Year celebrations in Istanbul

EPA

5/42 Germany

Fireworks light up the night sky during new year celebrations at the Brandenburger Tor in Berlin

EPA

6/42 France

People gather on the Champs-Elysees avenue in Paris before celebrating the New Year

Getty Images

7/42 UK

Fireworks are sent up from the Shard building in London

8/42 Greece

Fireworks explode above the ancient temple of Parthenon atop the Acropolis hill in Athens

Getty Images

9/42 Germany

The New Year's party at Berlin's landmark Brandenburg Gate

Getty Images

10/42 Dubai

Dubai celebrates the New Year with a light and sound extravaganza at midnight at the Burj Khalifa, the world's tallest tower

Getty Images

11/42 Iraq

Acrobatic performers, dressed in Santa Claus costumes, celebrate the New Year at Firdous Square in Baghdad, Iraq

AP

12/42 Philippines

People look at fireworks during a New Year celebration in Manila

Getty Images

13/42 Taiwan

Fireworks go off at the Taipei 101 skyscraper to celebrate the New Year in Taipei

EPA

14/42 Philippines

Manila welcomes in 2015 in spectacular fashion

EPA

15/42 Malaysia

Fireworks explode near Kuala Lumpur's landmark Petronas Towers

EPA

16/42 Ireland

People take part in the Procession of Light through the centre of Dublin to begin the city's New Year's eve festival

PA

17/42 Vietnam

New Year celebrations seen from the banks of the Saigon River in Ho Chi Minh City

Getty Images

18/42 China

Performers celebrate the arrival of 2015 at the Olympic Park in Beijing

EPA

19/42 Malaysia

Fireworks explode over the Petronas Twin Towers during New Year celebrations in Kuala Lumpur

AP

20/42 Australia

Sydney locals, Demi Bryant, 22, and James Hundt, 28, celebrate the beginning of the New Year atop a high-rise overlooking the iconic Sydney New Year's Eve fireworks display aside their next dream car, the all-new 2015 Ford Mustang

21/42 USA

Fireworks erupt after midnight in Times Square during the New Year's Eve celebration in New York. Thousands braved the cold to watch the annual ball drop and ring in the new year.

AP

22/42 USA

Concert goers celebrate the New Year at Madison Square Gardens in New York City

Getty

23/42 Japan

People release balloons to celebrate the New Year during an annual countdown ceremony in Tokyo

24/42 China

Fireworks explode near the observation wheel during a pyrotechnic show to celebrate the New Year in Hong Kong

25/42 South Korea

People gather to celebrate the New Year at the Imjingak Pavilion near the border village of Panmunjom, which has separated the two Koreas since the Korean War, in Paju, north of Seoul

26/42 China

Fireworks explode over Victoria Harbour in Hong Kong

Getty Images

27/42 Germany

A reveler wears a headgear reading 'Happy New Year' during the New Year's Eve party in front of the Brandenburg Gate in Berlin, Germany

28/42 Australia

New Year's Eve fireworks erupt over Sydney's iconic Harbour Bridge and Opera House during the traditional fireworks show held at midnight

29/42 Germany

Revelers walk on the street during a light show at a stage in front of the Brandenburg Gate during the New Year's Eve party in Berlin

30/42 India

Indian artist Harwinder Singh Gill, in Amritsar, displays his special creation featuring famous internet logos, and generic nature scenes, to wish the world a Happy New Year in 2015

31/42 Australia

People gather at the Sydney Opera House to welcome in the new year on New Year's Eve on Sydney Harbour

32/42 South Korea

A boy lights a candle with his mother before a ceremony to celebrate the new year at Bongeun Buddhist temple in Seoul

33/42 Australia

Fireworks light up the Sydney Opera House during an early light show before the midnight New Year fireworks, December 31, 2014. More than 10,000 aerial fireworks, 25,000 shooting comets and 100,000 pyrotechnic effects are expected to be used during the annual Sydney Harbour New Year's Eve show, with an estimated 1.6 million people watching from along the harbour foreshore

34/42 New Zealand

Firework display from the top of the Sky Tower to welcome the New Year 2015 in Auckland

35/42 Gaza Strip

A Palestinian Young writes in the sands of the sea in 2015 before sunset last day of the year

36/42 India

Indian youngsters celebrate the welcoming of the New Year 2015 in Bhopal

37/42 Kyrgyzstan

A man and a woman dressed as Father Frost (2-R) and his granddaughter (R) wave from a horse-drawn carriage as they take part in a New Year parade in Bishkek

38/42 Switzerland

A participant frolics in the snow after taking part in the traditional New Year's swimming in the the Moossee lake with a water temperature of three degrees in Moosseedorf near Bern

39/42 Russia

The numbers "2015" is written in the air with a sparkler at the frozen Mana River in the Taiga district outside Russia's Siberian city of Krasnoyarsk

40/42 Singapore

An arrangement five thousand red balloons spell the number '50' on the Marina Bay backdropped by the skyline of the Central Business District in Singapore. Singapore will celebrate its golden jubilee of 50 years of independence from Malaysia in 2015

41/42 France

A tourist writes "2015" with a light pen in front of the Eiffel Tower in Paris

42/42 China

Students with dragon dance props form "2015" to welcome the upcoming New Year at an art school in Hefei, Anhui province
"Our policing plan remains under constant review and the public can expect to see additional police officers in central London, which includes an increased number of firearms officers. Our plans are purely precautionary and not as a result of any specific intelligence."
The Met is working with the Mayor's office, British Transport Police (BTP) and local authorities to manage crowds attending the sold-out New Year's Eve fireworks.
Entry to viewing areas along the Thames will only be open to people holding tickets to the event, which is raising money for Unicef
Boris Johnson said he had seen nothing to suggest a specific terror threat to London and urged people to "get out there and soak up" the celebrations.
All transport will be free in London between quarter to midnight at 4.30am and the Tube will be running all night to get people home, although some central stations will be closed or made exit-only for crowd control.
Travelling around London on NYE? Plan your journey ahead at: https://t.co/9B9KvoaItV to avoid delays #NYELondon pic.twitter.com/k2RFs7NLV8

— MPS Events (@MetPoliceEvents) December 30, 2015
Rolling road closures will be starting at 2pm for both vehicles and pedestrians, who will be searched entering the fireworks viewing zone.
Superintendent Andy Morgan, silver commander for British Transport Police, said extra officers were being deployed at stations and that armed patrols were being extended.
"We would encourage everyone to enjoy their evening and to travel home safely, making sure you have your travel arrangements in place and know when your last train home is," he added.
Additional reporting by PA
Reuse content