Police have warned party goers to avoid large swathes of central London on Thursday night unless they have a ticket to the New Year's Eve celebrations.
The warning from the Metropolitan Police came as a massive operation got underway to ensure the capital is ready for its first ticketed fireworks display to see in the New Year.
Traditionally the yearly event has been free to the public, but controversially this year's display is a ticket-only event following fears of over-crowding in recent years.
Some 100,000 people have paid £10 each for a ticket to the display along the River Thames compared to the estimated 500,000 people who tried to attend last year, many of whom who were turned away by police amid security and safety fears.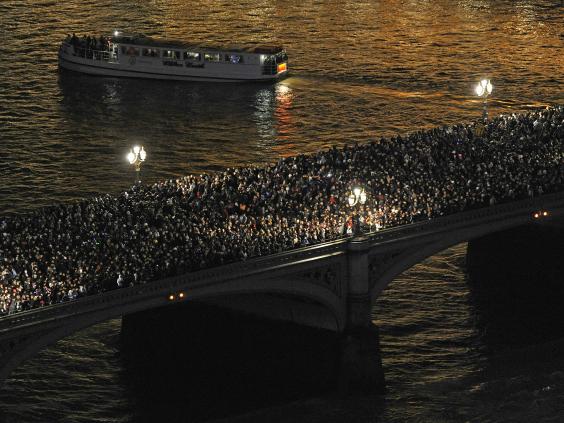 Those without tickets will be denied entry to the display at safety barriers covering the view area from Westminster Bridge on the north embankment of the Thames between Westminster and Waterloo bridges and on the Southbank behind the London Eye. Unlike previous years there will not be large viewing screen at Parliament Square and Trafalgar Square.
Around 4,200 police officers will be on duty across the capital, with some officers watching the crowds from podiums, while London Ambulance Service is preparing for its busiest night of the year with up to more than 350 additional calls an hour expected. It has also set up five so-called "booze buses" across the capital to avoid admitting inebriated party goers to stretched accident and emergency units.
The Met police spokesman for the event, Superintendent Robyn Williams, said: "Our advice is not to travel into London if you don't have a ticket. If people are still considering coming to see the fireworks it will be extremely difficult to get around. Areas will be cordoned off for those with tickets and Parliament Square and Trafalgar Square will not this year be featuring large viewing screens."
New Year's celebrations around the world
New Year's celebrations around the world
1/23 London

London staged what was billed as 'the world's first multi-sensory fireworks display', when flavoured snow and scented bubbles descended on revellers

Getty Images

2/23 London

The London Eye is illuminated by fireworks as 2014 arrives

Getty Images

3/23 Edinburgh

Fireworks explode over Edinburgh Castle during the Hogmanay street party celebrations

Reuters

4/23 Indonesia

Indonesian people set up fireworks to celebrate 2014 New Years

Robertus Pudyanto/Getty Images

5/23 Malaysia

Fireworks explode near Malaysia's landmark Petronas Twin Towers in Kuala Lumpur during the New Year 2014 celebrations

6/23 New Zealand

Fireworks explode over the heads of tourists and locals as the clock hits midnight to celebrate the New Year on the waterfront in the New Zealand town of Queenstown

Marty Melville/AFP/Getty Images

7/23 North Korea

Fireworks explode over Juche Tower and the Taedong River in Pyongyang, North Korea to celebrate the New Year

Kim Kwang Hyon/AP

8/23 South Korea

Buddhists light candles during New Year's Eve celebrations at Bongeun Buddhist temple in Seoul

Ahn Young-joon/AP

9/23 England

Performers at the New Year's eve Winter Carnival in Newcastle city centre

10/23 Hong Kong

Fireworks explode over Victoria Harbour in Hong Kong

Alex Ogle/AFP/Getty Images

11/23 India

Indian sports players from the Madan Mohan Malviya Stadium light candles during an event to welcome the New Year in Allahabad on December 31, 2013

12/23 Taiwan

Fireworks explode from Taiwan's tallest skyscraper, the Taipei 101 during New Year celebrations

Reuters

13/23 Australia

New Year's Fireworks on Sydney Harbour at Mrs Macquarie's Chair in Sydney, Australia

14/23 China

People dressed in traditional costumes play drums during a performance to celebrate the new year at the Great wall in Beijing

15/23 Japan

Shinto priests walk under a 'torii' (Japanese gate located at the entrance of a Shinto shrine) after they participated to a shinto ritual in preparation for the New Year at Meiji Shrine in Tokyo

16/23 The Netherlands

An explosion during a carbide shooting, a Dutch New Year's Eve tradition to scare off evil spirits, in Aarle-Rixtel

17/23 Indonesia

Lanterns are released into the sky for the 2014 New Year on December 31, 2013 in Bintan Island, Indonesia

Yuli Seperi/Getty Images

18/23 Philippines

Fireworks light up the sky as Filipinos welcome the New Year, Wednesday Jan .1, 2014 in Manila. Traditionally, Filipinos welcome the New Year with fireworks and firecrackers and making the loudest noise possible, including indiscriminate firing of their guns which sometimes result in injuries and deaths

Bullit Marquez/AP

19/23 France

Pyrotechnic show company 'Group F' performs with fireworks in the Vieux Port (Old Port) of Marseille, southern France, on December 31, 2013, as part of New Year celebrations on the last day of the Marseille-Provence 2013 European Capital of Culture

Anne-Christine Poujoulat/AFP/Getty Images

20/23 Russia

Fireworks explode in the sky during New Year celebrations in Moscow's Red Square

Reuters

21/23 United Arab Emirates

Fireworks explode over Palm Jumeirah in Dubai on January 1, 2014 to celebrate the new year. Dubai kicked off New Year with a dazzling bid for a new world record to cap those the Gulf city state already holds for its mammoth property developments. The glittering fireworks display that lasted around six minutes spanned over 60 miles of the Dubai coast

Karim Sahib/AFP/Getty Images

22/23 United Arab Emirates

Fireworks explode in the sky over Dubai

Reuters

23/23 Scotland

Fireworks over Edinburgh to celebrate the New Year's Eve Edinburgh Hogmanay street party, Scotland

David Cheskin/PA
The operation to prepare the display is massive in scale with 85 bodies involved in planning, a crew of more than 300 staff setting off the fireworks and 3,000 stewards deployed for crowd control.
Opposition members of the London Assembly have previously attacked the ticketing event, saying the fireworks "should be accessible to all", but the Mayor of London Boris Johnson said no profit would be made by the event. He said: "It is a spectacular show enjoyed by people up and down the country and around the world and we have brought in ticketing to ensure crowd safety on the night and the event's future sustainability.
"For anyone without a ticket, there are plenty of other celebrations taking place across the city and we are urging them to avoid the area."
Elsewhere in the county, in Manchester the city's celebrations have had to be hastily relocated after a local Primark refused permission for the council display to be let off from the shop's roof, according to the Manchester Evening News. Dubbed the "best party in town" by council leaders it will see 15,000 party goers flock to the big wheel in the centre of the city for the display. Organisers have warned residents to wrap up warm following a Met Office forecast for freezing temperatures and heavy rain showers. Wales and part of the west of England can expect rain showers tonight, while elsewhere in the country cold but clear conditions are expected.
In Scotland organisers of the Hogmanay festival in Edinburgh made a last-minute plea for party goers to buy their tickets early to avoid queues to the city's world-famous street party on the Royal Mile. Tickets are still available for the street party and are still available in limited number for the concert in the gardens.
Celebrations around the UK
Belfast
Unlike most major British cities Belfast will see in the New Year with a whimper after city leaders said the economic climate and lack of public demand meant they had no plans for official celebrations.
Cardiff
Make for Cathays Park for Cardiff's Calennig Midnight celebrations. There's a a winter wonderland party, live music, mulled wine and a spectacular midnight firework finale to bring in 2015. christmasincardiff.com
Newcastle
Tonight sees the end of the Gateshead Winter Festival which sees the city transformed with a carnival on the Tyne Bridge and of course, an explosive fireworks display. newcastlegateshead.com
Edinburgh
You need two or three days to do Hogmanay properly, but for late-comers there are still some tickets available for Edinburgh's famous celebration. Wrap up warm and be prepared to see the whole city go crazy at midnight. edinburghshogmanay.com
Manchester
There was a period from 2000 to 2009 that Manchester failed to put on any kind of New Year Eve's show. Thankfully it's got well and truly back in the act with a an excellent city-centre fireworks display – best viewed from the Exchange Square.
Reuse content