The row between a London hairdresser and the state of North Korea looked set to escalate today after the UK Foreign Office confirmed it had been contacted by embassy officials.
Diplomats from North Korea had already complained to police and to the shop's manager about what they describe as a "disrespectful" poster showing leader Kim Jong-un with the words "bad hair day?".
The Foreign Office said today that it had received a letter from the embassy on Monday, as the promotional poster looked set to spark the unlikeliest of diplomatic rows.
William Hague's officials are now considering their response, a spokesperson said, and may yet refer the issue back to police.
Yesterday, the Evening Standard reported that Mo Nabbach's M&M Hair Academy in South Ealing was paid an unexpected visit by two men from the North Korean embasy who started taking pictures and making notes.
Mr Nabbach, who is also a fashion photographer, said the men came back later and asked to speak to the manager before ordering him to take the poster down.
"I told them this is England and not North Korea and told them to get their lawyers," he added.
Kim Jong-un's hair - a gallery
Kim Jong-un's hair - a gallery
1/9 Kim Jong-un's hair

Kim Jong-un's new look in February featured a bouffant hairstyle and over-plucked eyebrows

KCNA

2/9 Kim Jong-un's hair

The style got steadily less floppy over winter 2014-15

AFP

3/9

Kim Jong-un waves after watching a military parade in honour of the 100th birthday of the late North Korean leader Kim Il-Sung in Pyongyang on April 15, 2012.

Ed Jones/AFP/Getty Images

4/9

Kim Jong-un gives an address during the eighth conference of the ideological officials of the Workers' Party in Pyongyang.

EPA/Rodong Sinmun

5/9

Kim Jong-un greets pilots

AFP/Getty

6/9

Kim Jong-un visits the Kim Il Sung University of Politics to take part in the election of a deputy to the Supreme People's Assembly.

Reuters

7/9

Kim Jong-un waves to supporters.

AFP/Getty

8/9

Kim Jong-un reacts to participants of the 8th conference of the ideological officials of the Workers Party of Korea (WPK) in Pyongyang.

9/9

Kim Jong-un visits the November 2 Factory at an unknown place in North Korea.
Today the Enfield Southgate Conservative MP David Burrowes, who also sits on the all-party parliamentary group on North Korea, criticised the embassy's stance.
He said: "On the one hand their response is laughable," he said.
"But underlying is a more sinister undertone which is played out in North Korea with people being locked up, killed and denied freedoms."
Mr Nabbach said the two men from the embassy had been "wearing suits and they were very serious". "It was very threatening," he added.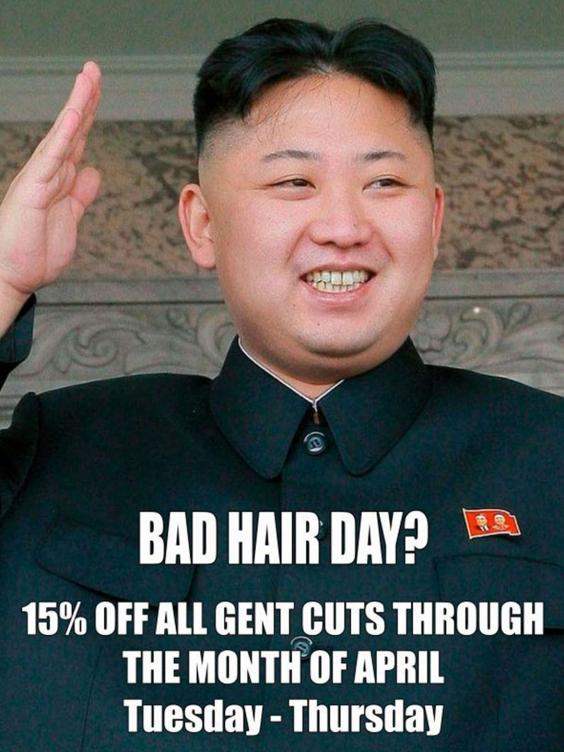 Scotland Yard said it had spoken to all parties and found that no offence had taken place.
Barber Karim Nabbach, 26, yesterday said that staff at the salon did not realise the North Korean embassy was a 10-minute walk away when they put the poster up.
He added that after the police had been contacted the salon had not heard anything further from the officials.
He said: "We haven't had any trouble since then, if anything the poster has become a tourist attraction. It was just something that had been in the news, and the North Korean officials didn't even have the haircut.
"We always put up little offers in the window, it's harmless. We were just making light of a bad situation in North Korea."
Reuse content