Northern Ireland has voted to legalise same-sex marriage, but the law change will not happen due to a voting mechanism triggered by the Democratic Unionists.
The "petition of concern" tabled by the DUP at the outset of the debate means the proposal could only succeed if a sufficient number of both unionist and nationalist MLAs backed it.
While not enough unionists voted yes, the slim overall majority (50.5 per cent) in favour has nevertheless been hailed as a symbolic victory by campaigners for same-sex marriage in the region.
It is the first time a majority has backed the proposal on what was the fifth occasion the issue has been voted on in the Assembly - marking a dramatic change in attitude towards the subject in the past few years.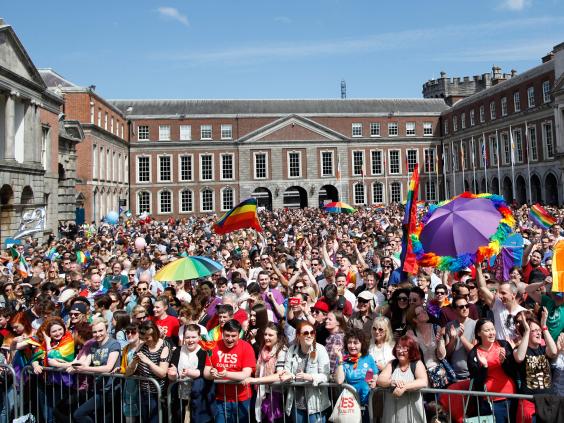 After Ireland legalised same sex marriage by referendum in May, its northern neighbour came under mounting pressure to do the same. 
The Belfast Telegraph reported in July that 68 per cent if people in Northern Ireland now support the legalisation of same-sex marriage - up from 50.5 per cent who supported it when the poll was conducted in 2014. 
Support for equal marriage is highest among Northern Ireland's Catholic community with 75 per cent in favour of the change compared to 57 per cent of the Protestant community - which has historic links to the DUP. 
Irish gay marriage vote results: In pictures
Irish gay marriage vote results: In pictures
1/11 Drag queen Panti Bless and crowd celebrate a Yes victory

Drag artist and Yes activist Panti Bliss joins supporters to celebrate in front of Dublin Castle

Getty Images

2/11 The celebrations started last night in Dublin and continued all day

A couple celebrating in Dublin

EPA

3/11 A woman heading to the polling station yesterday

Woman walks past a mural of two rainbow coloured hearts on polling day. Polling stations in the 43 constituencies across country opened their doors yesterday to vote on legalising same sex marriage

EPA

4/11 A 'Yes to Equality' badge

A pro-gay marriage badge on a voter's lapel in gaelic meaning "Yes to Equality" seen in Dublin on polling day.

EPA

5/11 A cafe in Dublin lending its support to the cause

Many businesses in Ireland have got involved in the campaign, declaring their support for both the Yes and No campaigns

EPA

6/11 Two campaign posters side by side posters on a Dublin street

Both sides have campaigned fiercely saying they are fighting for social freedom

EPA

7/11 Newly married couple share their support for a Yes vote

Newly married Anna and Vincent Fox share a kiss as they mark their support for a Yes vote in Dublin on polling day

Getty Images

8/11 50 foot mural on the wall of Caherkinmonwee Castle in Galway to celebrate gay marriage

A 50 foot referendum mural created by artist Joe Caslin to promote a Yes vote

Getty Images

9/11 Supporters celebrate an expected Yes vote

Supporters in favour of same-sex marriage pose for a photograph as thousands gather in Dublin Castle

Getty

10/11 Couple waiting for the result in Dublin Castle

Erin Reddy (left) and Dee Campell awaiting the result at Central Count Centre in Dublin Castle

PA

11/11 A gay marriage activist kisses her rosary beads in celebration

A gay marriage supporter kisses her rosary beads at the Central Count Centre at Dublin Castle

PA
The poll also found that although 80 per cent of Sinn Fein voters supported same-sex marriage, that support dropped to 45 per cent among DUP voters.
In the summer about 20,000 people marched in Belfast city centre demanding a law change.
In 2005 Northern Ireland became the first part of the UK to allow same-sex civil partnerships.
The four previous votes on gay marriage at Stormont would have fallen on a simple majority basis, regardless of whether a petition of concern was tabled.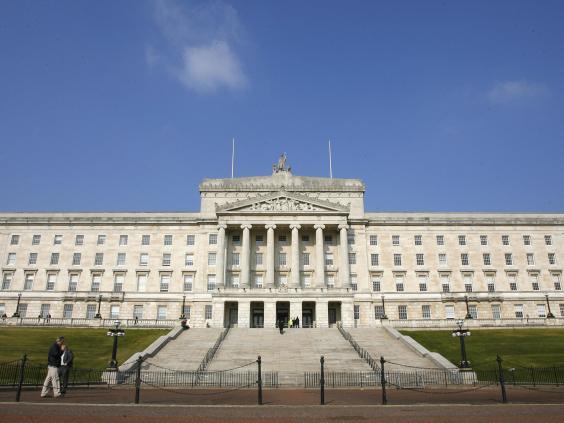 Amnesty International's Northern Ireland director Patrick Corrigan expressed his disappointment with the DUP's decision to block the vote telling Attitude magazine: "The misuse of the petition of concern to hold back rather than uphold the rights of a minority group, will mean that the motion is formally defeated. 
"It is a tragedy that same-sex couples are forced to ask the courts to fulfil a responsibility which has been abdicated for too long by too many politicians."
Twitter users have expressed dismay at the DUP's use of the "petition of concern":
The petition of concern is a mechanism designed to protect minority communities but the DUP are shameless in using it to veto equality #SDLP

— Alan R Adair (@RadarRadar) November 2, 2015
Sad day in Northern Ireland- majority vote in favour of marriage equality and the DUP block it with a petition of concern. DEMOCRACY?

— Robyn Donaldson (@Robbbssss) November 2, 2015
The DUP are living in the dark ages. Time to grow up #ni #marriageequailty

— Kelly-Ann Aldridge (@kel_e_3) November 2, 2015
About time the people of Ulster said "No" to the nasty bigots of the DUP, if you ask me #EqualMarriage

— Nigel Whitfield (@nigelwUK) November 2, 2015
i :-) hate :-) the :-) dup :-) so :-) much :-)

— dizzy lizzy (@butchdeIoria) November 2, 2015
Disgusted yet not surprised at the DUP - proving themselves to be even more backwards than I could ever imagine

— Dom O'Hanlon (@dom_ohanlon) November 2, 2015
Additional reporting by agencies
Reuse content