Foreign Secretary William Hague has insisted that the privacy of individuals in the UK is not being breached, in the wake of reports that British spies have access to millions of text messages.
The allegations come from an investigation by Channel 4 News and the Guardian based on material leaked by US whilstleblower and former National Security Agency (NSA) contractor Edward Snowden.
The outlets have seen a classified 2011 presentation which discusses Dishfire, an alleged secret database by the US NSA, that collects nearly 200 million texts every day from around the world.
Reports allege that the database stores the messages to be used in the future by British spies, despite tough laws in place that restrict the interception of communications in the UK.
Mr Hague said he "couldn't possibly" comment directly on the allegations, but told BBC Radio 4's Today programme: "I set out in June, when these controversies first arose, the position in the United Kingdom, the very, very strong legal checks and balances that we have in the UK."
He added the UK legal system has a very strong system of checks and balances and: "warrants [are] required from me or the Home Secretary to intercept the content of the communications of anyone within the United Kingdom."
"That system is not breached. I've never seen anything to suggest that system is breached. We have perhaps the strongest system in the world, in which not only do I and the Home Secretary oversee these things, there are then commissioners - the interception of communications commissioner, for instance - who oversee our work and report to the Prime Minister on how we do that.
"No country has a stronger system than that," Mr Hague said.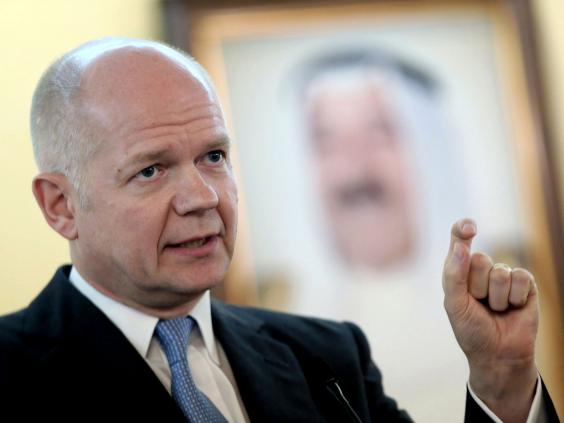 However, reports claim that Dishfire traces people when they take their mobile phone abroad by capturing the welcome text message when they arrive, which helps the NSA know a person's location, their contacts, bank details, and movements.
Under US law, American spies have to delete the data for its own citizens but texts to and from international mobile phones do not fall under the regulations and can be spied on.
In the UK, spy agencies can only access text message data of specific targets with permission under the Regulation of Investigatory Powers Act (Ripa). If spies want to see the content of the message, they must get a warrant from the secretary of state.
By contrast Dishfire collects data on everyone, so by accessing the system, British spies can pull out information they would not be entitled to under strict British laws.
Read more:
Telecommunications provider Vodafone told Channel 4 News they were "shocked and surprised" by this potential for exploitation.
Former interception commissioner Sir Swinton Thomas said he would have been concerned about this kind of use of foreign intelligence agency data.
"Certainly in my time I would take the view that it is not open to our intelligence services to obtain or certainly to use communications or data which would not have been lawful in this country," Sir Swinton said.
The NSA has stated that Dishfire does exist and that it lawfully collects SMS data. It also stated that privacy protections are in place for US citizens, according to Channel 4 News.
GCHQ said: "All of GCHQ's work is carried out in accordance with the strict legal and policy framework which ensures that our activities are authorised, necessary and proportionate and that there is rigorous oversight."
Mr Snowden, a former NSA contractor, is now hiding in Russia after leaking classified US government documents.
Read more:
Video: Obama to unveil NSA reforms  
Reuse content