Nurses are to stage a summer of protests across the UK after a poll showed strong support for strikes over pay.
The Royal College of Nursing (RCN) warned that unless the next Government drops the 1 per cent cap on pay it will hold a ballot on industrial action later this year, threatening the first ever strikes by its members.
The RCN said nurses voted in a consultative ballot with nine out of 10 supporting action short of a strike, while almost four out of five backed strikes.
More than 50,000 of the RCN's 270,000 members took part in the poll. Another ballot would have to be held before any action takes place.
The RCN has warned that low levels of pay are partly responsible for tens of thousands of unfilled nursing posts.
Nurses have suffered a 14 per cent pay cut in real terms since 2010 because of a government cap on public sector pay, said the RCN. The formal pay cap of 1 per cent was introduced in 2015.
Michael Brown, chairman of the RCN Council, said: "Our members have given us the very clear message that they can't and won't take any more.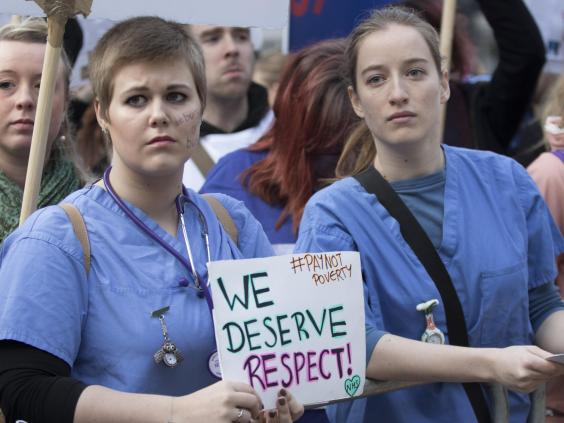 "This is an unprecedented show of anger and frustration over the Government's pay policy. Politicians must now listen and tell us what they will do about nursing pay.
"It's a message to all parties that the crisis in nursing recruitment must be put centre stage in this election. We're demanding answers on behalf of our patients as well as nursing staff.
"If we don't stand up now, how can we guarantee their future safety and wellbeing?"
If the strike goes ahead, it will be the first time industrial action has been taken in the nursing union's 100-year history.
Janet Davies, general secretary of the RCN, said: "What's happened today is unprecedented for the RCN and is a reflection of the deep anger members feel.
"The current conditions in the NHS are driving people out of the profession and putting new people off entering it.
"Our argument is not with patients – this is about ensuring that they get the safe and effective care they need. The 1 per cent cap on nursing pay is putting patient care at risk.
"It's not just the RCN saying this – we heard from NHS trust leaders last week that if nursing staff aren't paid a proper wage, they won't be able to keep patients safe.
"The next Government must tell us what they're going to do about nursing pay to stop the nurse staffing crisis."
Everyone the Government blames for the NHS crisis – except themselves
Everyone the Government blames for the NHS crisis – except themselves
1/6 The elderly

"We acknowledge that there are pressures on the health service, there are always extra pressures on the NHS in the winter, but we have the added pressures of the ageing population and the growing complex needs of the population," Theresa May has said. Waits of over 12 hours in A&E among elderly people have more than doubled in two years, according to figures from NHS Digital.

Getty

2/6 Patients going to A&E instead of seeing their GPs

Jeremy Hunt has called for a "honest discussion with the public about the purpose of A&E departments", saying that around a third of A&E patients were in hospital unnecessarily. Mr Hunt told Radio 4's Today programme the NHS now had more doctors, nurses and funding than ever, but explained what he called "very serious problems at some hospitals" by suggesting pressures were increasing in part because people are going to A&Es when they should not. He urged patients to visit their GP for non-emergency illnesses, outlined plans to release time for family doctors to support urgent care work, and said the NHS will soon be able to deliver seven-day access to a GP from 8am to 8pm. But doctors struggling amid a GP recruitment crisis said Mr Hunt's plans were unrealistic and demanded the Government commit to investing in all areas of the overstretched health service.

Getty Images

3/6 Simon Stevens, head of NHS England

Reports that "key members" of Ms May's team used internal meetings to accuse Simon Stevens, head of NHS England, of being unenthusiastic and unresponsive have been rejected by Downing Street. Mr Stevens had allegedly rejected claims made by Ms May that the NHS had been given more funding than required.

Getty Images

4/6 Previous health policy, not funding

In an interview with Sky News's Sophy Ridge, Ms May acknowledged the NHS faced pressures but said it was a problem that had been "ducked by government over the years". She refuted the claim that hospitals were tackling a "humanitarian crisis" and said health funding was at record levels. "We asked the NHS a while back to set out what it needed over the next five years in terms of its plan for the future and the funding that it would need," said the Prime Minister. "They did that, we gave them that funding, in fact we gave them more funding than they required… Funding is now at record levels for the NHS, more money has been going in." But doctors accused Ms May of being "in denial" about how the lack of additional funding provided for health and social care were behind a spiralling crisis in NHS hospitals.

Getty Images

5/6 Target to treat all A&E patients within four hours

Mr Hunt was accused of watering down the flagship target to treat all A&E patients within four hours. The Health Secretary told MPs the promise – introduced by Tony Blair's government in 2000 – should only be for "those who actually need it". Amid jeers in the Commons, Mr Hunt said only four other countries pledged to treat all patients within a similar timeframe and all had "less stringent" rules. But Ms May has now said the Government will stand by the four-hour target for A&E, which says 95 per cent of patients must be dealt with within that time frame.

Getty Images

6/6 No one

Mr Hunt was accused of "hiding" from the public eye following news of the Red Cross's comments and didn't make an official statement for two days. He was also filmed refusing to answer questions from journalists who pursued him down the street yesterday to ask whether he planned to scrap the four-hour A&E waiting time target. Sky News reporter Beth Rigby pressed the Health Secretary on his position on the matter, saying "the public will want to know, Mr Hunt". "Sorry Beth, I've answered questions about this already," replied Mr Hunt. "But you didn't answer questions on this. You said it was over-interpreted in the House of Commons and you didn't want to water it down. Is that what you're saying?" said Ms Rigby. "It's very difficult, because how are we going to explain to the public what your intention is, when you change your position and then won't answer the question, Mr Hunt". But the Health Secretary maintained his silence until he reached his car and got in.

Getty Images
Jon Skewes, director of policy at the Royal College of Midwives, said: "NHS staff have now seen seven years of pay restraint and with at least another three years on the horizon.
"Continuing pay restraint is a disastrous, unsustainable policy for maternity services and the NHS. We are working with other NHS trade unions to break the Government's policy of pay restraint."
Dr Mark Porter, British Medical Association council chair, said: "Year after year of real-terms pay cuts have had a damaging impact on the morale of frontline NHS staff.
"Ongoing pay restraint has seen doctors' pay fall by up to 17 per cent in recent years, leading to staff shortages and impacting on patient care, and doctors across the country will agree with the very strong message sent today by nurses, that the pay cap is unfair, unacceptable and must be lifted."
Press Association
Reuse content