For its organisers, "Orangefest" is an attempt to open dialogue in a still often divided city with the aid of history talks, choirs and a bouncy castle. But for opponents, the handing over of Glasgow's main square to the Orange Order to explain its "cultural heritage" is a step too far.
The ability of the debate over sectarianism to raise passions in Scotland's biggest city was displayed afresh after a petition calling for the cancellation of an event to promote the Orange Order of Scotland attracted more than 20,000 signatures in a day.
The seven-hour gathering in George Square on Saturday, dubbed "Orangefest", is being billed as an effort to educate residents on the origins and the "modus operandi" of an organisation more popularly associated with its trademark drum-led marches and staunch Protestantism.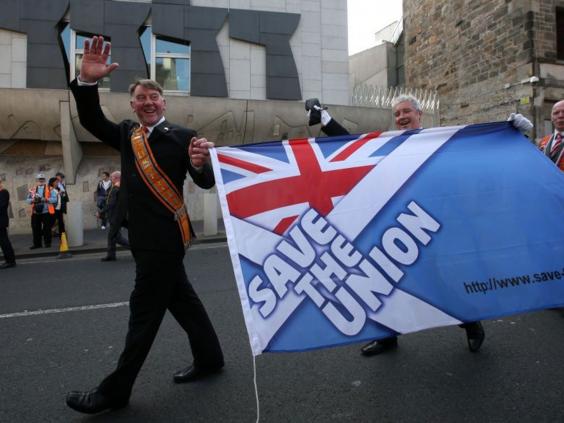 Organisers of the event, which will consists of talks and performances culminating in a rendition of God Save the Queen, said it was an attempt to reach out and will be attended by representatives of the Catholic Church as well as the Muslim Council of Scotland. A spokesman said: "We want to show people that there is more to the Orange Order than marching up and down the streets. The aim is to dispel some of the myths by showing our history and what else we do, including charitable work."
But the presence of the Order in a key location with the permission of Glasgow City Council (GCC) has created controversy, with critics saying it remains too closely linked to sources of sectarian friction in the city, which is the scene of one of the largest 12 July marches outside Northern Ireland.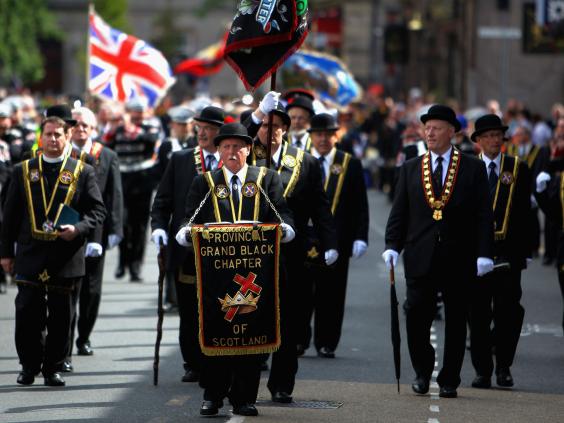 The online petition, which has a target of 25,000 signatures, claimed such events were "hate-filled" and questioned why the "Orangefest" had been allowed to take place.
It said: "The people of Glasgow and Scotland are sick of their voices going unheard in relation to sectarian, hate-filled Orange marches. Now we have to put up with Orangefest. We demand that GCC answer to the people of Glasgow as to why this was allowed to go ahead."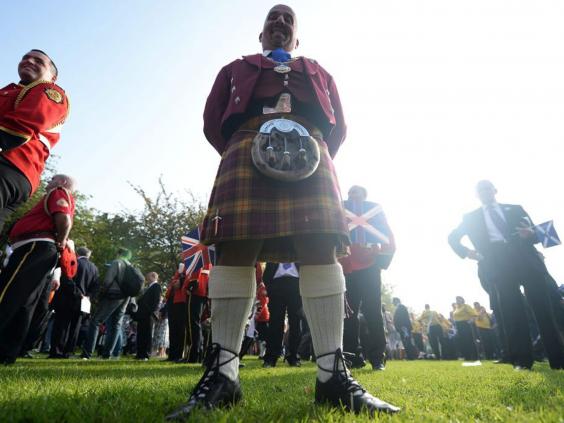 Up to 2,000 people are expected at the event, which will feature performances by drum bands alongside speeches by senior Orange Order figures and a display of "the art of banner painting and cane carving".
The council said it had a legal obligation to give permission for the gathering and underlined it was not contributing to the cost of the event.
A spokesman said: "People use George Square and other public spaces around Glasgow for a wide range of events and activities. Providing events are properly planned and do not encourage unlawful  behaviour, the council is not permitted to simply ban them on the grounds that someone dislikes, opposes or holds contrary views to the organiser."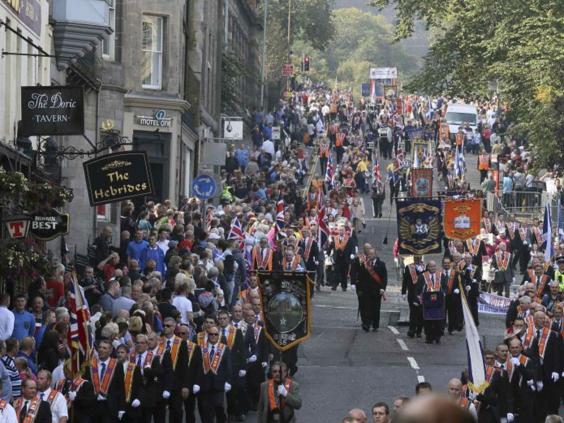 The Orange Order event has attracted some support from outside the organisation. Dr Michael Rosie, a member of the Independent Advisory Group on Tackling Sectarianism, told Glasgow's Herald newspaper: "Glasgow Orangemen have listened carefully to criticisms of parades and are attempting to open the doors on what they do and why they do it. It would be all too easy to ignore this opportunity to open meaningful dialogue with this insular and somewhat embattled section of Scottish society."
Reuse content