More than 100 firefighters were dispatched on Wednesday night to tackle a major fire that broke out at the former home of the Cadbury family on the outskirts of Birmingham.
Twenty fire engines were sent to deal with the blaze that the West Midlands Fire Service believed to be the result of an arson attack.
According to reports, the fire at the Northfield Manor House, which was owned by the Cadbury family over 60 years between 1890 and 1953, began at around 8pm last night and 15 fire crews were initially dispatched to deal with the blaze.
However, as the flames quickly engulfed the structure that has been a fixture in the south west of the city since 1820, the number of crews was increased to 20.
So great were the flames at one stage, they could be seen from almost three miles away.
By 11.30pm West Midlands Chief Fire Officer Phil Loach said that the crews had been able contain the flames to just the main building, but admitted that the unsupported chimneys on the building were making the area hazardous and that he expected the fire services to be working throughout the night to fully extinguish the fire.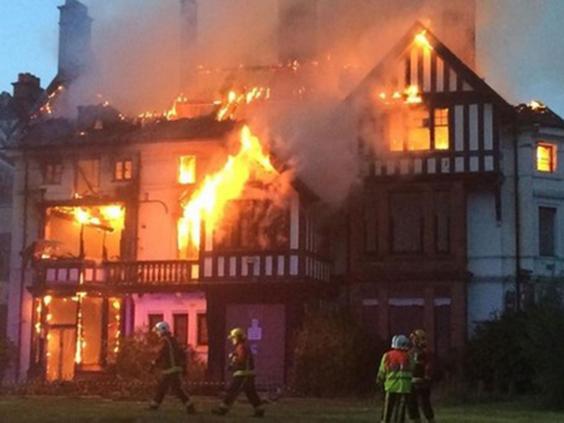 Loach tweeted: "Fire at Manor House Northfield, suspected Arson. Firefighters will be here through the night. No injuries to public or [firefighters] reported"
The fire marks a sad moment for what is an important part of the Birmingham's heritage.
Before being sold to the University of Birmingham in 1953 the Cadbury's, the family behind Britain's most successful confectionery company, had owned and lived in the property.
It was the place where George Cadbury and his wife Elizabeth had made their home for nearly 60 years, with Elizabeth living at the house until her death in 1953, at the age of 93.
It was then bequeathed to the University of Birmingham where it would become a hall of residence for the University's students.
Despite being a Grade A listed building, it has sat empty since 2007.
In 2012, there was a plan sent to Birmingham Council to turn the building into apartments but since then there has been no update from the council.