The veterinary charity PDSA has unveiled the contenders for its annual animal slimming competition, Pet Fit Club.
Battling it out in the prestigious competition this year are a host of pets, including Hooch, the obese Rottweiler who weighs more than a middleweight boxer, Guy, a literal fat cat who weighs twice his healthy weight, and Spider, an overweight rat with a penchant for eating his cagemates' food.
Between them, the 17 pets taking part in the competition, now in its tenth year, are carrying 203 kilograms in excess weight between, almost the weight of three average-sized men.
Amongst this year's entrants is Boycus, a cat with the bad habit of eating the food of the several other cats who live in the same house. His owner has tried to stop him by putting the other cats' food in containers that are too small for Boycus to get into - but he always finds a way.
Britain's fattest pets
Britain's fattest pets
1/16 Rolo

Rolo's favourite trick is to pull the tablecloth until food falls on the floor.

PDSA

2/16 Rolo

Rolo the roly-poly pug weighs 2st 1lb, but should weight 1st 6lb, making him 48 per cent overweight. His hefty size is due to his bad habit of chasing people carrying shopping bags in an effort to get their food.

PDSA

3/16 Jemma

Jemma needs to lost almost half of her bodywright to become a healthy size.

PDSA

4/16 Boycus

Boycus lives in a house with several other cats, and regularly eats all of their food as well as his. This nasty habit has led to him growing to more than twice his healthy weight.

PDSA

5/16 Boycus

Boycus's considerable weight has made him a bit of a handful.

PDSA

6/16 Guy

Guy has the unfortunate title of being one of the biggest pets ever to take part in the PDSA's annual Pet Fit Club competition.

PDSA

7/16 Guy

Guy, from Leicester, isn't the biggest fan of exercise, and because he lives next to a main road, he doesn't get out of the house very often. He's now ballooned to more than twice his healthy weight.

PDSA

8/16 Spider

Spider is the first rat to ever take part in Pet Fit Club. He got his name because he used to like hanging upside down from the top of his cage - but his weight, almost double what it should be, has put an end to those antics.

PDSA

9/16 Poppy

Poppy, a springer spaniel from Liverpool, loves raiding the fridge so much that her owners have been forced to put child locks on it.

PDSA

10/16 Hooch

Hooch, a 11-year old Rottweiler from Hull, tips the scales at nearly 13 stone - more than a middleweight boxer.

PDSA

11/16 Hooch

He used to eat five tins of dog food a day, but his owner, who rescued him several years ago, got him down to one.

PDSA

12/16 Harley

Harley's weight has turned him into a tourist attraction - his owner, Lisa Mitchell from Edinburgh, has said she has been stopped by foreign visitors asking for a picture of her podgy pooch.

PDSA

13/16 Duke

Poor old Duke is morbidly obese, but after taking part in last year's competition, he's on a new diet and is shedding the pounds.

PDSA

14/16 Duke

Duke, from Cardiff, was almost double his healthy weight.

PDSA

15/16 Daisy, the 2014 Winner

Daisy the bulldog, from Middlesbrough, won the 2014 competition - losing 8 kilos and becoming much healthier for it.

PDSA

16/16 Daisy, the 2014 Winner

Daisy lost more than a quarter of her bodyweight and looks much better for it.

PDSA
Also in the line-up is Rolo, a pug who has been known to chase after people carrying shopping bags, in the hope that they'll give him a treat. According to his owner, his favourite trick is pulling off the tablecloth and eating the food that falls on the floor.
Rolo weighs in at a hefty 13 kilograms, but his healthy weight is only 9 kilograms.
The competion may be light-hearted, but it carries a more serious message. Animals who are obese and overweight are more at risk of deadly conditions like heart disease, cancer and diabetes, as well as debilitating conditions like arthritis that can severely impact their quality of life.
A 2014 PDSA report showed that out of a group of 572 veterinary professionals, around 80 per cent had seen an increase in pet obesity cases in the previous two years.
Obesity is the number one health concern amongst vets, but worryingly, nearly half of pet owners are not aware that it's a major issue.
Most of the polled veterinary professionals said that they think there will be more overweight pets than healthy weight pets in five years' time.
Nicola Martin, Head of Pet Health and Welfare at PDSA, said: "Just as human waistlines are expanding, sadly our pets are facing a similar fate too."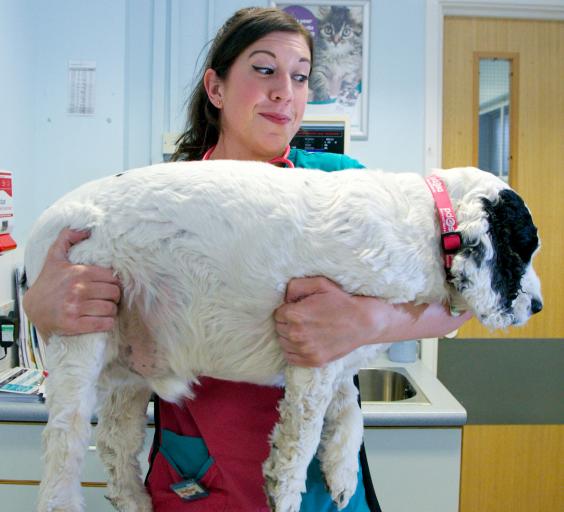 She said that when considering how much to feed their pets, many owners simply use 'common sense' to make a decision, rather than looking at the nutritional information on the pet food packets, or considering the weight and body shape of their pet.
She added: "All the pets taking part in Pet Fit Club this year are taking the first step towards a longer, healthier life. Anyone concerned about their pet's weight should speak to their veterinary practice who can offer the right advice and support."
The competing animals will embark on a strict diet and exercise regime, with the pet that has lost the biggest percentage of body weight being crowned the winner.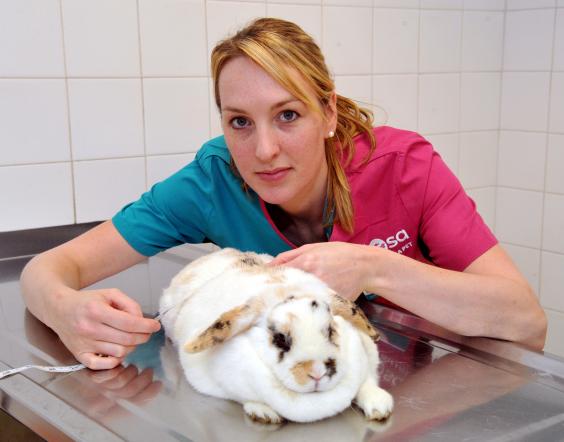 Good health won't be the winner's only reward - the winning cat, dog and small pet will receive a year's free supply of healthy pet food, with the overall champion's owner winning a pet-friendly holiday.
The PDSA is the UK's leading veterinary charity, and operates 51 pet hospitals and 380 practices across the country.
Reuse content