Andrew Mitchell was left with his reputation in tatters and facing a legal bill of more than £1m after the comprehensive failure of his two-year campaign to prove he was the victim of an orchestrated police conspiracy to bring him down over the "Plebgate" saga.
In a devastating hour-long ruling that ends any hopes of a return to frontline politics, Mr Justice Mitting found that the ex-minister had used the politically toxic word "plebs" during an ill-tempered and childish outburst against police officers manning the gates of Downing Street.
In a series of public pronouncements in the two years after the September 2012 clash, a defiant Mr Mitchell had accused officers of lying and conspiring to bring him down – and had vowed to clear his name in the libel court.
But the judge ruled that the famously short-fused former cabinet minister had lost his temper and was probably unable to remember what he said during the 12-and-a-half second exchange as he left Downing Street.
A "bitterly disappointed" Mr Mitchell has been ordered to pay £300,000 within weeks as a down payment for a costly failed gamble in the courts after rallying friends, including Bob Geldof and a raft of Tory grandees, to his cause. His total bill for the £3m court case is estimated at around £2m.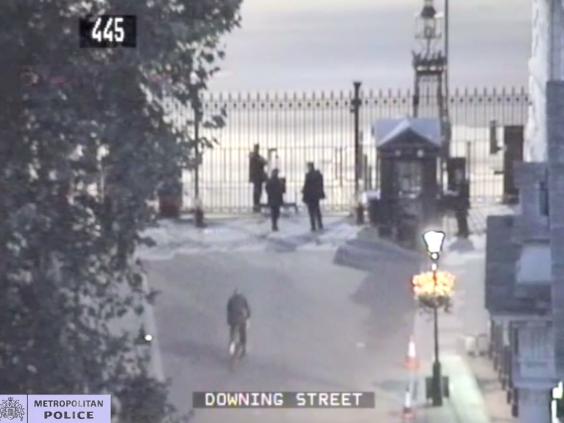 The judge said Mr Mitchell's account was inconsistent with CCTV footage of events on the night and he found that the "old-fashioned police officer" Toby Rowland lacked the "wit, imagination and inclination" to make up the damning phrases that brought the politician low.
As the judge handed down his ruling, a downcast Mr Mitchell – flanked by his wife, Sharon, and his closest political supporter, David Davis – grew increasingly red-faced as the judge ruled that the officer's case may have been embellished but not fabricated.
According to PC Rowland's version of the exchange, Mr Mitchell told him: "Best you learn your f***ing place… You don't run this f***ing government, you're f***ing plebs" after he escorted Mr Mitchell to the side gate of Downing Street. He then added: "You haven't heard the last of this."
The exchange was leaked to The Sun newspaper, prompting Mr Mitchell to launch his failed libel claim against its publishers, News Group Newspapers.
Claims that Mr Mitchell had been the victim of a stitch-up sparked a political crisis and damaged public confidence in policing.
In pictures: The Plebgate saga
In pictures: The Plebgate saga
1/4 Plebgate

Inspector Ken MacKaill, Sgt Chris Jones and Detective Sgt Stuart Hinton deny lying

Getty

2/4 Plebgate

Andrew Mitchell and his wife, Dr Sharon Bennett, leaving a press conference about Plebgate

PA

3/4 Plebgate

CCTV images outside the gate appear to contradict the police log, which says 'several' members of the public were there

Channel 4/Dispatches

4/4 Plebgate

A CCTV image of Andrew Mitchell at Downing Street on 19 September 2012

PA
Continuing revelations about police misconduct led to the former minister receiving an apology from the head of the Metropolitan Police after one officer was jailed and three other members of the specialist diplomatic protection team were sacked. At the time Mr Mitchell decided to push ahead with the libel action, the public consensus was that he had probably not said the words ascribed to him. But in his ruling at a packed court, Mr Justice Mitting said that the former minister had probably said what he was accused of saying. "The loss of temper can lead to both loss of inhibition in speaking and to an imperfect recollection of what was said," he said.
"I am satisfied, at least on the balance of probabilities, that Mr Mitchell did speak the words alleged, or something so close to them as to amount to the same, including the politically toxic word pleb."
In a brief comment outside the High Court following the ruling, Mr Mitchell thanked his family and legal team after what had been a "miserable two years" after quitting his job under intense pressure after the clash became public.
"We now need to bring this matter to a close and move on with our lives," he said – indicating he would not appeal.
The judge said that the ruling would be a "heavy blow" to the former Chief Whip who had spent hours in the witness box denying that he had ever used the word "pleb". But the case heard a series of occasions when he clashed with police and security officers, calling one a "little shit" during another Downing Street confrontation.
Mr Mitchell will learn the full cost of his failure next year as a judge decides on the damages he must pay to PC Rowland and to News Group Newspapers.
PC Rowland said that he and his family had gone through "indescribable" pain over the incident that happened only because he was doing his job "without fear or favour". He has consistently stuck to his account of the story and said that he had been cleared of wrongdoing during four different investigations into the incident.
"I also recognise how difficult it must have been for Mr Mitchell's family and I hope now that a line can be drawn and everyone can be left in peace," said PC Rowland outside the High Court.
Mr Mitchell's legal team said he would sign an undertaking not to repeat the claims that the officer had lied.
Reuse content