The former British ambassador to Russia has claimed an incident involving two Russian bombers is Vladimir Putin's way of showing the UK "what we are taking on".
Last week, the UK summoned the Russian ambassador to the Foreign Office after two Russian bombers flew over the English Channel, causing disruption to civil aviation.
A British government source claimed the incident was being considered "a significant escalation" because Russian aircraft usually confine themselves to flying close to Scotland.
Sir Tony Brenton, who worked as the UK's ambassador to Russia between 2004 and 2008, claims the presence of the two long-range nuclear capable TU-95 bombers was likely a "sabre-rattling" display from Putin.
He told The Express of the two Russian bombers: "I'm pretty sure what's going on [is that] this is Russia sabre-rattling, demonstrating that however angry we may get with them over Ukraine, they are not to be treated lightly.
Tensions between Russia and the Western world
Tensions between Russia and the Western world
1/7 Russia

Vladimir Putin leaves G20 early after criticism from world leaders over Ukraine. David Cameron warned Vladimir Putin, face to face, that Russia's whole post-Cold War relationship with the West is at a "fork in the road" over Ukraine

Getty

2/7 Russia

A mysterious Russian object is being tracked by space agencies, giving new life to fears about the increase of space weapons. The satellite, dubbed Object 2014-28E, has grabbed the interest of official and amateur satellite-watchers because it is taking a confusing path and its purpose has not been identified

Getty Images

3/7 Russia

Russian warplanes are risking the security of civilian passengers as they play a dangerous game designed to test Western air defences, according to Nato's secretary general

FRA

4/7 Russia

Russia has warned Ukraine that a resumption of hostilities against pro-Russian separatists in the east would be catastrophic for Ukraine

Reuters

5/7 Russia

A Swedish minesweeper searches for suspected "foreign underwater activity" near Stockholm. A Russian sub in Swedish waters has slipped away into the sea...leaving recriminations in its wake

Reuters

6/7 Russia

Russian government agencies have been accused of editing a Wikipedia article to suggest the Ukrainian military was responsible for shooting down the Malaysia Airlines flight MH17, a Twitter account monitoring state IP addresses has claimed

AFP

7/7 Russia

Australia's prime minister Tony Abbott has promised he will "shirtfront" Vladimir Putin over the downing of Malaysia Airlines flight MH17, which killed 38 Australian citizens

AP
"They are big nuclear power with a lot of military and we need to be quite cautious when dealing with them.
"They are reminding us of what we are taking on when we are taking Russia on."
RAF Typhoons were scrambled to intercept the military aircrafts and Russian Ambassador Alexander Yakovenko was called to account for their presence.
Mr Yakovenko dismissed the patrols as simply "routine" and argued they could not be deemed "threatening, destabilising or disruptive".
In December, the British Foreign Secretary Philip Hammond expressed concern over "the extremely aggressive" probing of Britain's airspace by Russian military aircraft after a spate of interceptions off the Scottish coast.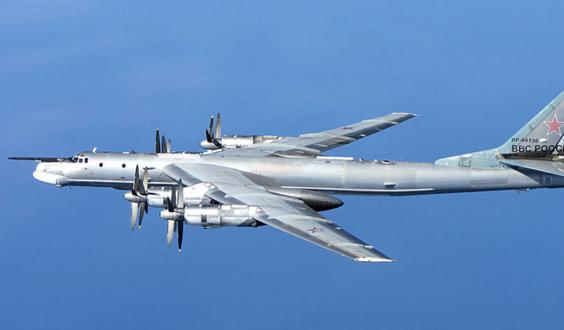 Sir Tony said the on-going crisis in Ukraine is causing Britain to respond "more sharply and more publicly" to Russian aircrafts.
"I think what's changed is that the Russians are behaving more provocatively, if less frequently, and we are paying more attention to it," he said.
"We are more sensitive to it and more reactive because we also have a message to give to the Russians, which is that ok, they are a big power and they want to flex their muscles, but we are watching them and we are ready for them."
His comments were made shortly before as the leaders of Germany and France met with Putin in Moscow on Friday in an attempt to see a new peace plan accepted by the Russian president.
Reuse content