As the Muslim holy month of Ramadan approaches, and British Muslims prepare for four weeks of fasting during daylight hours, a perennial debate on changing the Ramadan observance times in northern regions has sprung up again.
Dr Usama Haswan, an Islamic researcher from anti-extremism group Quilliam, has said that it would make more sense for Muslims in the UK to follow Mecca timings, as daylight lasts much longer this far north than it does in the Middle East.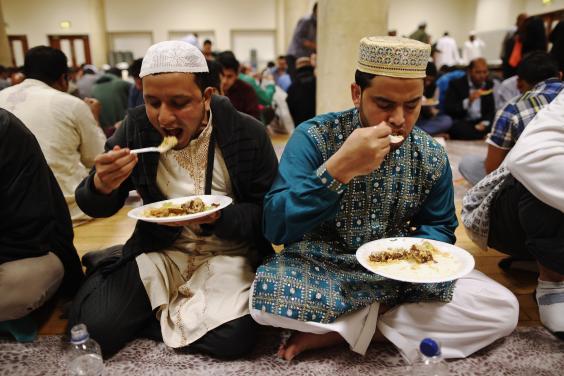 In Mecca, daylight during Ramadan usually lasts from around 12 to 13 hours. In the southern part of the UK, it typically lasts around 16 hours or more, and the timings mean that observers will have to wake up at around 4am if they want to eat in the morning.
As the start of Ramadan is based on the first sighting of the new moon, it comes earlier and earlier each year. For the last few years, however, it has occurred during summer, meaning a much longer fasting time. This year, Ramadan will begin on 18 June.
#Ramadan fast in UK 'should be shortened' says scholar: http://t.co/3yeSPhsDDz Ridiculous! you either fast not fast.

— Jamal Osman (@JamalMOsman) June 14, 2015
Dr Hasan said that Islamic law is about balance, and reducing the fasting hours to something more reasonable is more sensible.
However, things get worse the further north you go. In Aberdeen, more than 500 miles north of London, daylight will last for around 18 hours during Ramadan.
In pictures: Ramadan around the world
In pictures: Ramadan around the world
1/25 Russia

Russian Muslims pray outside the central mosque in Moscow, during celebrations of Eid al-Fitr marking the end of the fasting month of Ramadan

AFP/Getty Images

2/25 Turkey

Turkish Muslims offer Eid al Fitr prayers as they mark the first day of the Eid al-Fitr at Fatih Sultan Mosque in Istanbul

Getty Images

3/25 Syria

A Syrian Dervish dances as part of a traditional event organised by the Syrian Ministry of Tourism under the title 'Music and Dervishes' in the old city of Damascus

EPA

4/25 Bosnia and Herzegovina

A Bosnian Muslim man, wearing a traditional Bosnian outfit, fires a canon from a vantage point overlooking Sarajevo to mark the end of daily fasting on the final day of the Islamic holy month of Ramadan

AFP/Getty Images

5/25 Pakistan

A general view of an illuminated Mosque as Muslims pray during the 27th night of Ramadan, in Peshawar

EPA

6/25 Pakistan

Muslim women offer prayer of the Jumat-ul-wida, the last Friday of the Islamic holy month of Ramadan at a mosque in Lahore

AP

7/25 India

Muslims offer prayers on the last Friday of the holy month of Ramadan in Dargah Khwaja Moinuddin Chisti

Rex Features

8/25 Saudi Arabia

The Prophet Mohammed Mosque in the holy city of Medina, during Ramadan

EPA

9/25 Malaysia

A Malaysian swings around fireworks to celebrate the last day of the Muslims' Holy fasting month of Ramadan, in Shah Alam, outside Kuala Lumpur

10/25 Kyrgyzstan

Kyrgyz Muslims pray during the Eid al-Fitr Muslim celebration marking the end of Ramadan in Bishkek

EPA

11/25 Ivory Coast

People pray during the Laylat Al Qadr prayers on the 27th day of the Islamic month of fasting, Ramadan in the front of the Aghin mosque in Abidjan

AFP/Getty Images

12/25 Syria

Syrians shop for traditional sweets in Kafr Batna in the rebel-held Eastern Ghouta area, on the outskirts of the capital Damascus, ahead of Eid al-Fitr which marks the end of the Muslim holy month of Ramadan

AFP/Getty Images

13/25 Israel

A Palestinian woman prays on the third Friday of the holy fasting month of Ramadan on the compound known to Muslims as Noble Sanctuary and to Jews as Temple Mount in Jerusalem's Old City

REUTERS

14/25 Iran

Iranian Shiite Muslims pray at the graves of soldiers who were killed during 1980-88 Iran-Iraq War, at the Behesht-e-Zahra cemetery, during the holy fasting month of Ramadan, just outside Tehran, Iran

AP

15/25 Israel

A Palestinian man pours water on Muslim worshippers' heads to cool off in the heat, as others pray outside the Dome of the Rock at the al-Aqsa Mosque in Jerusalem during the last Friday prayers of the Muslim holy month of Ramadan

EPA

16/25 Afghanistan

Afghan women wait to receive food ration during the Muslim holy month of Ramadan in Herat

EPA

17/25 Pakistan

A Pakistani Muslim reads the holy Koran as he observes Itikaf at a Mosque, in Peshawar

EPA

18/25 India

Kashmiri Muslim women offer prayers as the head priest (not pictured) displays a holy relic believed to be hair from the beard of the Prophet Mohammed, during special prayers to observe the Martyr Day of Hazrat Ali, cousin of Prophet Mohammed, on the 21st day of Ramadan, at the Hazratbal Shrine in Srinagar, the summer capital of Indian Kashmir

EPA

19/25 India

Indian Muslims sit with bowls of porridge(Nombu kanji)as they prepare to break the fast with the Iftar meal during the Islamic month of Ramadan at The Wallajah Big Mosque in Chennai

AFP/Getty Images

20/25 Lebanon

Spectators watch fireworks as a giant Fanous, or Ramadan lantern, is switched on four days before the start of Ramadan month in front of Mohamed al-Amine Mosque in downtown Beirut

EPA

21/25 Lebanon

Lebanese children perform during activities celebrating the upcoming Muslim holy month of Ramadan, in downtown Beirut

AP

22/25 Palestine

Palestinian men drink tea on the promenade of Gaza beach

Getty

23/25 Indonesia

Members of Nahdlatul Ulama, the biggest Muslim organisation in Indonesia, hold a mass prayer session to welcome in Ramadan in Jakarta

AFP/Getty

24/25 Iraq

Iraqis shop for food in a preparation for the Muslim holy month of Ramadan in Baghdad

AP

25/25 Indonesia

Foods is seen during 'Unggah-unggahan' ceremony to welcome in the Muslim fasting month of Ramadan in Pekuncen village

Getty
And elsewhere in northern Europe, such as the far north of Sweden, the sun may only set for a couple of hours a day, if at all.
In Kiruna, Sweden's northernmost town, the sun has not set this month - and it's not going to go down before August.
This leaves Swedish muslims in a tricky position, as observing the fast and consuming no food or water would kill them in a matter of days.
There is no agreed-upon standard - some Muslims choose to observe Mecca time, others observe the timings of their own country.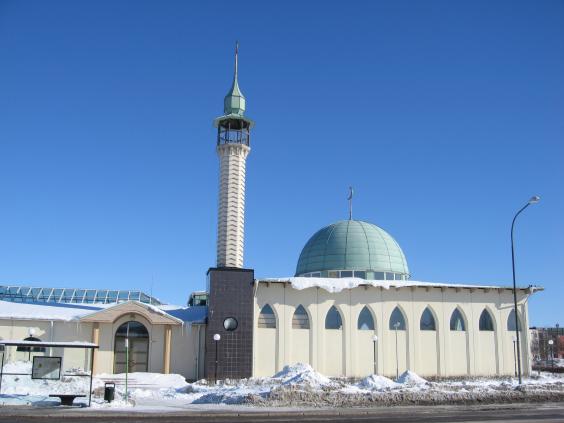 Mohammed Kharaki, a spokesman for Sweden's Islamic Association, said the organisation had this week issued guidelines that said Muslims should fast between the times that the sun was last clearly seen to rise and fall - despite this concession, this could well amount to a 19-hour fast.
However, he also advised against being too strict with the daylight rule.
Speaking to AFP, he said: "People can try to fast for 19 hours but not handle it. That's not the idea... If you don't manage to do your work or stay on your feet, then it's time to break the fast."
However, even with a lengthy fast for British Muslims, the vast majority are adamant that they will observe it, no matter how difficult it is.