A London recruitment agency has been criticised for posting job adverts for "attractive women" and specifying a required bra size.
Matching Models describes itself as "the employment agency for beautiful and talented people" and claims to match clients with "ideal candidates, both skilled and attractive."
One job description for an F1 hospitality team in Abu Dhabi called for blonde, size 10, professional models, with a maximum height of 5"8, blue eyes, and a B/C cup.
In the agency's mission statement, the company said it "understands the importance of having the right people representing your company, because after all, first impressions count!"
Women's rights campaigners have condemned the company, with some claiming its postings were "straight out of the 1970s".
"It is sad in every sense that the men using the services of this agency look upon women as status symbols - and sad, too, that girls and women are still being given the message that their value is dependent on their looks above all else," Women's Equality Party spokesperson Catherine Riley told The Independent.
"Stories like this show casual sexism, racism and misogyny aren't relics of a bygone era: they permeate our culture. And they drive everyone at the Women's Equality Party forward as we work to make the UK an equal, respectful and frankly more grown up place to live."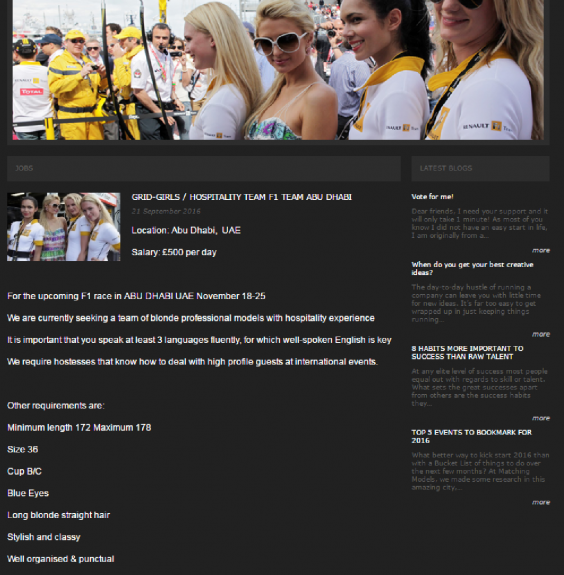 One role advertised on the site asked: "Do you want to be the next Amal Clooney? An Indian business tycoon who owns an international company is looking for a brilliant experienced Corporate/Commercial lawyer London based.
"The successful candidate will need to have an immaculate presentation and be able to handle all aspects of corporate and commercial work."
Another role called for a "sexy driver" to drive a well-known business tycoon from London "to the polo field".
The Equality and Human Rights Commission (EHRC) called the firm's practices "appalling, unlawful and demeaning to women", according to the BBC.
EHRC Chief Executive Rebecca Hilsenrath said it would be writing to Matching Models "asking for them to clarify their hiring practices immediately".
Matching Models founder Nathalie Jansen said in a statement on her website: "Matching Models is focused on brains and beauty, matching both looks and skills to assign professional crews for a range of events."
She told the BBC: "The client who wants the specific cup size is an older gentleman - he has a specific outfit he designed with Christian Dior.
"He wants a "Jackie O" look. And he wants a lady with a smaller cup size to fit into the outfit."
The Independent contacted Matching Models prior to publication but no one was available to comment.   
Reuse content