The large sign among the rain-soaked palm trees in the garden of the Rothesay guest house is intended to attract new customers. But for the 15 Syrian families who will soon call the west of Scotland their home, the words "Welcome to Palmyra" outside the guesthouse on the Isle of Bute will be a disquieting reminder of the violence they left behind.
Earlier this year the ruins of the ancient Syrian city became a blood-soaked arena when Isis used Palymra's amphitheatre to stage public executions.
For the families coming to Bute, the "Palmyra" sign will soon become familiar as they walk or take the short bus ride into Rothesay or take their children to school.
But while they have escaped the civil war in Syria, some locals preparing to welcome them harbour doubts that Bute will provide enduring appeal to the newcomers.
"I can't see them wanting to stay longer than three months," said one. Others warned that life for the refugees will not be easy in an area that has faded since its days as the quintessential Clyde holiday resort, "the Madeira of Scotland".
Bute: Castles and conveniences
The island of Bute has a population of 6,498, according to the 2011 census. Rothesay is its principal town, with attractions include Rothesay Castle, dating back to the 13th century. According to the TripAdvisor website, the town's second most popular site is the Victorian toilets. One reviewer wrote: "Interesting to see how public toilets used to be."
Rothesay's population used to triple in the summer months as Glasgow's working-class holidaymakers piled on to paddle steamers and ferries to go "doon the watter". Today, the population has shrunk to 6,000, mostly pensioners. Many young people leave to be educated on the mainland. Few return. Jobs on the island are scarce. Rothesay is among the poorest places in Scotland.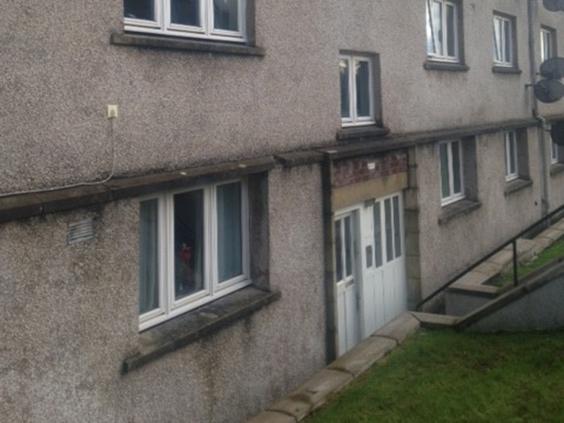 "Look, there's no jobs, and language will be a big, big problem," said Reza Haghparast, one of the few people of Middle Eastern descent who is already on Bute. Speaking to The Independent, he said a lot had to happen to keep the families on the island long term. Although he was born in Scotland when his Iranian father was teaching at Glasgow University, his family returned to Iran when he was young. He came back when was 17 and now owns kebab and food shops in Rothesay, Paisley and Cambuslang. 
"The weather is terrible, cold. And that'll be hard, really hard. You get used to it. But look at where they've come from. The only thing on their mind will be safety. The weather will be irrelevant to begin with. But when that eases, when they start thinking of the future? Well, there's not much future here if there's no jobs, no group they can identify with. No mosque. I'm an atheist now, but I know how important that will be."
Another of the locals added: "Take a family from here to the middle of the Syrian desert in the heat of the summer. They won't speak Arabic. So, it's the same, not easy." 
The Argyll Community Housing Association (ACHA) and Fyne Homes are the two organisations providing flats for 15 families and their children. Three families are being housed in a 1960s apartment block a mile from Rothesay in Ardbeg run by ACHA. Others will be housed near Rothesay's castle in a street of flats run by Fyne. Neither boasts picturesque views of the sea.
Both blocks are still associated with "problem" tenants, those with alcohol, drug or social problems, and although the former council flats have been substantially upgraded, and are now regarded as safe and well-maintained, residents said there were still a few individuals who "needed to be avoided".
The Ardbeg block is two-thirds empty. Standing in a village of detached sandstone properties with well-maintained gardens and tidy gates, the white rough-cast block jars with its surroundings, more Glasgow housing estate than Clyde seaside. 
The weather is terrible, cold. And that'll be hard, really hard. You get used to it. But look at where they've come from. The only thing on their mind will be safety.
Locals said the bedroom tax, which affects those in work, was a contributing factor to the emptiness. One, while waiting for the bus into Rothesay, said: "If it's empty then it should be used. Though it's a shame that they're [the refugees] being put here. But it won't be easy for them here."
The Scottish Government has agreed to take over 40 per cent of the 1,000 or so Syrians that David Cameron says will be brought to the UK from refugee camps before the end of this year. Holyrood set up a taskforce, headed by its international development minister, Humza Yousaf. Its aim is the delivery of an integrated response, involving grassroots organisations and local communities, and a welcome by those who will be neighbours of the incoming families. 
Mr Yousaf called the decision by Holyrood to take the refugees "a proud day for Scotland". Argyll and Bute council have also been involved. Locals are keen to help the refugees, though they are uncertain quite what is needed. One resident in Ardbeg said: "We have officially been told nothing. We've been sent nothing, offered no advice."
Another, in Fyne's Rothesay property, said: "Some of us were expecting a meeting of some sort, maybe to be told what we could do, how we could help. Maybe who the families were, where they had come from. But there's been silence. It's no right really."
Refugee crisis - in pictures
Refugee crisis - in pictures
1/27

A child looks through the fence at the Moria detention camp for migrants and refugees at the island of Lesbos on May 24, 2016.

AFP/Getty Images

2/27

Ahmad Zarour, 32, from Syria, reacts after his rescue by MOAS (Migrant Offshore Aid Station) while attempting to reach the Greek island of Agathonisi, Dodecanese, southeastern Agean Sea

3/27

Syrian migrants holding life vests gather onto a pebble beach in the Yesil liman district of Canakkale, northwestern Turkey, after being stopped by Turkish police in their attempt to reach the Greek island of Lesbos on 29 January 2016.

Getty Images

4/27

Refugees flash the 'V for victory' sign during a demonstration as they block the Greek-Macedonian border

5/27

Migrants have been braving sub zero temperatures as they cross the border from Macedonia into Serbia.

6/27

A sinking boat is seen behind a Turkish gendarme off the coast of Canakkale's Bademli district on January 30, 2016. At least 33 migrants drowned on January 30 when their boat sank in the Aegean Sea while trying to cross from Turkey to Greece.

Getty Images

7/27

A general view of a shelter for migrants inside a hangar of the former Tempelhof airport in Berlin, Germany

8/27

Refugees protest behind a fence against restrictions limiting passage at the Greek-Macedonian border, near Gevgelija. Since last week, Macedonia has restricted passage to northern Europe to only Syrians, Iraqis and Afghans who are considered war refugees. All other nationalities are deemed economic migrants and told to turn back. Macedonia has finished building a fence on its frontier with Greece becoming the latest country in Europe to build a border barrier aimed at checking the flow of refugees

9/27

A father and his child wait after being caught by Turkish gendarme on 27 January 2016 at Canakkale's Kucukkuyu district

10/27

Migrants make hand signals as they arrive into the southern Spanish port of Malaga on 27 January, 2016 after an inflatable boat carrying 55 Africans, seven of them women and six chidren, was rescued by the Spanish coast guard off the Spanish coast.

11/27

A refugee holds two children as dozens arrive on an overcrowded boat on the Greek island of Lesbos

12/27

A child, covered by emergency blankets, reacts as she arrives, with other refugees and migrants, on the Greek island of Lesbos, At least five migrants including three children, died after four boats sank between Turkey and Greece, as rescue workers searched the sea for dozens more, the Greek coastguard said

13/27

Migrants wait under outside the Moria registration camp on the Lesbos. Over 400,000 people have landed on Greek islands from neighbouring Turkey since the beginning of the year

14/27

The bodies of Christian refugees are buried separately from Muslim refugees at the Agios Panteleimonas cemetery in Mytilene, Lesbos

15/27

Macedonian police officers control a crowd of refugees as they prepare to enter a camp after crossing the Greek border into Macedonia near Gevgelija

Getty Images

16/27

A refugee tries to force the entry to a camp as Macedonian police officers control a crowd after crossing the Greek border into Macedonia near Gevgelija

Getty Images

17/27

Refugees are seen aboard a Turkish fishing boat as they arrive on the Greek island of Lesbos after crossing a part of the Aegean Sea from the Turkish coast to Lesbos

Reuters

18/27

An elderly woman sings a lullaby to baby on a beach after arriving with other refugees on the Greek island of Lesbos after crossing the Aegean sea from Turkey

Getty Images

19/27

A man collapses as refugees make land from an overloaded rubber dinghy after crossing the Aegean see from Turkey, at the island of Lesbos

EPA

20/27

A girl reacts as refugees arrive by boat on the Greek island of Lesbos after crossing the Aegean sea from Turkey

Getty Images

21/27

Refugees make a show of hands as they queue after crossing the Greek border into Macedonia near Gevgelija

Getty Images

22/27

People help a wheelchair user board a train with others, heading towards Serbia, at the transit camp for refugees near the southern Macedonian town of Gevgelija

AP

23/27

Refugees board a train, after crossing the Greek-Macedonian border, near Gevgelija. Macedonia is a key transit country in the Balkans migration route into the EU, with thousands of asylum seekers - many of them from Syria, Afghanistan, Iraq and Somalia - entering the country every day

Getty Images

24/27

An aerial picture shows the "New Jungle" refugee camp where some 3,500 people live while they attempt to enter Britain, near the port of Calais, northern France

Getty Images

25/27

A Syrian girl reacts as she helped by a volunteer upon her arrival from Turkey on the Greek island of Lesbos, after having crossed the Aegean Sea

EPA

26/27

Refugees arrive by boat on the Greek island of Lesbos after crossing the Aegean sea from Turkey

Getty Images

27/27

Beds ready for use for migrants and refugees are prepared at a processing center on January 27, 2016 in Passau, Germany. The flow of migrants arriving in Passau has dropped to between 500 and 1,000 per day, down significantly from last November, when in the same region up to 6,000 migrants were arriving daily.
At the Bute Oasis, which helps run a food bank on the island, volunteers said there was a strong sense of goodwill towards the refugees. "People have been handing in anything they think the families might need. But officially we've been told very little."
The information that has been given to the community on what to expect and how they can help, has been limited. Why? There are fears that too much information will only aid those intending to target a vulnerable group of people. One person involved in the refugee planning said : "There is policy to keep the circle of those with information as small as possible. That way the scope for any action against this vulnerable group of people is limited."
Both the Scottish Government and Argyll and Bute Council were asked by The Independent what information had been given to the local community. 
Last night a Scottish Government said: "For privacy reasons local authorities will not be providing any details of the specific arrangements for the refugees." No reply was received from the council.
Reuse content