Jo Bostock is 39 and has never been on a demonstration before. A City worker turned shopkeeper from Woking in Surrey, she is a floating voter and describes herself as "not political". But she, her husband and their two young children are set to join tens of thousands of people meeting in central London to show their support for refugees.
The march to Parliament Square is expected to be the biggest national outpouring of support for refugees in living memory. Almost 90,000 people have registered online to say they will be attending in London and thousands more are expected both in the capital and at parallel events across the country.
Ms Bostock said: "I'm not political, I'm not an activist, I just feel strongly that a whole people have been displaced and we should be doing more. Having children myself, you see pictures of children and families affected and you can really empathise."
The rally comes ahead of a summit of European leaders in Brussels on 14 September to deal with the crisis. Figures released show that 432,761 refugees and migrants have crossed the Mediterranean in 2015 so far, already more than doubling the total for last year.
Since the photograph of the drowned Syrian toddler Aylan al-Kurdi was shared around the world last week, support for the plight of refugees has reached new heights. Many feel David Cameron's pledge to resettle 20,000 refugees by 2020 is paltry, especially when compared with the response in Germany where around 15,000 are being accepted every week.
Dyfed Wyn Jones, 45, a blacksmith and part-time fireman from Denbigh in north Wales, was travelling down last night to make it to the rally. Speaking about his reasons for taking part, he said: "I know it shouldn't be but it was down to that photo of that little boy washed up on the beach. I've got three boys and one is two. I just can't look at that photo without thinking of my son; it makes me emotional every time."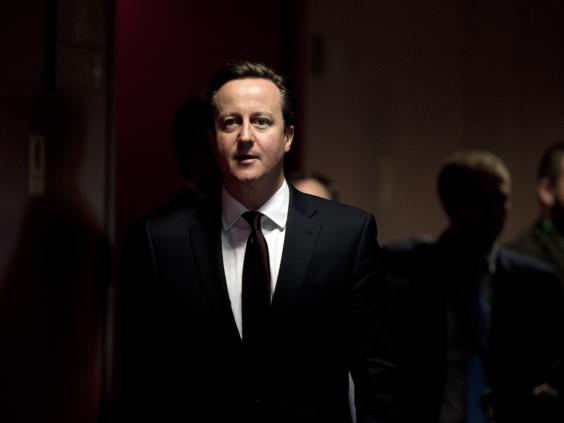 Before today, the only protests he'd gone to were a couple of Countryside Alliance ones in favour of fox hunting. "I'm not a politician and I don't understand really what's going on but something needs to happen. It's not a normal thing for little boys to wash up on beaches. This isn't a natural disaster; it's man-made."
For those unable to travel to London there are at least 23 satellite protests taking place in towns and cities across the country, including Manchester, Cardiff, Glasgow, Newcastle and Belfast. The issue has garnered support from people of vastly different politics and backgrounds around the country. Even Henley-on-Thames in Oxfordshire, not known for being a hotbed of political protest, is hosting its own rally outside the town hall.
The protest was set up less than two weeks ago by Ros Ereira, 38, from north London. The former television producer, who currently spends much of her time looking after her toddler daughter, created a Facebook page on 1 September calling for today's protest. Within a week tens of thousands of people had pledged they would come and she had the logistical support of major organisations including Amnesty, Stop the War, the Refugee Council and Syria Solidarity UK.
Ms Ereira said: "I was looking for a demonstration ahead of the European summit and when I couldn't find anything my friends encouraged me to set up something of my own. I thought it would just be my friends and now unexpectedly 90,000 people have said they're going to come."
In graphics: Refugees in the EU
Abdulaziz Almashi, 30, co-founder of Syria Solidarity UK, will be among those leading the rally. Mr Almashi is a computer science PhD student who came to the UK from Syria in 2009 to study. He still has brothers in Syria working as a doctor and a dentist in field hospitals. "Syrians have been abandoned totally by the international community," he said. "If the international community doesn't want to stop the massacres in Syria, the least they can do is accept refugees."
Walter Wolfgang, 92, will be one of the speakers in Parliament Square. The veteran peace campaigner was a Jewish refugee from Germany who came to Britain as a child. He said: "I am a refugee who came over in 1937. There's a terrific refugee problem now and human kindness requires that we let in many more refugees. It's imperative that we do more."
As well as the rallies, solidarity with refugees will be shown at football matches across the country this weekend. Arsenal will be donating £1 from every ticket for today's game against Stoke to Save the Children's refugee programme. Other teams whose fans are expected to unfurl "Refugees welcome" banners include Aston Villa, Newcastle United, Swindon Town and Celtic.
Global rallies: Pro-refugee gatherings on 12 September
UK
Cardiff, Swansea, Chester, Brighton, Glasgow, Edinburgh, Wakefield, Bristol, Dover, Birmingham, Exeter, Oxford, Chichester, Henley-on-Thames, Newcastle upon Tyne, York, Sheffield, Kirkwall, Falmouth, Belfast, Derry
Worldwide
Sydney, Melbourne, Perth, New York, Cork, Dublin, Berlin, Erfurt, Amsterdam, Rotterdam, The Hague, Brussels, Helsinki, Tampere, Oslo, Bergen, Stockholm, Malmo, Vasteras, Lulea, Gothenburg, Gavle, Copenhagen, Odense, Aarhus, Krusa, Aalborg, Reykjavik, Vienna, Fribourg, Geneva, Berne, Metz, Nice, Lyons, Avignon, Bologna, Milan, Turin, Madrid, Barcelona, Lisbon, Porto, Athens, Nicosia, Istanbul, Bucharest, Budapest, Ljubljana, Sarajevo, Skopje, Sofia, Warsaw, Bialystok, Poznan, Krakow, Gdansk, Vilnius, Riga, Bratislava, Prague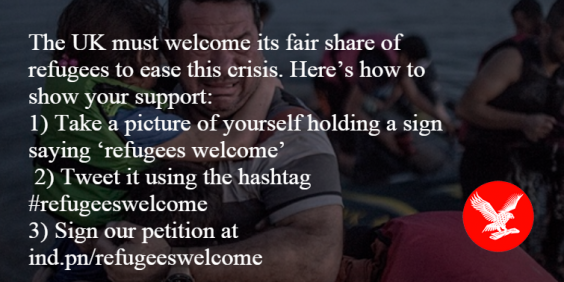 Click here to sign The Independent's Change.org petition
Reuse content