Terror threats must not be allowed to "stop the British way of life", the head of the British armed forces said on Remembrance Sunday.
General Sir Nicholas Houghton was speaking after reports that remembrance events in London were targets for a potential attack. Scotland Yard said it had an "appropriate and proportionate" policing plan for the ceremony at Whitehall.
The Queen received unprecedented applause from the crowd after laying a wreath at the Cenotaph amid the heightened terror alert. David Cameron was joined at the Cenotaph by the former Prime Ministers Sir John Major and Tony Blair. Nick Clegg, Ed Miliband and Boris Johnson also laid wreaths.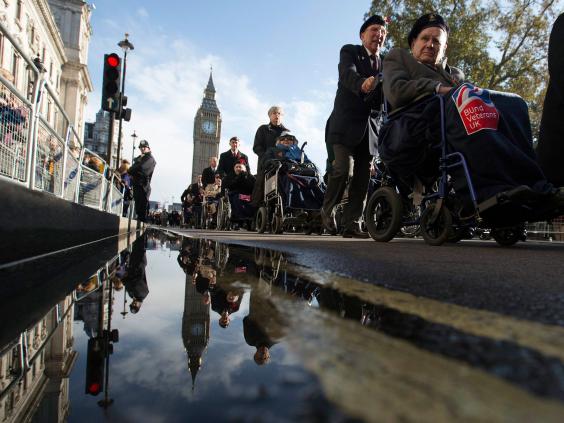 The commemorations had an  extra poignancy coming 100 years since the start of the Great War and the end of British combat in Afghanistan.
Prince Harry flew to Kandahar airfield where he laid a personal wreath and gave a reading before lining up with fellow servicemen for "The Last Post and Reveille" played by the Royal Artillery Band.
The Camp Bastion military base in Helmand is due to close in a few weeks with the last British troops scheduled to leave by the end of the year.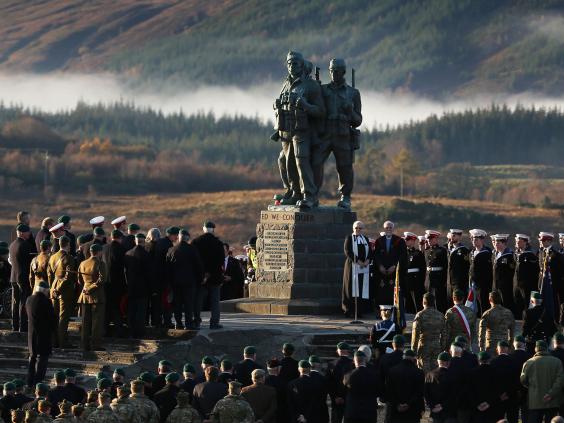 Brigadier Darrell Amison said: "The final Remembrance Sunday ceremony in southern Afghanistan has significant poignancy as we pay tribute to the 453 men and women who have given their lives since 2001, along with the many hundreds who have suffered life-changing injuries.
"We are incredibly proud of what they have achieved. Thanks to their sacrifice, Afghanistan is a better country and we walk in safer streets at home in the UK. We will remember them."
In pictures: 'Blood Swept Lands and Seas of Red' poppy installation in London
In pictures: 'Blood Swept Lands and Seas of Red' poppy installation in London
1/19 London

A photograph of Cpl Thomas William Belton of the Kings Shropshire Light Infantry at the gates of the Tower of London poppy installation

Getty

2/19 London

Visitors view the "Blood Swept Lands and Seas of Red" in the moat area of the Tower of London in central London

FP PHOTO / LEON NEAL

3/19 London

Prime Minister David Cameron and his wife Samantha each lay a poppy at an art installation, at the Tower of London

4/19 London

Tube closures and warnings of a crush of visitors couldn't keep half-term crowds from Paul Cummins' ceramic poppies

Teri Pengilley

5/19 London

'Blood Swept Lands and Seas of Red' by artist Paul Cummins, made up of 888,246 ceramic poppies fills the moat of the Tower of London, to commemorate the First World War in London

6/19 London

Volunteers continue to assemble an installation entitled 'Blood Swept Lands and Seas of Red' by artist Paul Cummins

7/19 London

'Blood Swept Lands and Seas of Red' by artist Paul Cummins, made up of 888,246 ceramic poppies fills the moat of the Tower of London, to commemorate the First World War

Peter Macdiarmid/Getty Images

8/19 London

Red ceramic poppies that form part of the art installation "Blood Swept Lands and Seas of Red" are seen at the Tower of London in London. The evolving art installation, which will be completed on 11 November, will create a commemoration for the centenary of World War One

9/19 London

Crowds gather to see the red ceramic poppies that form part of the art installation "Blood Swept Lands and Seas of Red" at the Tower of London in London

10/19 London

An aerial view of the Tower of London, surrounded by ceramic poppies in a field of rememberance which started in July 2014 and will end with the last poppy being plave on Armistice day 11 November 2014

11/19 London

War Horse's Joey and Michael Morpurgo visit the Tower of London poppies

12/19 London

Queen Elizabeth II and Prince Philip, Duke of Edinburgh visit the Blood Swept Lands and Seas of Red evolving art installation at the Tower of London

13/19 London

Queen Elizabeth II and Prince Philip, Duke of Edinburgh visit the installation

Getty

14/19 London

Three generations on the military, Chelsea Pensioner Albert Willis, Yeoman Warder Paul Cunilffe and Captain of the Grenadier Guard Joe Robinson plant poppies at the 'Blood Swept Lands and Seas of Red' evolving art installation at the Tower of London. 888,246 poppies will be planted in the moat by volunteers with the last poppy being planted on the 11 November 2014. Each poppy represents a British or Colonial fatality in the First World War

15/19 London

A general view at the 'Blood Swept Lands and Seas of Red' evolving art installation at the Tower of London

16/19 London

Chelsea Pensioner Albert Willis plants a poppy at the Blood Swept Lands and Seas of Red evolving art installation at the Tower of London

17/19 London

Catherine, The Duchess of Cambridge, Prince William, Duke of Cambridge and Prince Harry visit The Tower of London's 'Blood Swept Lands and Seas of Red' ceramic poppy installation by artist Paul Cummins, commemorating the 100th anniversary of the outbreak of First World War in London

18/19 London

Catherine, The Duchess of Cambridge adds a ceramic poppy watched by Prince William, Duke of Cambridge as she visits The Tower of London's 'Blood Swept Lands and Seas of Red' ceramic poppy installation

19/19 London

Catherine, Duchess Of Cambridge, Prince William, Duke of Cambridge and Prince Harry join dignitaries as they visit the Tower of London's ceramic poppy field
General Houghton told the BBC: "The proximity of the sense of threat for this weekend, which has intensified the nature of the security that's attendant on it, has contributed to quite a different feel about this year… we have just got to keep continuing our normal life."
Reuse content