A bride-to-be has been stunned by a restaurant that responded to bad reviews of her hen party meal by calling her friends "chav cheap trash" and "peasants".
A member of staff from 47 King Street West, in Manchester, replied to comments  by Melissa Grogan-Morgan on Facebook with a vicious rant calling her guests the "worst, most vile people ever to grace our restaurant" and saying they "pity the groom".
The 27-year-old had started off with the "good points" after eating there on Saturday but claimed her party of 18 was split across two tables and that fresh starters were not provided for diners who arrived late after getting stuck in traffic.
Comments from the restaurant's official Facebook page, which appears to have since been deleted, said: "The chavviest, worst, most vile people ever to grace our restaurant. Wouldn't know fine dining if it slapped them in their ugly faces!
"Best thing ever is that they won't return! Bottom of the barrel (sic).
My friend left a bad review on the Facebook page of 47 King Street West in Manchester and the manager responded... pic.twitter.com/rgWhKdAUuQ

— Rachael (@rachaellowa__) March 2, 2015
"And 5 out of 18 of them turned up 1 hour and 10 minutes after the booking time and "expected" fresh starters...are you having a laugh…clearly never eaten out in a decent restaurant in their lives. What absolute trash they were. We pity the groom!"
On its website, 47 King Street West is described as a "modern upmarket French and British restaurant" that opened in 2011 with "first class service" as its "essence".
Friends of Ms Grogan-Morgan who posted further negative reviews also received a tirade of abuse, including one from the restaurant's account calling them a "chav cheap trash" who questioned the bill because they were "peasants".
Another member of the party wrote on Trip Advisor that the hen do had not been rowdy or drunk and had included a 12-year-old girl and her mother, while a friend of the bride wrote on Facebook that complaints made during the meal were met by a manager who was "rude, unhelpful and arrogant".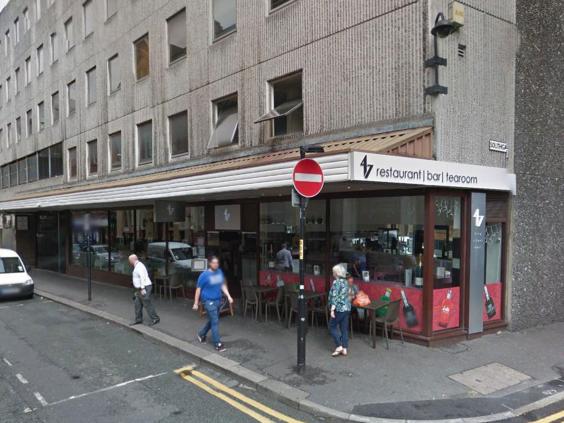 Ms Grogan-Morgan, a customer service manager from Stoke, told the Manchester Evening News her party spent £600 on the meal.
"I'm just in complete disbelief at how rude and arrogant they have been - it's left a bit of a shadow over the whole occasion," she added.
"It's absolutely shocking customer service - if I'd have treated a customer like that at work I'd have been sacked."
It is not the first time customer service at 47 King Street West has been criticised – a quick glance at Trip Advisor shows several scathing replies to reviews from a manager named only as Barry.
One tells a customer to go to fast food chain KFC for their Christmas dinner after they complained about dry turkey.
The owner of the 47 King Street West, which has received a tide of criticism on social media since the incident, told the Manchester Evening News it was "regrettable".
Mike Hymanson, who received an OBE for services to charity, told the newspaper: "The entire incident is regrettable and it has been both investigated and dealt with internally."
Reuse content