Robert Berry, the runner who died shortly after completing the 2014 London Marathon, has raised £27,000 and counting for the National Osteoporosis Society thanks to people giving generously following the sad news.
The 42-year-old's JustGiving page has now attracted more than 2,400 donations, meaning Berry has posthumously achieved 1680 per cent of the money he was hoping to raise for charity.
He collapsed shortly after crossing the finishing line at the event on Sunday and was pronounced dead when he arrived at hospital.
"Such sad news as you were doing such an amazing thing. My thoughts go to your family and friends," one donor wrote on his page, with another adding: "So tragic - hopefully something positive can come from this if everyone keeps up their generosity."
In a statement, the National Osteoporosis Society offered its "heartfelt condolences" to the runner's family.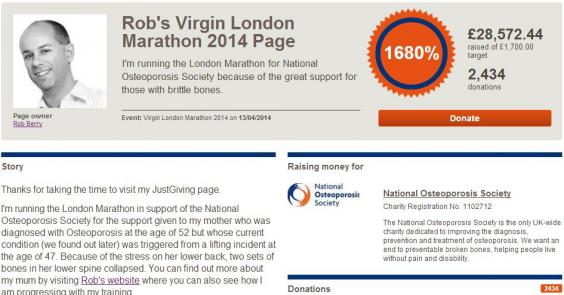 "Our immediate concerns are for Mr Berry's family," said the charity's chief executive Claire Severgnini. "Our thoughts and deepest sympathies are with them at this tragic time."
London Marathon's organisers Virgin Money added: "Mr Berry was immediately taken to one of our medical facilities where he was treated by four consultants, including one in emergency medicine.
"He was transferred to St Mary's Hospital, where he was pronounced dead.
"We would like to continue to express our sincere condolences to the family and friends of Mr Berry and our thoughts and deepest sympathies are with them all at this difficult time."
The situation echoes 2012's marathon, which saw 30-year-old hairdresser Claire Squires collapse just a mile from the finish line and die of cardiac failure.
In the weeks following her death, donations for her Samaritans campaign soared to over £1 million.