The roof of a double-decker bus has been completely torn off in central London after it hit a tree.
The number 91 bus collided with a tree on Kingsway in Holborn, near Aldwych, on Monday afternoon, leaving the vehicle severely damaged with the roof hanging off the back, surrounded by shattered glass.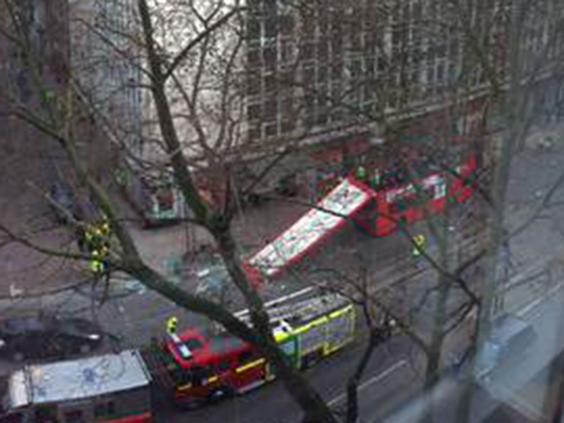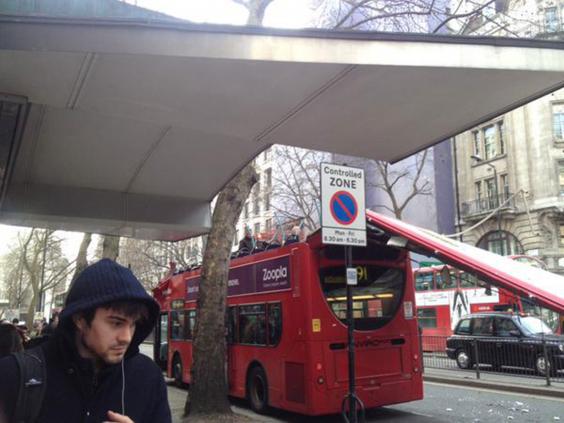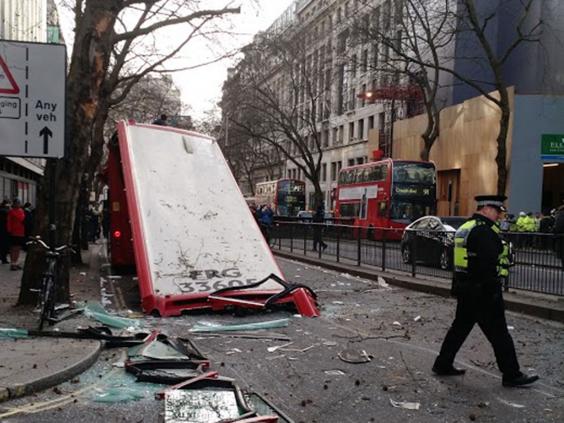 Five people were injured. Two were taken to hospital and three were discharged at the scene.
London Fire Brigade's Euston station manager Gary Squires said from the scene: "Those involved were very lucky to escape serious injury."
He said a man sitting on the top deck of the bus had been left with a suspected broken nose while another passenger was taken to hospital with injuries to the side of the head.
"You can see the missing bark from the tree and the roof has come up and off the bus," Mr Squires said, adding: "This is a very unusual incident. It is a freak accident."
People were seen inspecting the vehicle as the front end of the roof remained trapped on top of the vehicle's back window, the rest of it lying in the street, one end having crumpled from its impact with the road. The surrounding roads have been closed.
Builder Billy Comfort, 21, who was working across the road from the scene, said: "I saw the bus drive into a tree and the roof came off.
"It was a bit shocking really, the emergency services arrived.
"There was one gentleman whose nose was bleeding holding a handkerchief to his face. There was a man and a woman at the back of the bus looking petrified.
"I couldn't believe it, it's not what you expect to see on a Monday. I could see a man at the front of the bus and this couple at the back who stayed seated there for 20 minutes to half an hour after the roof came off."
We are at the scene of an accident on #Kingsway Holborn. A bus has lost its roof. Thankfully only minor injuries. pic.twitter.com/40o8WM89b2

— London Fire Brigade (@LondonFire) February 2, 2015
Very concerning scenes on #kingsway #holborn right now. Roof of double decker bus ripped off. Trying to find details pic.twitter.com/i3dnpxLF31

— Will Blair (@will_blair) February 2, 2015
Omg. Now this is horrifying. Kingsway right now. pic.twitter.com/msuNiIlXKu

— Oliver Beattie (@obeattie) February 2, 2015
Pictures tweeted by people at the scene showed the bus's blue top-deck railings visible in the open air, with the vehicle's seats appearing undamaged.
London School of Economics student Ethan Meade, who posted pictures of the scene on Twitter, said he turned around after hearing a crash.
He said: "I saw the roof fall down off the side of the bus, and the glass shatter everywhere. The passengers seemed to be sitting there pretty stunned as you'd expect. Police seemed to handle it very well."
Ken Davidson, TfL's Head of Bus Operations, said: "At around 1pm today a route 91 bus, operated by Metroline, collided with a tree on Kingsway at the junction with Portugal Street.  Emergency services attended the scene and there will be a full investigation into this incident."
Additional reporting by PA
Reuse content