A flight to Bratislava was forced to divert to Berlin after members of a British stag party group started fighting "over a woman", it has been reported.
New details have emerged from the flight, whose passengers included 12 men on a trip to Slovakia who had reportedly been drinking for six hours before they even boarded the plane.
The flight from Luton on Friday evening was diverted after a brawl broke out between members the party for groom Josh Mariner, 26.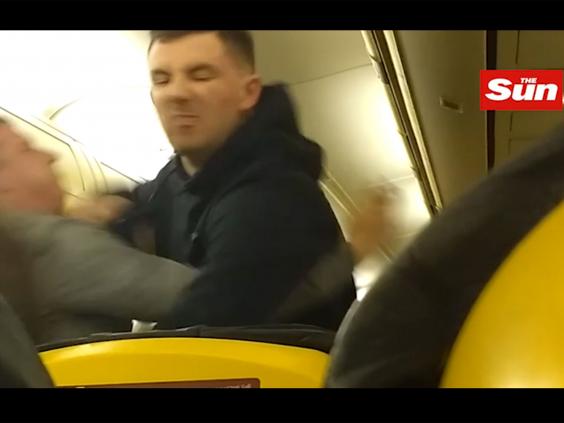 Film footage released to The Sun purports to show Tom Doyle, 25 and Jamie Stoop, 28, abusing and assaulting each other, causing distress to other passengers.
An unnamed source reportedly close to the men told the newspaper they had been fighting over a girl named "Jeri", whom they had both dated.
The source said: "There is a bit of history between Jamie and Tom — they don't like each other and I'm amazed Josh had them both on the trip.
"They're always getting drunk and arguing and it's not the first time they've been in trouble. They're always scrapping."
"To be honest, I'm also surprised they were allowed to fly. They'd been drinking for more than six hours and were absolutely steaming."
Another passenger on the flight also expressed shock that the group was allowed to fly and said that they were a "disgrace."
UK news in pictures
UK news in pictures
1/30 30 June 2016

Justice Secretary and leading Brexit campaigner Michael Gove leaves his home in Kensington before announcing his intention to run to be the next Conservative Party leader and UK prime minister

Getty Images

2/30 29 June 2016

Spectators with umbrellas struggle against strong wind as stormy weather delays play at Wimbledon

REUTERS

3/30 28 June 2016

A couple kiss outside the Houses of Parliament during a protest aimed at showing London's solidarity with the European Union following the recent EU referendum

REUTERS

4/30 28 June 2016

Queen Elizabeth II & Prince Philip, Duke Of Edinburgh attend the unveiling of the Robert Quigg VC memorial statue in Bushmills village, Northern Ireland

Getty Images

5/30 27 June 2016

Opposition Labour party leader Jeremy Corbyn leaves after addressing a gathering of supporters demonstrating in Parliament Square, in central London

REUTERS

6/30 26 June 2016

A man dressed as Boris Johnson and Donald Trump prepare to take part in a tomato fight at the Glastonbury Festival 2016 at Worthy Farm

Getty Images

7/30 26 June 2016

People walk over Westminster Bridge wrapped in Union flags in central London. Britain's opposition Labour party plunged into turmoil and the prospect of Scottish independence drew closer, ahead of a showdown with EU leaders over the country's seismic vote to leave the bloc

AFP/Getty Images

8/30 25 June 2016

People pay tribute to the victims of the Orlando nightclub shooting as they take part in the annual Pride London Parade which highlights issues of the gay, lesbian and transgender community, in London

REUTERS

9/30 25 June 2016

Scotland's First Minister and Leader of the Scottish National Party (SNP), Nicola Sturgeon, addresses the media after holding an emergency Cabinet meeting at Bute House in Edinburgh, following the pro-Brexit result of the UK's EU referendum vote

AFP/Getty Images

10/30 24 June 2016

A man carries a EU flag, after Britain voted to leave the European Union, outside Downing Street in London

11/30 23 June 2016

AFP/Getty Images

12/30 22 June 2016

British Prime Minister David Cameron poses for a photograph after addressing pro-EU "Vote Remain" supporters at rally in Bristol, whilst campaigning to avoid a Brexit, ahead of the 23 June EU referendum

AFP/Getty Images

13/30 21 June 2016

Scottish Conservative leader Ruth Davidson (left) and Mayor of London Sadiq Khan speak during the EU debate at Wembley Arena in London

Getty Images

14/30 20 June 2016

A full moon rises behind Glastonbury Tor as people gather to celebrate the summer solstice in Somerse

Getty Images

15/30 19 June 2016

Hot air balloons took to the air as part of the annual Lord Mayor's Hot Air Balloon Regatta, a charity event in aid of the Lord Mayor's Fund, in London

Getty Images

16/30 19 June 2016

Liberal Democrats leader Tim Farron (C) poses with supporters after arriving in the Liberal Democrat Vote Remain campaign bus, campaigning to avoid a Brexit in the EU referendum, during a launch event in east London

AFP/Getty Images

17/30 18 June 2016

A man lights a flare among pro-refugee activists rallying outside the French Embassy in central London, during a protest after most of an aid convoy of vehicles organised by campaign groups heading to northern France were turned back at the French frontier at the port of Dover

AFP/Getty Images

18/30 17 June 2016

Prime Minister David Cameron and Labour Leader Jeremy Corbyn arrive to pay their respects at the scene where Jo Cox was shot in Birstall

Getty Images

19/30 16 June 2016

Floral tributes and candles are placed by a picture of slain Labour MP Jo Cox at a vigil in Parliament square in London. Cox died after a shock daylight street attack, throwing campaigning for the referendum on Britain's membership of the European Union into disarray just a week before the crucial vote

AFP

20/30 15 June 2016

Boats from the 'Fishing for Leave' campaign group join a flotilla along the Thames River in London. The flotilla organised by members of the Fishing for Leave group, who are campaigning to leave the European Union ahead of the referendum on the 23 of June, was countered by boats representing the 'In' campaign

Getty Images

21/30 14 June 2016

A general view of the Tate Modern's new Switch House in London. The Tate Modern art gallery has unveiled its new Switch House building designed by architects Herzog & de Meuron

Getty

22/30 13 June 2016

Labour Leader Jeremy Corbyn (C) and Deputy Labour Leader Tom Watson (R) attend a vigil for the victims of the Orlando nightclub shooting, outside the Admiral Duncan pub on Old Compton Street in Soho, London

Getty Images

23/30 12 June 2016

A pigeon flies ahead of Britain's Queen Elizabeth and Prince Philip, and Princes William, Harry and Kate Duchess of Cambridge behind as they wave to guests attending the Patron's Lunch on the Mall, an event to mark her 90th birthday, in London

REUTERS

24/30 11 June 2016

A Guardsman faints at Horseguards Parade for the annual Trooping the Colour ceremony in central London

REUTERS

25/30 10 June 2016

The national service of thanksgiving for the 90th birthday of Britain's Queen Elizabeth II at St Paul's Cathedral in London, which is also the Duke of Edinburgh's 95th birthday

Getty Images

26/30 9 June 2016

Princess Anne, Princess Royal attends the Founders Day Parade at The Royal Hospital Chelsea in London

Getty Images

27/30 8 June 2016

Two women walk barefoot through heavy rain in Westminster in London. The Met Office has issued flood alerts for parts of the south east of England as torrential rain hit parts of the country

Getty Images

28/30 7 June 2016

An Osprey catches two Rainbow Trout at Rothiemurchus in Kincraig, Scotland. Ospreys migrate each spring from Africa and nest in tall pine trees around the Aviemore area, the raptor was hunted to the point of extinction in the Victorian era, their migratory habits eventually brought them back to Scotland with the first successful breeding pair being recorded in 1954

Getty

29/30 6 June 2016

David Cameron speaks at a Remain in the EU campaign event at the Oval cricket ground in London

Getty Images

30/30 5 June 2016

Original participants take part in Japanese artist Koki Tanaka's recreation of the 1985 youth training scheme protest as part of the Liverpool Biennial. The 1985 protest saw 10,000 UK school children take to the street to protest against the Conservative government's controversial youth training Scheme

Getty Images
"The fact that they were allowed to board at all after making a huge nuisance of themselves in the departure hall at Luton and being so drunk that some were struggling to stand, was an even bigger disgrace," lecturer Alexander Koller, 46, told the Mail Online.
The groom, Mr Mariner, said to the Mail Online: "It was two people, and it was bad behaviour and that's that - I was not involved."
"The lads' behaviour was unacceptable and they will now have to suffer the consequences of their actions."
Six men from the group were arrested in Berlin and could now face fines of up to £20,000. 
Reuse content